---
Album Info
Album Veröffentlichung:
2019
HRA-Veröffentlichung:
20.09.2019
Das Album enthält Albumcover Booklet (PDF)
Entschuldigen Sie bitte!
Sehr geehrter HIGHRESAUDIO Besucher,
leider kann das Album zurzeit aufgrund von Länder- und Lizenzbeschränkungen nicht gekauft werden oder uns liegt der offizielle Veröffentlichungstermin für Ihr Land noch nicht vor. Wir aktualisieren unsere Veröffentlichungstermine ein- bis zweimal die Woche. Bitte schauen Sie ab und zu mal wieder rein.
Wir empfehlen Ihnen das Album auf Ihre Merkliste zu setzen.
Wir bedanken uns für Ihr Verständnis und Ihre Geduld.
Ihr, HIGHRESAUDIO
Giacomo Puccini (1858 - 1924): Le Willis:

1

Puccini: Le Willis: Preludio

02:34

2

Puccini: Le Willis: Coro d'introduzione "Evviva I fidanzati" (Chorus, Guglielmo)

05:46

3

Puccini: Le Willis: "Non esser, Anna mia" (Roberto, Anna)

01:46

4

Puccini: Le Willis: "Tu dell'infanzia mia" (Roberto, Anna)

03:35

5

Puccini: Le Willis: "Presto! Presto in viaggio!' (Chorus, Roberto, Anna)

02:00

6

Puccini: Le Willis: "Angiol di Dio" (Guglielmo, Anna, Roberto, Chorus)

06:10

7

Puccini: Le Willis: L'abbandono

05:15

8

Puccini: Le Willis: La tregenda

03:39

9

Puccini: Le Willis: "No! Possibil non è che invendicata" (Guglielmo)

03:27

10

Puccini: Le Willis: "Anima santa della figlia mia" (Guglielmo)

02:06

11

Puccini: Le Willis: "Ei giunge! Anna!" (Chorus, Roberto, Anna)

03:30

12

Puccini: Le Willis: "Tu dell'infanzia mia" (Anna, Roberto, Guglielmo, Chorus)

06:20

Le Villi:

13

Puccini: Le Villi: "Se come voi piccina io fossi, o vaghi fior" (Anna, Roberto)

06:53

14

Puccini: Le Villi: "Ei giunge!... Ecco la casa...' (Chorus, Roberto)

02:32

15

Puccini: Le Villi: "Torna ai felici dì" (Roberto, Chorus)

09:39

Total Runtime

01:05:12
Info zu Puccini: Le Willis
Eigentlich ist Puccinis Opern-Erstling Le Villi (uraufgeführt 1884 in Mailand als einaktige Fassung unter dem Titel Le Willis, im selben Jahr in Turin als Le Villi in zweiaktiger Version) keine Rarität auf dem Plattenmarkt. Referenzaufnahme ist immer noch die Einspielung unter Lorin Maazel mit Renata Scotto als Anna. Die letzte Ausgabe mit Melanie Diener unter Marco Guidarini bei naive stammt aus dem Jahre 2003. Aber all diese Dokumente bedienten die spätere Fassung, von ersterer existiert lediglich eine Ausgabe bei Fonit Cetra unter Arturo Basile von 1954 mit Elisabetta Fusco.
Die Neuveröffentlichung von Opera Rara wurde im November 2018 in London eingespielt und erweckt besonderes Interesse durch die Wahl der Urfassung und die verwendete neue Ricordi-Edition (ORC59). Im Anhang finden sich zwei Arien aus der späteren Fassung, darunter Annas Hit "Se come voi piccina io fossi"..
Mark Elder, Artistic Director von Opera Rara, dirigiert das Royal Philharmonic Orchestra und erfasst die Stimmung des Werkes sehr überzeugend. Schon das kurze Preludio ist eine atmosphärische Studie von zauberischen Klängen, die dann in den bewegten Chor "Evviva i fidanzati" übergehen. Der Opera Rara Chorus (Pieter Schoeman) singt ihn mit vitalem Schwung. Ausgelassen wird Annas Verlobung mit Roberto gefeiert. Beide vereinen ihre Stimmen im Duett "Non esser, Anna mia", in welchem er sie in ihrer Melancholie zu trösten sucht, muss er doch wegen einer Reise nach Mainz den Schwarzwald verlassen. Mit ihrem melancholisch umflorten Sopran ist Ermonela Jaho eine ausgezeichnete Wahl für die Partie. Der armenische Tenor Arsen Soghomonyan lässt als Roberto emphatische Tenöre hören, die sich leidenschaftlich aufschwingen
Brian Mulligan ist Guglielmo Gulf, Annas Vater, der mit der Preghiera "Angiol di Dio" das Paar segnet. Sein Bariton klingt warmherzig und fürsorglich. Diese Szene beendet den ersten Teil als großes, rauschhaftes Ensemble der drei Solisten und des Chores. Danach folgt ein dramatisches Intermezzo sinfonico, von Elder mit spannender Steigerung geformt, welches die Geschehnisse in Mainz schildert, wo Roberto von einer Kurtisane verführt wurde und Anna vergessen hat. Aus Gram über seine Untreue stirbt sie und wird zu einer jener Willis, die des Nachts als zauberische Geister die Herzensbrecher zu Tode tanzen. (In der späteren Fassung übernimmt diese Beschreibung ein Erzähler.)
Der zweite Teil der Oper beginnt mit Guglielmos Klage über den Tod seiner Tochter und das Verlangen nach Rache. Die Stimme des Baritons klingt hier sehr tenoral, doch mit gebührend schmerzlichem Ausdruck. Roberto, von Reue geplagt, ist heimgekehrt. Anna aber ist nun zur Rächerin geworden. In der Schluss-Szene "Tu dell' infanzia mia" klingt sie anfangs noch einmal ganz zart und zerbrechlich, weil sie sich voller Trauer an den Beginn der Liebe zu Roberto erinnert. Dann aber überwiegen der Schmerz und das Leid wegen seines Betrugs. Sie zwingt ihn zu tanzen bis zum tödlichen Zusammenbruch – ihr "Sei mio!" ist ein triumphaler Ausbruch, während Guglielmo Gottes Gerechtigkeit preist.
Im Anhang erfreut Jaho mit Annas Arie "Se come voi piccina io fossi", fein gezeichnet und mit blühender Lyrik ausgestattet. Der Tenor kann in seiner großen Scena drammatica e Romanza "Ecco la casa/Torna ai felici dì" mit wehmütiger Empathie berühren, aber auch mit schwelgerischen Tönen und potenter Höhe prunken. (Bernd Hoppe)
Ermonela Jaho, Sopran (Anna)
Arsen Soghomonyan, Tenor (Roberto)
Brian Mulligan, Bariton (Guglielmo)
Opera Rara Chorus
London Philharmonic Orchestra
Sir Mark Elder, Dirigent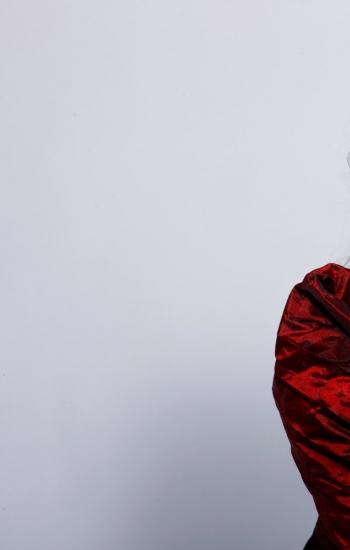 Ermonela Jaho
Now resident in New York, Ermonela Jaho was born in Albania and first began to take singing lessons when she was just six. At 14, she was taken to the Tirana Opera House for the first time where she heard La traviata and decided to become an opera singer. At 19 she moved to Rome to continue her studies at the Accademia Nazionale di Santa Cecilia. Over the next years, she won many singing competitions in Italy opening the doors to her singing career. Ermonela Jaho's vivid interpretations and her exceptional identification with the roles she performs are highlighted in all her reviews. Over the last year, standing ovations have followed her from London, Paris, New York, Munich, Berlin, Madrid and everywhere else in between, with The Economist describing her as "Fiery angel… the world's most acclaimed soprano", Financial Times "she throws heart and soul into her singing. Don't even try to resist!", The Independent as "the best Madama Butterfly London has seen in years" and Australia's Daily Telegraph describing her as "an unstoppable phenomenon".
In demand across the world, Ermonela Jaho is particularly recognised for her portrayals of Violetta (La traviata), Madama Butterfly and Suor Angelica (Il trittico) and a lot of other roles were she leaves her indelible mark on everything she sings.
In the 2019-20 season, Jaho reprises the roles of Suor Angelica, Violetta and Mimi at Bayerische Staatsoper, Anna Bolena at Sydney Opera House, Liu in Barcelona's Liceu, Desdemona at Royal Opera House in London, Adrienne Lecouvreur in Opera de Marseille (debut), Violetta in Monte-Carlo, Iris at Teatro Real in Spain, Mimi at Opera National de Paris etc
"'When I have to cry, I do cry, for sure. If I have to scream, I scream for real.' Ermonela Jaho speaks of the stage as if it's the one place where you are compelled never to deceive. All the artifice and artistry and the technical preparations count for little, she says, without genuine emotion."
Arsen Soghomonyan
made his debut as a tenor in March of 2017 as Cavaradossi in Tosca to great acclaim at the Stanislavsky and Nemirovich-Danchenko Opera Theatre in Moscow followed by performances of Canio in Pagliacci at the famous Teatro Degollado in Mexico. Prior to his debut as a tenor, Soghomonyan was the leading baritone of the Stanislavsky Theatre, where his repertoire included Figaro in Il Barbiere di Siviglia, Germont in La traviata, Belcore in L'elisir d'amore, Eletsky in The Queen of Spades and Napoleon in Prokofiev's War and Peace. He has also appeared as a Guest Artist at the Bolshoi Theatre in Moscow.
The 2018/19 season saw Soghomonyan's debut at many of Europe's most important theaters. He appeared as the title role in Otello with the Berlin Philharmonic under the baton of Zubin Mehta, Canio in Pagliacci at the Teatro di San Carlo in Napoli, and Roberto in Le Villi with Opera Rara. In the 2019/20 season, he will make his United States debut at the Seattle Opera as Canio in Pagliacci and his role and house debut as Calaf in Turandot at the Rome Opera. On the concert platform, the tenor will appear with the London Philharmonic singing Verdi's Requiem and with the Israel Philharmonic in Otello.
Born in Yerevan in 1983, Soghomonyan graduated from the Barkhudaryan music school, where he studied with L.Ter-Oganesyan. From 2000 to 2006, Soghomonyan studied with R. Hakobyants at the Komitas State Conservatory of Yerevan, during which time he made his debut as a baritone in the role of Fiorello from Il Barbiere di Siviglia with the Armenian National Philharmonic Orchestra and Maestro Eduard Topchyan. He was subsequently invited to the Armenian National Academic Theatre of Opera and Ballet, where he sang many of the leading baritone roles.
In 2006, Arsen Soghomonyan was awarded the State Prize of Armenia by the President of the Republic of Armenia. He also won First Prize at the Pavel Lisitsian International competition of opera singers in Vladikavkaz, where he received the Special Prize from the Lisitsian family and had the honor of participating in a masterclass with Pavel Lisitsian himself. Additionally, Soghomonyan has been a prizewinner at the Romansiada International Competition in Moscow, S. Manushko International Competition in Warsaw, and UNISA International Singing Competition in South Africa.
Soghomonyan has collaborated with such notable conductors as Vladimir Spivakov, Felix Korobov, Tugan Sokhiev, Alberto Zedda and many others.
Brian Mulligan
Baritone Brian Mulligan is equally renowned as an interpreter of classic works by Verdi, Wagner and Strauss as well as of the most challenging twentieth and twenty-first century operas. His striking stage portrayals have taken him to leading opera houses throughout Europe and North America. He makes regular appearances with the leading US orchestras and in recital.
He begins the 2019/20 season with a role debut at Houston Grand Opera as the title role in Rigoletto. Later this season, he also returns to Lyric Opera of Chicago for its presentation of Wagner's Ring Cycle, singing Gunther and Donner in Das Rheingold and Götterdämmerung, respectively. His operatic season in 2018/19 included a role debut as Mandryka in Arabella in a return to San Francisco Opera conducted by Marc Albrecht. He recorded Guglielmo in Puccini's Le Villi for Opera Rara and performed the work in concert in London under the baton of Sir Mark Elder. He returned to Zurich Opera as Zurga in Les Pecheurs de Perles. He also made a double debut with Dutch National Opera, Amsterdam, first as Sharpless in Madama Butterfly and then as Golaud in a new production of Pelleas et Melisande. Further highlights include the release on Bridge Records of his second solo CD Old Fashioned which features beloved songs of the early twentieth century made popular by great American baritones of the past.
In the 2017-2018 season, Brian Mulligan made role debuts as Gunther and Donner in the Francesca Zambello production of the Ring Cycle at the San Francisco Opera, conducted by Donald Runnicles. He returned to Oper Frankfurt to sing Count di Luna in David Bösch's new production Il trovatore, and Nélusko in Meyerbeer's L'Africaine in Tobias Kratzer's new production. He also sang Sharpless in Madama Butterfly at Opernhaus Zürich in a new production by Ted Huffman.
In recent seasons, Brian Mulligan returned to Oper Frankfurt for his role debut as Golaud in Pelléas et Mélisande. He has also returned to the Metropolitan Opera as Paolo in Simon Boccanegra with Plácido Domingo in the title role and James Levine conducting. He returned to Opernhaus Zürich for his signature role of Valentin in Faust, and Yeletsky in Robert Carsen's production of Pique Dame. At the Minnesota Opera, Mr. Mulligan created the role of Jack Torrance in the world premiere of The Shining, written by Paul Moravec and Mark Campbell.


Booklet für Puccini: Le Willis