---
Album Info
Album Veröffentlichung:
2017
HRA-Veröffentlichung:
18.01.2019
Das Album enthält Albumcover
1

Terra Nova

04:40

2

Med Røde Roser

03:57

3

Coming My Way

03:57

4

Barndomsminne

04:51

5

The Angel

02:35

6

Love's Secret

02:54

7

Nordaførr Vårvisa

05:31

8

Fly North

05:36

9

Ved Nyingen

03:29

10

Diset Kvæld

04:26

11

Jerusalem

03:37

12

The Lamb

03:12

13

Meditatus

04:42

Total Runtime

53:27
Info zu Terra Nova
All the "pigeonholing" and talk about genres in our day and age has led to confusion in one or another of the camps: is it jazz, is it classical, or what actually is it? With this clearly in mind, we - the classical singer and the jazz pianist - have ventured together in Terra Nova's tonal world in an attempt to create our own "universe". Jan Gunnar Hoff is a jazz pianist, but he composes in a style that overlaps with what can be defined as classical, with its fine melodies and melodious improvisations, and with its singable compositions. We wish to give you a genre-free musical experience, in which the music elevates the text, and in which the two of us, each in our way, bring the essence, melancholy and beauty of the music into this indefinable universe of text and melody.
Marianne Beate Kielland, soprano
Jan Gunnar Hoff, piano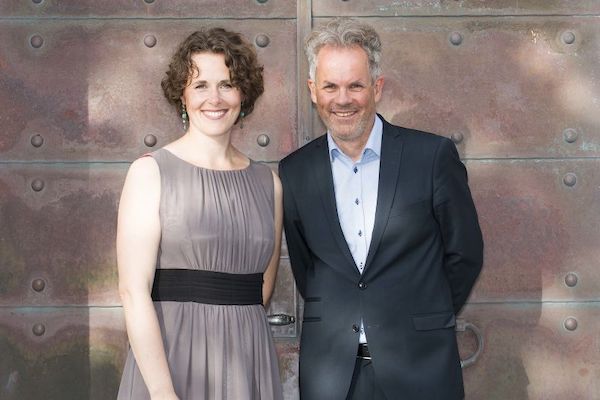 Marianne Beate Kielland
has established herself as one of the foremost singers of Scandinavia, and is one of the few Norwegian singers to have received a Grammy nomination. The versatile mezzo soprano started her international career as an ensemble member of the Staatsoper Hannover, and since then she has been working frequently with leading orchestras and ensembles and enjoying a vast concert repertoire spanning from early 17th century works through to Classical, Romantic and the contemporary eras. ​
Highlights in 17/18 season include Mahler songs with Grand Rapids Symphony and New Jersey Philharmonic, Bach Christmas oratorio with Gulbenkian Orchestra, Mahler Symphony no. 8 with Danish Radio Orchestra and with BBC Philharmonic, Mendelssohn Elijah with Freiburg Baroque Orchestra and Beethoven 9th with Calgary Philharmonic.
Her recent symphonic and oratorio appearances include Bach's St. Matthew Passion with Oslo Philharmonic, NDR Radiophilharmonie and Cologne Chamber Orchestra, Mass in B minor with Gothenburg Symphony, Gli Angeli Genève and Norwegian Baroque Orchestra, Christmas Oratorio with Tonkünstler Orchestra and Trondheim Symphony Orchestra, Bach Cantatas with Bachstiftung St. Gallen, Couperin's Leçons de ténèbres with The King's Consort, Handel's Messiah with Musica Vitae, Pergolesi's Stabat Mater with Cologne Chamber Orchestra, Haydn's Arianna a Naxos with the Budapest Festival Orchestra, SWR Sinfonieorchester and Anima Eterna, Beethoven's Symphony No. 9 with Oslo Philharmonic, Swedish Chamber Orchestra and at the Sydney Opera House, Mahler's Symphony No. 2 and Das Lied von der Erde with Helsingborg Symphony Orchestra, Lieder eines fahrenden Gesellen with Trondheim Symphony Orchestra, Berio's Folksongs with Kristiansand Symphony Orchestra.
She has also appeared with other major orchestras and ensembles including Wiener Symphoniker, Bergen Philharmonic, Norwegian Radio Orchestra, Gothenburg Symphony, Iceland Symphony, Mahler Chamber Orchestra, Royal Flemish Orchestra, Akademie für alte Musik Berlin, Concerto Köln, Europa Galante, Les Talens Lyriques, RIAS Kammerchor, Anima Eterna, Le Concert des Nations, Collegium Vocale Gent and Bach Collegium Japan; and has worked with such distinguished conductors as Rinaldo Alessandrini, Fabio Biondi, Harry Christophers, Thomas Dausgaard, John Fiore, Philippe Herreweghe, Manfred Honeck, René Jacobs, Nicholas Kraemer, Andrew Manze, Marc Minkowski, Vasily Petrenko, Daniel Reuss, André de Ridder, Helmut Rilling, Christophe Rousset, Jukka-Pekka Saraste, Federico Maria Sardelli, Jordi Savall, Masaaki Suzuki, Thomas Søndergård and Robin Ticciati.
Kielland is also in great demand for Baroque operatic roles including Merope in Vivaldi's Oracolo in Messenia (an extensive tour with Europa Galante), Messaggiera and Proserpina in Monteverdi's Orfeo, Fernando in Attilio Ariosti's La Fede nei tradimenti, Apollo in Handel's Terpsichore, Ercole in Caldara's Il piu bel nome, Monteverdi's Il Combattimento di Tancredi e Clorinda and Aronne in Francesco Nicolò Fago's Il Faraone Sommerso.
Kielland has made more than 50 CD recordings of oratorios, operas, cantatas and songs by Bach, Handel, Vivaldi, Caldara, Scarlatti, Beethoven, Schumann, Mahler, Mussorgsky, Martin, Chausson, Korngold, von Suppé, Schönberg, Webern, Berg and Sigurd Islandsmoen. In 2012 she was nominated to a GRAMMY Award in the category Best Classical Vocal Solo for the album Veslemøy Synsk, which features works by composers Edvard Grieg and Olav Anton Thommesen. She performs regularly with pianist Nils Anders Mortensen and the duo has appeared in Norway, Germany Estonia, Russia and Finland. She has also appeared with pianists such as Leif Ove Andsnes, Pascal Roge, Jean-Efflam Bavouzet, Lise de la Salle and Jos van Immerseel.
Jan Gunnar Hoff
was educated at NTNU, Jazzdep in Trondheim 1986-89 and studied arranging and composing at NMH, Oslo 2001-2002. His career as a jazz musician started in 1976 with piano trio and as a backing musician for drummer Jon Christensen and other jazz artists at the local jazz club. Hoff became a professional musician in 1979 and toured with Arild Andersen and Nils Petter Molvær in 1982. In 1987 Hoff participated in an all star Norwegian combo presenting Jan Garbarek's commission for the Federation of Norwegian Jazz musicians, FNJ. Hoff´s debut CD Syklus was recorded in 1992, based on a commission for the Arts Festival of North Norway. Since 1993 Hoff has worked as a bandleader presenting original compositions. Major band events include Hoff´s highly acclaimed Vossajazz-debut in 1995, Oris London Jazzfestival and Molde Int. Jazzfestival 1996 with EBU-broadcast to 12 European countries (link to TV-program). Another highlight is the successful collaboration with Pat Metheny in Molde 2001. Excerpt "Extraditon" (Metheny) from the official NRK broadcast.
Hoff and his band toured Norway, Estonia and Ukraine with Mike Stern in 2006, 2007 and 2008. From 2008 Hoff has been working with percussionist Alex Acuna and bassplayer Per Mathisen in the new trio "Acuna/Hoff/ Mathisen". February 2010 the trio recorded a concert DVD at Drumchannel in Oxnard California. This trio has released two albums, "Jungle City" and "Barxeta".
As a composer he has made works for chamber orchestra, sinfonietta, choir and other settings, in addition to compositions for his solo recordings. Hoff did the prestigous annual commission for Vossajazz 2005 "Free flow songs" and received an Edvard (Grieg) -prize for his jazzmazz "Meditatus" in 2006. "Meditatus" has been performed in Norway, Iceland, Canada, USA and recorded on CD in Norway and CD/DVD in Riga, Latvia.
Several duo constallations a.o with Maria Joao in Norway, Croatia and France 2008. Worth mentioning is also the Harstad festival in Northern Norway 1995 where Hoff did a spontanous duo session with Chick Corea. Other collaborations include Norwegian artists like Unni Wilhelmsen, Frode Alnæs, Jarle Bernhoft, Jan Eggum, Halvdan Sivertsen.
From 2008-2014 Hoff has performed and toured in Russia, Belarus, Ukraine, Croatia, Iceland, Austria, Italy, Sweden, USA, Slovakia, Kazakhstan, Kirgisistan, Peru, England, Japan and Norway. Concerts in major cities such as New York, London, Stockholm, Zagreb, Los Angeles, Moscow, St.Petersburg, Tokyo, Istanbul, Vilnius.
In 2011 Hoff contributed as bandleader, arranger and pianist for the album "Quiet winter night", later nominated for US Grammy Awards 2013 (Best surround sound album, Morten Lindberg, 2L). Hoff continued his collaboration with 2L on the solo piano album LIVING, released April 2013. Hoffs quartet-recording "Fly North" was released in January 2014, followed by the solo album "Quiet light/Stille lys" (2L December 2014). In January 2014 Hoff received the Buddy prize, the highest distinction in Norwegian jazz. May 2014 he was appointed as an official Steinway Artist and August 2014 he was selected as Artist in residence at Ingmar Bergman Estate, Fårö (Sweden). Hoff released two more albums late 2016 and early 2017: Stories, a solo piano album for 2L and Terra Nova, a crossover duo project with mezzo soprano Marianne Beate Kielland. April 2018 Hoff´s trio album Polarity was released by 2L, receiving great reviews. In June Hoff was part of the trio Mathisen/Hoff feat. Horacio Hernandez, releasing the album Barxeta II. In September 2018 Hoff will release his third album this year, Jan Gunnar Hoff Group feat. Mike Stern.


Dieses Album enthält kein Booklet