---
Album Info
Album Veröffentlichung:
2021
HRA-Veröffentlichung:
11.06.2021
Das Album enthält Albumcover Booklet (PDF)
Leonard Bernstein (1918 - 1990): Symphonic Dances from 'West Side Story':

1

Bernstein: Symphonic Dances from 'West Side Story': 1. Prologue. Allegro moderato

04:11

2

Bernstein: Symphonic Dances from 'West Side Story': 2. Somewhere. Adagio

03:50

3

Bernstein: Symphonic Dances from 'West Side Story': 3. Scherzo. Vivace e leggiero

01:25

4

Bernstein: Symphonic Dances from 'West Side Story': 4. Mambo. Meno Presto

02:19

5

Bernstein: Symphonic Dances from 'West Side Story': 5. Cha-cha. Andantino con grazia

01:01

6

Bernstein: Symphonic Dances from 'West Side Story': 6. Meeting Scene. Meno mosso

01:30

7

Bernstein: Symphonic Dances from 'West Side Story': 7. Cool Fugue. Allegretto

03:07

8

Bernstein: Symphonic Dances from 'West Side Story': 8. Rumble. Molto allegro

01:57

9

Bernstein: Symphonic Dances from 'West Side Story': 9. Finale. Adagio

02:58

Charles Ives (1874 - 1954): Symphony No. 3, 'The Camp Meeting':

10

Ives: Symphony No. 3, 'The Camp Meeting': I. Old Folks Gatherin'. Andante maestoso

06:19

11

Ives: Symphony No. 3, 'The Camp Meeting': II. Children's Day. Allegro

07:09

12

Ives: Symphony No. 3, 'The Camp Meeting': III. Communion. Largo

07:10

Samuel Barber (1910 - 1981):

13

Barber: Ouverture to 'The School for Scandal', Op. 5

08:52

Ruth Crawford (1901 - 1953):

14

Crawford: Andante for strings

04:14

Samuel Barber:

15

Barber: Toccata Festiva, Op. 36 for organ and orchestra

14:57

Total Runtime

01:10:59
Info zu Bernstein, Barber, Crawford & Ives: Americans
Mit dieser Aufnahme, die zu den glanzvollsten Kostproben seiner Zusammenarbeit mit dem Luzerner Sinfonieorchester gehört, lädt uns James Gaffigan zu einem Besuch seines Landes ein. Das facettenreiche Programm enthält sowohl freche Werke (West Side Story muss man nicht vorstellen) als auch höchst geistreiche wie die Dritte Sinfonie von Charles Ives, die aus Orgelstücken hervorging. Das Andante für Streicher von Ruth Crawford entfaltet als eine Art suggestives, ruheloses Nocturne mit seinen Dissonanzen einen emotionsgeladenen Zauber, während die überschwängliche Toccata für Orgel und Orchester eine überraschende Seite des wohlbekannten Samuel Barber zeigt. Ein hinreißendes Album!
Paul Jacobs, Orgel
Luzerner Sinfonieorchester
James Gaffigan, Dirigent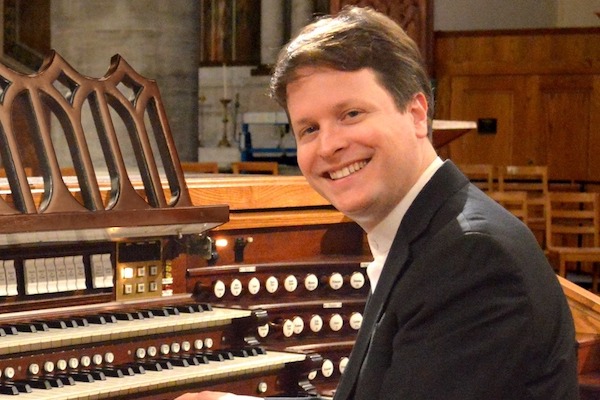 Paul Jacobs
Heralded as "one of the major musicians of our time" by Alex Ross of The New Yorker and as "America's leading organ performer" by The Economist, the internationally celebrated organist Paul Jacobs combines a probing intellect and extraordinary technical mastery with an unusually large repertoire, both old and new. An eloquent champion of his instrument, Mr. Jacobs is known for his imaginative interpretations and charismatic stage presence. He has performed to great critical acclaim on five continents and in each of the fifty United States and is the only organist ever to have won a Grammy Award—in 2011 for Messiaen's towering "Livre du Saint-Sacrément."
No other organist is repeatedly invited as soloist to perform with prestigious orchestras, thus making him a pioneer in the movement for the revival of symphonic music featuring the organ. Mr. Jacobs regularly appears with the Chicago Symphony, Cincinnati Symphony, Cleveland Orchestra, Edmonton Symphony, Indianapolis Symphony, Kansas City Symphony, Los Angeles Philharmonic, Lucerne Symphony Orchestra, Minnesota Orchestra, Montreal Symphony, Nashville Symphony, National Symphony Orchestra, Pacific Symphony, Philadelphia Orchestra, Phoenix Symphony, San Francisco Symphony, Toledo Symphony, and Utah Symphony, among others. ​
Mr. Jacobs has transfixed audiences, colleagues, and critics alike with landmark performances of the complete works for solo organ by J.S. Bach and Messiaen, as well as works by a vast array of other composers. Mr. Jacobs made musical history at the age of 23 when he played Bach's complete organ works in an 18-hour marathon performance on the 250th anniversary of the composer's death. A fierce advocate of new music, Mr. Jacobs has premiered works by Samuel Adler, Mason Bates, Michael Daugherty, Bernd Richard Deutsch, John Harbison, Wayne Oquin, Stephen Paulus, Christopher Theofanidis, and Christopher Rouse, among others. As a teacher he has also been a vocal proponent of the redeeming nature of traditional and contemporary classical music. ​
His recital engagements have included performances under the aegis of the American Guild of Organists, Bach Festival Society of Winter Park, Chamber Music Society of Lincoln Center, Cleveland Orchestra, Dallas Symphony, Kennedy Center, Lincoln Center White Light Festival, Los Angeles Philharmonic at Disney Hall, Madison Symphony Orchestra, Oregon Bach Festival, Philadelphia Orchestra, Phoenix Symphony, Pittsburgh Symphony, San Francisco Symphony, Seattle Symphony, Spivey Hall in Atlanta, and the St. Louis Cathedral-Basilica.
​ He has given the world premiere of Christopher Rouse's Organ Concerto with the Philadelphia Orchestra—co-commissioned by the National Symphony and the Los Angeles Philharmonic—and, with the Toledo Symphony, performed Michael Daugherty's Once Upon a Castle, a work he recorded in 2015 with the Nashville Symphony Orchestra which was released by Naxos in September 2016, and awarded three Grammys, including Best Classical Compendium. ​
In the 2019-20 season Mr. Jacobs will perform the Daugherty work with the Philadelphia Orchestra and conductor Donald Runnicles and with the Kansas City Symphony and conductor Jason Seber. In November 2019, Mr. Jacobs will join the Nashville Symphony Orchestra and conductor Giancarlo Guerrero for performances of Horatio Parker's Organ Concerto in E-flat minor, Op. 55; this work will be recorded live for the Naxos label. Mr. Jacobs will collaborate with Maestro Guerrero twice more this season in Europe: they will perform Stephen Paulus's Grand Concerto for Organ and Orchestra with the Bamberg Symphony, broadcast on Bayerische Rundfunk Radio in April 2020; then they will travel to Wroclaw, Poland for a program with NFM Wroclaw Philharmonic in May 2020. With the Utah Symphony and conductor Thierry Fischer, Mr. Jacobs will perform Barber's Toccata Festiva and Handel Organ Concerto No. 13 in F Major, "Cuckoo & the Nightingale," in April 2020. ​
In May 2020, Mr. Jacobs will inaugurate the newly restored Hazel Wright organ at the Christ Cathedral in Garden Grove, California, as part of the opening festivities under the aegis of the American Guild of Organists Orange County Chapter and the Catholic Diocese of Orange County. Additional recitals during the 2019-20 season include appearances under the auspices of the San Francisco Symphony, Chelsea Opera, Furman State University, SUNY Potsdam, Clayton State University, Joye in Aiken, Dallas's Highland Park United Methodist Church, and Bethlehem Music Series. Mr. Jacobs continues as Director of the Bach Festival Organ Institute, a position he assumed in the summer of 2014. Soon to be released will be Barber's Toccata Festiva with the Lucerne Symphony and conductor James Gaffigan on the Harmonia Mundi label. Mr. Jacobs will close out his 2019-20 season on June 17, 2020, with a Paris recital at the Maison de la Radio, presented by Radio France and the Orchestre National de France, to be broadcast live from the station's headquarters. The program will include the world premiere of a new work written for Mr. Jacobs by the French composer Jean-Baptiste Robin.
Marking an important milestone for the development of organ playing in Asia, Mr. Jacobs participated in the 2017 launch of China's first International Organ Competition—in Shanghai— when he was appointed to serve as president of the competition's jury. After another successful guest engagement with the Philadelphia Orchestra at Philadelphia's Verizon Hall performing both Oquin's Resilience, for organ and orchestra, and James MacMillan's A Scotch Bestiary, Mr. Jacobs was invited by Music Director Yannick Nézet-Séguin to tour three major European cities with the Philadelphia Orchestra in May 2018. He played the Oquin work in Brussels, Luxembourg, and in Hamburg's recently inaugurated Elbphilharmonie. ...


Booklet für Bernstein, Barber, Crawford & Ives: Americans