---
Album Info
Album Veröffentlichung:
2020
HRA-Veröffentlichung:
06.11.2020
Das Album enthält Albumcover
Franz Joseph Haydn (1732 - 1809): Symphony No. 100 in G Major, Hob. I:100 "Military":

1

Symphony No. 100 in G Major, Hob. I:100 "Military": I. Adagio – Allegro

08:01

2

Symphony No. 100 in G Major, Hob. I:100 "Military": II. Allegretto

05:25

3

Symphony No. 100 in G Major, Hob. I:100 "Military": III. Menuet & Trio - Moderato

05:44

4

Symphony No. 100 in G Major, Hob. I:100 "Military": IV. Finale - Presto

05:35

Missa in angustiis, Hob. XXII:11 "Nelson Mass":

5

Missa in angustiis, Hob. XXII:11 "Nelson Mass": Kyrie

04:57

6

Missa in angustiis, Hob. XXII:11 "Nelson Mass": Gloria in excelsis deo

03:46

7

Missa in angustiis, Hob. XXII:11 "Nelson Mass": Qui tollis

04:14

8

Missa in angustiis, Hob. XXII:11 "Nelson Mass": Quoniam tu solus sanctus

03:00

9

Missa in angustiis, Hob. XXII:11 "Nelson Mass": Credo in unum Deum

01:37

10

Missa in angustiis, Hob. XXII:11 "Nelson Mass": Et incarnatus est

04:09

11

Missa in angustiis, Hob. XXII:11 "Nelson Mass": Et resurrexit

03:55

12

Missa in angustiis, Hob. XXII:11 "Nelson Mass": Sanctus

02:19

13

Missa in angustiis, Hob. XXII:11 "Nelson Mass": Benedictus

06:18

14

Missa in angustiis, Hob. XXII:11 "Nelson Mass": Agnus Dei qui tollis

02:47

15

Missa in angustiis, Hob. XXII:11 "Nelson Mass": Dona nobis pacem

02:50

Total Runtime

01:04:37
Info zu Haydn: Symphony No. 100 & Nelson Mass
Experience two grand classics, alive with all the excitement and verve of their very first performances. Thrill to one of Haydn's masterful 'London' symphonies that wowed England's capital – the smash hit 'Military', so-called for intense depictions of the clash of arms and ferocious roar of war. In the epic Lord Nelson Mass Handel and Haydn Society's magnificent chorus and soloists join the orchestra in this homage to the heroic admiral who helped vanquish Napoleon.
Mary Bevan, soprano
Catherine Wyn-Rogers, mezzo-soprano
Jeremy Budd, tenor
Sumner Thompson, baritone
Handel and Haydn Society
Harry Christophers, direction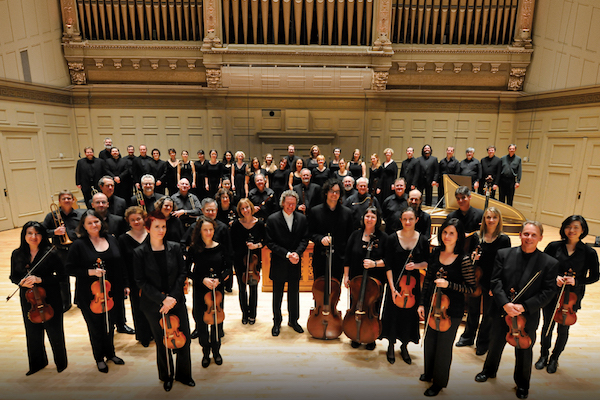 Handel and Haydn Society
Founded in Boston in 1815, the Handel and Haydn Society (H+H) is America's oldest continuously performing arts organization and will celebrate its Bicentennial in 2015. Its Period Instrument Orchestra and Chorus are internationally recognized in the field of Historically Informed Performance, using the instruments and techniques of the composer's time. Under Artistic Director Harry Christophers' leadership, H+H's mission is to perform Baroque and Classical music at the highest levels of artistic excellence and to share that music with as large and diverse an audience as possible.
H+H's esteemed tradition of innovation and excellence began in the 19th century with the US premieres of Handel's Messiah (1818), Haydn's The Creation (1819), Verdi's Requiem (1878), and Bach's St. Matthew Passion (1879). In 1969, Artistic Director Thomas Dunn transformed the chorus into a small, expert ensemble, and in 1986, Christopher Hogwood became Artistic Director and added period instrument performances. Music Director Grant Llewellyn (2001–2006) and Artistic Advisor Sir Roger Norrington (2006–2008) continued this tradition, as Harry Christophers, appointed in 2009, does today.
H+H is widely known through its concert series, tours, WGBH/99.5 Classical, NPR, and American Public Media broadcasts, and recordings. Its nine-program series, held at Symphony and Jordan Halls in Boston and Sanders Theatre in Cambridge, reaches 2,700 subscribers and 15,500 single ticket buyers from throughout New England. The orchestra comprises a core group of period instrument specialists and the chorus is a fully-professional ensemble. H+H consistently presents world renowned guest artists. H+H made its European debut in 1996 at the Edinburgh International Festival with a fully-staged production of Gluck's Orfeo ed Euridice with the Mark Morris Dance Group. Recent tours have taken H+H to the Haydn Festival in Esterházy, Austria, in 2006, and to the BBC Proms Festival, London, which the London Telegraph named one of the top musical events of 2007.
Over the past 20 years, H+H has presented interdisciplinary programs featuring dance, opera, jazz, and theater. In 2003, it performed the first fully-staged performance of Monteverdi's Vespers in collaboration with Chinese stage director Chen Shi-Zheng. H+H and Shi-Zheng premiered two more fully-staged productions, Purcell's Dido and Aeneas (2005) and Monteverdi's Orfeo (2006). Other collaborators include Dave Brubeck, Chick Corea, David McCullough, and Claire Bloom.
H+H won a Grammy award for its recording of Tavener's Lamentations and Praises, co-commissioned with Chanticleer. In fall 2005, its recordings All is Bright and Peace were in the Top Ten on the Billboard classical music chart together. Its first recording with Harry Christophers, Mozart Mass in C Minor, was issued in September 2010 on the CORO label, followed by Mozart Requiem in September 2011.
As a major performing organization, educator, resource center, and community partner, H+H strives to entertain and inspire audiences, provide unique educational experiences for students at all levels, and reach all citizens in the community through broad outreach efforts. Established in 1985, H+H's award-winning Karen S. and George D. Levy Educational Outreach Program reaches 10,000 students each year throughout Greater Boston, many in underserved communities. H+H also maintains partnerships with area cultural and higher education institutions, including Boston Public Library; the Museum of Fine Arts, Boston; Massachusetts Institute of Technology; New England Conservatory; and Harvard University.
Harry Christophers
Since his appointment as artistic director of the Handel and Haydn Society (H+H), Harry Christophers and H+H have enjoyed an ambitious artistic journey including showcases of works that the organization has premiered in the United States since 1815 as well as broad education programming, community partnerships, concerts at The Metropolitan Museum of Art and Tanglewood, and a series of recordings on the CORO label.
Mr. Christophers is known internationally as founder and conductor of the British choir and period-instrument ensemble The Sixteen, which he has directed throughout Europe, America, Australia, and Asia, gaining a distinguished reputation for his work in Renaissance, Baroque, and 20th- and 21st-century music. In 2000 he instituted The Choral Pilgrimage, a tour of British cathedrals from York to Canterbury.
In October 2008 he was awarded an honorary doctor of music Degree from the University of Leicester. He is an honorary fellow of Magdalen College, Oxford, and of the Royal Welsh Academy for Music and Drama, and he was awarded a Commander of the Order of the British Empire in the 2012 Queen's Birthday Honors.


Dieses Album enthält kein Booklet