---
Album Info
Album Veröffentlichung:
2020
HRA-Veröffentlichung:
25.09.2020
Das Album enthält Albumcover
Entschuldigen Sie bitte!
Sehr geehrter HIGHRESAUDIO Besucher,
leider kann das Album zurzeit aufgrund von Länder- und Lizenzbeschränkungen nicht gekauft werden oder uns liegt der offizielle Veröffentlichungstermin für Ihr Land noch nicht vor. Wir aktualisieren unsere Veröffentlichungstermine ein- bis zweimal die Woche. Bitte schauen Sie ab und zu mal wieder rein.
Wir empfehlen Ihnen das Album auf Ihre Merkliste zu setzen.
Wir bedanken uns für Ihr Verständnis und Ihre Geduld.
Ihr, HIGHRESAUDIO
Meredith Monk (b. 1942):

1

Early Morning Melody (Transcr. Parkin for Soprano Saxophone)

00:59

Luke Howard:

2

Dappled Light

04:12

Thom Yorke (b. 1968):

3

Suspirium (Arr. Rimmer)

03:51

Philip Glass (b. 1937):

4

Truman Sleeps (Arr. Parkin)

02:41

Anna Meredith (b. 1978):

5

Bubble Gun (Arr. Ross)

03:35

Michael Nyman (b. 1944):

6

Where the Bee Dances

16:37

Will Gregory (b. 1959):

7

Orbit

04:21

Björk (b. 1965):

8

Venus as a Boy (Arr. Metcalfe)

04:05

Max Richter (b. 1966):

9

On the Nature of Daylight (Arr. Mackay)

06:21

Philip Glass:

10

Melody for Saxophone No. 10

02:04

James Blake (b. 1988):

11

Retrograde (Arr. Rimmer / Maydew)

03:42

Joby Talbot (b. 1971):

12

Transit of Venus

04:18

Brian Eno (b. 1948), Jon Hopkins (b. 1979) & Leo Abrahams (b. 1977):

13

Emerald and Stone (Arr. Lawson)

02:19

Total Runtime

59:05
Info zu TIME
The recording mirrors the arc of energy in a passing day with two new commissions by Luke Howard and Goldfrapp's Will Gregory and Nyman's virtuosic Where the Bee Dances at its heart.
The album mirrors the arc of energy in a passing day and the constant orbit of our existence.
With a huge range of styles, moods and influences, the music offers the listener a space to immerse themselves in an oasis of sound and reflection. Gillam carefully curated the recording to be experienced as a whole, accompanying the listener through the unrelenting cycles of life itself – it will make you want to dance, pause, soar with the melodies or simply just smile.
"Last year I moved to London and quickly became acutely aware of the speed and intensity of life. Everything is in constant orbit: I am orbiting around the world as a musician, there's the orbit of a day, of thoughts around the mind and I noticed how many people are looking for a place to stop and reflect.
I began thinking about this and wanted to create an album which gives the listener space in which to immerse themselves and perhaps give them a moment away from the world as it is right now. I listen to and love such a huge array of music so the album's influences range from classical to techno and minimalism to alternative pop!
To me, music can be completely transformative and the experience of watching a live performance or sitting down to listen to an album is one of the only places in modern life where we can completely focus on what is happening before us with no distractions. There are no screens, no instant messaging, just a sense of direct communication. It's something that requires patience but can be utterly life-affirming." (Jess Gillam)
At the heart of the album is Where the Bee Dances: minimalist pioneer Michael Nyman's 20-minute masterpiece for saxophone and orchestra. The incredibly electrifying and technical concerto is one of Gillam's signature pieces and the work she performed in the final of BBC Young Musician in 2016, launching her career at the age of 17. Played on the album with the Aurora Orchestra and conducted by Nicholas Collon, recorded at Abbey Road, it is a piece that has inspired her from a young age. Nyman is also well known for his multi-platinum soundtrack album to Jane Campion's The Piano (1993).
With a passion for pushing the boundaries of the saxophone and always looking to the next chapter of classical music, Gillam has also specially commissioned two new works for the album: Dappled Light by Luke Howard and Orbit by Goldfrapp's Will Gregory. The rest of the record features vivid contrasts between the intense rhythmic groove of Anna Meredith, the lilting, hypnotic patterns of Brian Eno as well as the hard-edged romanticism of Nyman and the gentle, melancholic whispers of Radiohead's Thom Yorke. There are also arrangements of works from multi-faceted and genre- breaking alternative artists including Björk and James Blake alongside familiar classical names such as Philip Glass, Max Richter and Joby Talbot. There will also be a 10-minute mini-documentary charting the making of the album available nearer the release date.
Australian Music Prize twice-longlisted composer Howard's Dappled Light is a reflection on early dawn, with a soothing bed of soft piano and marimba sounds. The floating saxophone echoes bird song at the break of the day and growing warmth from strings resembles the sun as it rises.
Gregory, a renowned composer, producer, and saxophonist, composed Orbit as a reflection on the hustle and bustle of day. The saxophone spins around in driving, cyclic melodic patterns, over a relentless arpeggic figure shared by marimba and strings and the groove of a bass synth underlay.
Collaboration is a key component of the album and Gillam's work. It is the first time the Jess Gillam Ensemble, made up of musician friends, have played and recorded together: the tracks were also refined in the studio with the input of the Ensemble as well as the composers/arrangers themselves. The album was mixed and mastered remotely whilst in lockdown.
"Making this album was one of the best experiences of my life. I was fortunate enough to record with an incredible group of musicians and close friends. The pieces grew and changed and were moulded over a few days and the feeling of collectivity, collaboration and concentration paired with a lot of laughter and smiling made for one of the most inspiring musical environments I've experienced. I am very grateful to all the musicians who have contributed to this album and to our wonderful producer Jonathan Allen.
Whilst we were able to get into the studio to record before lockdown, the process since then has been quite different! Due to the restrictions, we were not able to do a photoshoot so I hope you enjoy the homemade nature of the single covers!" (Jess Gillam)
Jess Gillam, saxophone
Jess Gillam Ensemble
Aurora Orchestra
Nick Collon, conductor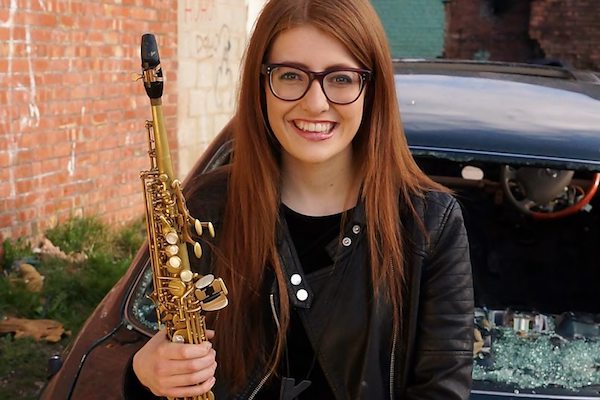 Jess Gillam
Im Jahr 2016, im Alter von 17 Jahren, schrieb Jess Gillam Geschichte, als sie als erste Saxophonistin das Holzbläser-Finale des BBC Young Musician of the Year gewann. Danach erreichte sie das große Finale in der Londoner Barbican Hall und spielte Michael Nymans Where the Bee Dances mit dem BBC Symphony Orchestra unter der Leitung von Mark Wigglesworth mit großem Erfolg.
Im Sommer 2017 gab Jess ihr Debüt bei BBC Proms in der Royal Albert Hall, wo sie als Solistin sowohl mit dem Royal Philharmonic Orchestra unter der Leitung von Jessica Cottis als auch mit dem BBC Concert Orchestra unter der Leitung von Keith Lockhart auftrat.
Zu den Höhepunkten ihrer Konzerttätigkeit zählen Auftritte mit Southbank Sinfonia, Royal Liverpool Philharmonic Orchestra und ein Showcase-Auftritt mit der Manchester Camerata sowie ein Konzert mit Sinfonia Cymru und Gábor Takács-Nagy. Sie gibt regelmäßig Liederabende in ganz Großbritannien. Letztes Jahr gab Jess die Uraufführung eines für sie geschriebenen Stücks von Jeremy Holland-Smith auf BBC Four's Choir of the Year und gastierte mit Jools Holland und seinem R&B Orchestra.
Jess studiert am Royal Northern College of Music mit einem ABRSM-Stipendium und wird von John Harle betreut. Sie trat bei BBC Radio 3, BBC Radio 4 (Woman's Hour), BBC Radio 2, BBC 6 Music und BBC Radio Cumbria auf, die eine Sendung über sie gemacht haben. Im Jahr 2015 wurde Jess bei den Cumbria Culture Awards als Musikerin des Jahres ausgezeichnet.
Jess wurde als Rising Star im BBC Music Magazine und als James Naughties Interviewpartnerin vorgestellt. Sie ist eine Künstlerin der Vandoren UK und wurde die jüngste Unterstützerin von Yanagisawa Saxophones im Alter von 13 Jahren. Jess ist Schirmherrin der Awards for Young Musicians und fördert ihre eigene Konzertreihe, die internationale Talente in ihre Heimatstadt Ulverston bringt.
Jess ist sehr dankbar für die Unterstützung, die sie vom Young Classical Artists Trust erhalten hat. Sie ist bei Harrison Parrott und Polyarts für das weltweite Management unter Vertrag.


Dieses Album enthält kein Booklet