---
Album Info
Album Veröffentlichung:
2022
HRA-Veröffentlichung:
01.07.2022
Das Album enthält Albumcover Booklet (PDF)
Heinrich Schütz (1585 - 1672): Ich weiß, daß mein Erlöser lebt, SWV 393 (Arr. for Saxophone Quartet & Choir by Freddie Crowley):

1

Schütz: Ich weiß, daß mein Erlöser lebt, SWV 393 (Arr. for Saxophone Quartet & Choir by Freddie Crowley)

02:40

Andrea Gabrieli (1533 - 1585): O salutaris hostia (Arr. for Saxophone Quartet & Choir by Freddie Crowley):

2

Gabrieli: O salutaris hostia (Arr. for Saxophone Quartet & Choir by Freddie Crowley)

02:57

Johann Sebastian Bach (1685 - 1750): Zion hört die Wächter singen (Arr. for Saxophone Quartet & Choir by Freddie Crowley):

3

Bach: Zion hört die Wächter singen (Arr. for Saxophone Quartet & Choir by Freddie Crowley)

04:15

Owain Park (b. 1993): Miserere after Allegri:

4

Park: Miserere after Allegri

08:04

Giovanni Gabrieli (1557 - 1612): O magnum mysterium, C. 3 (Arr. for Saxophone Quartet & Choir by Freddie Crowley):

5

Gabrieli: O magnum mysterium, C. 3 (Arr. for Saxophone Quartet & Choir by Freddie Crowley)

03:30

Johann Michael Bach (1648 - 1694): Herr, ich warte auf dein Heil (Arr. for Saxophone Quartet & Choir by Freddie Crowley):

6

Bach: Herr, ich warte auf dein Heil (Arr. for Saxophone Quartet & Choir by Freddie Crowley)

04:37

Ich weiß, daß mein Erlöser lebt (Arr. for Saxophone Quartet & Choir by Freddie Crowley):

7

Bach: Ich weiß, daß mein Erlöser lebt (Arr. for Saxophone Quartet & Choir by Freddie Crowley)

02:08

James MacMillan (b. 1959): Christus vincit:

8

MacMillan: Christus vincit

06:11

Heinrich Schütz: Das Wort ward Fleisch und wohnet unter uns, SWV 385 (Arr. for Saxophone Quartet & Choir by Freddie Crowley):

9

Schütz: Das Wort ward Fleisch und wohnet unter uns, SWV 385 (Arr. for Saxophone Quartet & Choir by Freddie Crowley)

03:29

Johann Sebastian Bach: Weil du mein Gott und Vater bist (Arr. for Saxophone Quartet & Choir by Freddie Crowley):

10

Bach: Weil du mein Gott und Vater bist (Arr. for Saxophone Quartet & Choir by Freddie Crowley)

01:51

Heinrich Schütz: Selig sind die Toten, SWV 391 (Arr. for Saxophone Quartet & Choir by Freddie Crowley):

11

Schütz: Selig sind die Toten, SWV 391 (Arr. for Saxophone Quartet & Choir by Freddie Crowley)

04:08

Roderick Williams (b. 1965): Ave verum corpus re-imagined (Arr. for Saxophone Quartet & Choir by Roderick Williams):

12

Williams: Ave verum corpus re-imagined (Arr. for Saxophone Quartet & Choir by Roderick Williams)

05:14

Johann Sebastian Bach: Nun ich weiß, du wirst mir stillen (Arr. for Saxophone Quartet & Choir by Freddie Crowley):

13

Bach: Nun ich weiß, du wirst mir stillen (Arr. for Saxophone Quartet & Choir by Freddie Crowley)

01:34

Heinrich Schütz: Was mein Gott will, das g'scheh' allzeit, SWV 392 (Arr. for Saxophone Quartet & Choir by Freddie Crowley):

14

Schütz: Was mein Gott will, das g'scheh' allzeit, SWV 392 (Arr. for Saxophone Quartet & Choir by Freddie Crowley)

03:54

Orlando di Lasso (1532 - 1594): Aurora lucis rutilat (Arr. for Saxophone Quartet & Choir by Freddie Crowley):

15

Lasso: Aurora lucis rutilat (Arr. for Saxophone Quartet & Choir by Freddie Crowley)

04:16

Sarah Rimkus (b. 1990): Mater Dei (Arr. for Saxophone Quartet & Choir by Sarah Rimkus):

16

Rimkus: Mater Dei (Arr. for Saxophone Quartet & Choir by Sarah Rimkus)

05:53

Johann Sebastian Bach: Jesus bleibet meine Freude (Arr. for Saxophone Quartet & Choir by Freddie Crowley):

17

Bach: Jesus bleibet meine Freude (Arr. for Saxophone Quartet & Choir by Freddie Crowley)

02:37

Total Runtime

01:07:18
Info zu Revoiced
Voices and saxophones come together to present a programme of contemporary works by leading living composers alongside Baroque and Renaissance vocal music uniquely reimagined for choir and saxophones.
Together the two ensembles recorded their album 'Revoiced' which is due for release on Chandos Records in July 2022. The disc features a new piece by Owain Park, newly-created versions of existing works by Sarah Rimkus and Roderick Williams, and music by James MacMillan arranged for voices and saxophones, as well as a set of Baroque and Renaissance works in specially-conceived arrangements by the Consort's director, Freddie Crowley.
Originally inspired by 'Revive', the Ferio Saxophone Quartet's 2018 disc of Baroque transcriptions, Corvus and Ferio initially joined forces to extend this concept into Baroque and Renaissance vocal music. In new transcriptions and arrangements, they made use of the saxophone's quasi-vocal timbre to explore the magical blend of voices and saxophones, bringing a new range of colours to music by Schütz, Bach, Gabrieli, Lassus and more, music which has gone on to feature on 'Revoiced'.
The collaboration initially took shape in summer 2020 with a remotely-recorded video produced during the first coronavirus lockdown, featuring J. S. Bach's accompanied choral Jesus bleibet meine Freude, which was premiered online by The Sixteen as part of their Sounds Sublime Festival. They have since enjoyed live performances together at Winchfield Festival and Chiltern Arts, the latter also including the premiere of a newly-commissioned arrangement of Vaughan Williams's cantata 'In Windsor Forest' for choir and saxophone quartet.
Corvus Consort
Ferio Saxophone Quartet
Freddie Crowley, musical direction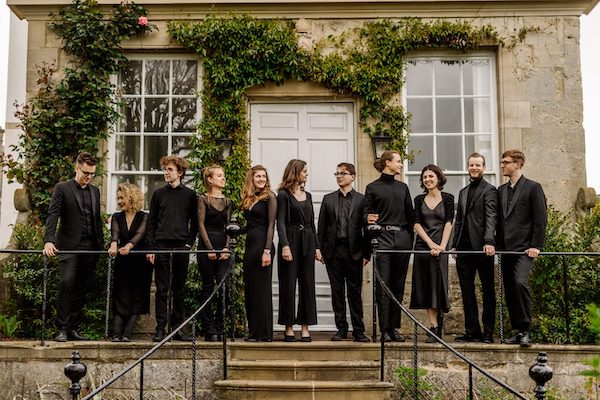 The Corvus Consort
is a vocal ensemble based in the UK. Founded and directed by Freddie Crowley, the group draws its members from a pool of young professionals in the early stages of their singing careers.
With key objectives of musical versatility and innovative programming, the Consort performs in a wide variety of genres and styles, stretching from the Renaissance to the present day, and enjoys a range of instrumental collaborations. The ensemble is also flexible in size and forces, so it can be carefully tailored to each particular performance context.
In addition to their projects with the Ferio Saxophone Quartet, other ongoing collaborations include a programme of music for upper voices and harp with harpist Louise Thomson, and an improvisatory exploration of Renaissance soundworlds with Music on the Edge.
For Christmas 2020, the Corvus Consort commissioned twelve of the UK's most exciting young composers to write miniature works for a choir of twelve voices based on the well-known song The Twelve Days of Christmas, as part of a festive project entitled "Twelve Composers Composing". The resulting works were released online in twelve short videos throughout the Twelve Days of Christmas, and received their live performance premieres in December 2021.
Since making its first appearance in 2018, the Consort has enjoyed performances such as Chiltern Arts Festival, Winchfield Festival, Kings Lynn Festival, Music on the Quantocks, Lamberhurst Music Society and Borough Theatre Abergavenny, as well as becoming Ensemble-in-Residence at the brand new Whiddon Autumn Festival in 2021. Future engagements include Church Stretton Festival, Simonsbath Festival and Exeter Cathedral.
Ferio Saxophone Quartet
As one of the leading British saxophone quartets among the new generation of artists, the Ferio Saxophone Quartet consistently receives a highly enthusiastic reception from audiences and critics alike. Winner of the 2015 Royal Over-Seas League's Ensemble Competition, the quartet was also a Park Lane Group Artist and St John's Smith Square Young Artist for 2016-2017.
Since then, their engagements have included performances at Wigmore Hall, St Martin-in-the-Fields and the Bermuda, Edinburgh Fringe, Brighton, Newbury, Machynlleth, North Norfolk and Petworth Festivals. Commissioning new music is also an important strand of Ferio's work and they have commissioned works by Laura Bowler, Simon Rowland-Jones and Guillermo Lago.
More recent highlights include performances at Beaminster and Ryedale Festivals, a first visit to Festival Septembre Musical de l'Orne in Normandy, further collaborations with pianist Timothy End at Church Stretton Festival and Absolute Classics, and taking masterclasses at the Royal Welsh College of Music and Drama.
Ferio records with Chandos Records, for whom they have released three discs: their debut commercial CD 'Flux' in July 2017, 'Revive' in November 2018 – launched at 'Rhinegold Live', hosted by Classical Music Magazine – and most recently 'Evoke' in October 2021 with pianist Timothy End, which included world premiere recordings of three brand new arrangements by Iain Farrington. 'Revoiced', their aforementioned disc in collaboration with the Corvus Consort, will be their fourth album for Chandos, due for release in July 2022.


Booklet für Revoiced