---
Album Info
Album Veröffentlichung:
2019
HRA-Veröffentlichung:
05.07.2019
Das Album enthält Albumcover
Entschuldigen Sie bitte!
Sehr geehrter HIGHRESAUDIO Besucher,
leider kann das Album zurzeit aufgrund von Länder- und Lizenzbeschränkungen nicht gekauft werden oder uns liegt der offizielle Veröffentlichungstermin für Ihr Land noch nicht vor. Wir aktualisieren unsere Veröffentlichungstermine ein- bis zweimal die Woche. Bitte schauen Sie ab und zu mal wieder rein.
Wir empfehlen Ihnen das Album auf Ihre Merkliste zu setzen.
Wir bedanken uns für Ihr Verständnis und Ihre Geduld.
Ihr, HIGHRESAUDIO
1

Phoenix Rising

06:14

2

D.N.A. (Demon And Angel)

04:19

3

Zero Gravity

05:53

4

Fast Radio Burst

05:07

5

Decoding The Multiverse

06:19

6

Origins

02:27

7

Multidimensional

04:42

8

Amata Immortale

05:04

9

I Am

07:15

10

Arcanum (Da Vinci's Enigma)

06:25

11

Oceano

04:02

Total Runtime

57:47
Info zu Zero Gravity (Rebirth and Evolution)
Die Alben, die ein ganzes Genre definiert haben, gingen verdächtig oft auf das Konto eines ikonischen Duos. In Sachen Symphonic Metal ist das ohne jeden Zweifel die Kombination aus Luca Turilli und Fabio Lione, deren unglaubliche Chemie uns bereits viele Momente triumphaler Metal-Magie beschert hat. Wann immer Gitarrist, Keyboarder und Komponist Turilli mit Sänger Lione zusammengearbeitet hat, kam etwas Großes, etwas ganz und gar Außergewöhnliches dabei heraus. Etwas, das Metal- und Rock-Liebhaber auf der ganzen Welt feierten, in ihr Herz schlossen und für immer verinnerlichten.
Jetzt, nach acht langen Jahren, sind die beiden wiedervereint. Jedoch nicht, soviel sei gesagt, um alte Kamellen aufzuwärmen. Stattdessen starten die beiden ein aufregendes neues Kapitel ihrer Reise, das den Trademarksound ihrer alten Bands nicht nur auf ein neues Level hebt, sondern gleich in ein vollkommen anderes Universum schießt. Turilli/Lione RHAPSODY ist der wahrgewordene Traum eines jeden Fans des cinematischen, bombastischen, epischen Symphonic Metal. Nein, eigentlich ist das hier noch viel mehr, obwohl bereits das mehr als ausreichend für eine Sensation wäre. Diese Band ist die Neuerfindung ihres ureigenen Sounds, eine zeitgeistige Interpretation alter Werte und Wurzeln. Und während das viele Bands von sich behaupten, trifft es auf Turilli/Lione RHAPSODY tatsächlich zu. Ja, es stimmt: Nie klang Symphonic Metal so frisch, so originell, so dramatisch und so schwerelos wie auf »Zero Gravity (Rebirth And Evolution)«. Das ist nicht nur ein Beweis für ihr beispielloses Talent, sondern auch für ihren nimmermüden Drang, sich neu zu erfinden, vorwärts zu gehen und damit ein Genre neu zu leben, das zuletzt allerhöchstens stagnierte.
Vom archetypischen Grandeur des kolossalen Openers 'Phoenix Rising' zur hingebungsvollen Opernhymne 'Arcanum (Da Vinci's Enigma)', die das weltgrößte Universalgenie mit italienischen Lyrics und einer Verbeugung vor Giuseppe Verdi feiert, sorgen Turilli/Lione RHAPSODY für die ultimative Hörerfahrung. Punkt. Mit Gastauftritten von Elize Ryd (AMARANTHE), Mark Basile (DGM), Sascha Paeth (AVANTASIA) und Arne Wiegand (SANTIANO) sowie dem zeitgenössischen und zugleich berauschend anmutigen Artwork von Grafikhexer Heilemania (LINDEMANN, EPICA, KREATOR) sind Turilli/Lione RHAPSODY bereit für den nächsten Schritt. Und mit extensiven Tourplänen weit ins Jahr 2020 hinein verwundert es nicht, dass es der bislang größte wird - ein Schritt von der Wiedergeburt zur Evolution, bei dem nur der Himmel die Grenze ist.
Fabio Lione, Gesang
Luca Turilli, Gitarre, keyboards, Piano
Dominique Leurquin, Gitarre
Patrice Guers, Bass
Alex Holzwarth, Schlagzeug
Gäste:
Elize Ryd, Gesang (track 2)
Mark Basile, Gesanf (track 9)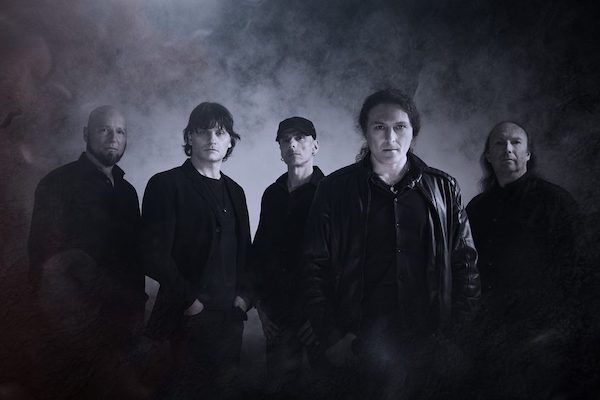 Turilli / Lione Rhapsody
When it comes down to the genre defining albums, there is no denying that it is often an iconic duo weaving it's inexplicable and extraordinary magic. And when it comes down to Symphonic Metal, there is no way around the creative chemistry of Luca Turilli and Fabio Lione. Whenever and wherever guitarist, keyboardist and composer Turilli and vocalist Lione have been working together, the result was something extraordinary. Something both metal and rock lovers around the globe loved, cherished and memorised forever.
Now, after eight long years, the two brothers in arms are finally back together again. Not to warm up old stories, mind you. But to start an exciting new chapter on their journey that will take the trademark sound of their old bands not only to another level, but to an altogether different universe. Turilli/Lione Rhapsody is a dream come true for every fan of cinematic, bombastic, epic Symphonic Metal. No, it is much more than that, although even that would have been enough by far to please the crowds. This band is a redefinition of their Italian trademark sound and a modern interpretation of their old virtues and roots. And while a lot of bands claim to do that, Turilli/Lione Rhapsody actually do. It's a fact: Symphonic Metal never sounded so fresh, so original, so dramatic and so weightless as it does on "Zero Gravity (Rebirth and Evolution)", proof not only of their unparalleled talent but also of their untiring mission of reinventing themselves, of pushing forward, of reviving a genre that was stagnating at best.
What began in 1997 with the immortal "Legendary Tales" directly leads to "Zero Gravity (Rebirth and Evolution)", an impressive debut album and a milestone in their career. It's all there: The guitar work, the dramatic arrangements, the powerful choruses, the memorable melodies and profoundly meaningful lyrics. Yet, it's all decidedly 2019 without neglecting the strength and charisma of their varied and stunning accolades – a journey full of discoveries, surprises and unforgettable moments.
Thus, the subtitle "Rebirth and Evolution" becomes much more than a simple addendum. "It means everything to us", Luca Turilli states. "This is the mantra of our band, our DNA." It is important to keep in mind that even though Turilli and Lione are united again, they are not the same persons any more. "This is why we wanted a fresh start, a new chapter. With our trademarks, of course, but also with a much broader vision." This incarnation named Turilli/Lione Rhapsody is a new peak in a career that was given birth during last year's farewell tour celebrating 20 years of Rhapsody. For the first time after seven years, Turilli and Lione were performing together again, alongside former Rhapsody members Dominique Leurquin, Patrice Guers and Alex Holzwarth. And the rest is history.
"The friendship was stronger than ever", Fabio Lione says, "which is wonderfully strange because me and Luca didn't see each other for seven years." The tour turned out to be an amazing success on a personal as well as a professional level, pleasing fans all around the globe. "We clicked instantly and immensely enjoyed working together again", Turilli recalls of the much hoped-for reunion. "Still we agreed that it would only make sense to continue the collaboration if we were able to bring something entirely new to the table."
This they did. Brought to life with an equally glorious, massive production in cooperation with Simone Mularoni (DGM) in his Domination Studios in San Marino, the two truly come into their own this time. Backed by an insanely successful crowdfunding campaign, Turilli/Lione Rhapsody could guarantee the optimum for even the tiniest aspect of "Zero Gravity (Rebirth and Evolution)". "It was a huge surprise and also an honour for us to realise how much the people care for our music", Turilli beams. "This simply is one of the best productions we ever did." So why rush things when everything is just working perfect? "We spent more than three months in the studio and were focussing heavily on Fabio's vocals", Turilli nods and enthusiastically adds: "He is one of the best vocalists I met in my entire artistic life. And the best thing is: His voice is like an old red wine. It gets better and better with age." Inspired by the vocal splendour of Queen, they devoted an entire month to one of the most outstanding vocal performances in Fabio's career. "Working with Luca is a great pleasure", Lione adds. "He knows exactly what I can do and pulls the right strings to always get the best out of me – even more than ever this time around. I think this was the best studio time we ever did together."
Built around their shared passion for the mysteries of life, for metaphysics, psychology, parapsychology and spiritual evolution, Turilli and Lione go all in to create a jaw-dropping piece of art encompassing Symphonic Metal, foreign instruments and dramatics worthy of Queen into their unique sound. "Ethnic music is and will be a fundamental component of this new band", Turilli emphasises. "We love to search for and use rare acoustic instruments from different continents as those emotionally rich sounds really touch our heart and soul." Not only theirs, to be sure: The strong flavour of Indian folklore, Tibetan tunes and Persian influences really set the album apart from anything you have ever heard before: Profoundly spiritual like a symphony of old, refined like a bombastic and progressive Rock opera, yet graced with this glorious brand of Symphonic Metal only the two of them can pull off.
From the archetypical grandeur of the opening colossus "Phoenix Rising" to the utterly operatic "Arcanum (Da Vinci's Enigma)", celebrating the world's great universal genius with Italian lyrics and a nod to Giuseppe Verdi, Turilli/Lione Rhapsody really go the extra mile in creating the ultimate fan listening experience. With guest appearances by Elize Ryd (Amaranthe), Mark Basile (DGM), Sascha Paeth (Avantasia) and Arne Wiegand (Santiano) and a modern, yet spellbindingly graceful artwork by graphics wizard Heilemania (Lindemann, Epica, Kreator), Turilli/Lione Rhapsody are ready for the next step. And with touring plans for the better part of next year already in full swing, it is no big wonder that it will be the biggest of them all – a step from rebirth to evolution with only the sky as the limit.


Dieses Album enthält kein Booklet