---
Album Info
Album Veröffentlichung:
2016
HRA-Veröffentlichung:
22.11.2019
Das Album enthält Albumcover
1

Dusk

04:27

2

Wind of Whims

04:51

3

Folds of Time

03:21

4

I Look To You

05:55

5

Picture

04:59

6

Trapped In Forever

03:50

7

Mountains of Malaga

04:58

8

Losing Grace

04:35

9

Goodbye Lullaby

03:36

Total Runtime

40:32
Info zu Etchings In Amber
With its mix of jazz with folk and indie rock, the genre-bending music on this album is complex yet very approachable. Fellow red-head and sometimes boss, Trey Anastasio has said of Natalie, "I first met Natalie when she was 18, and I was instantly floored by how melodically and naturally she played and sang. Natalie is the rarest of musicians. Born into a musical family and raised in a home filled with the sounds of Brazilian music, jazz, and Afro-Cuban rhythms, she is seeping with innate musicality. Musicality is in her DNA." On ETCHINGS IN AMBER, Cressman's voice has an alluring smoky quality, and her singing style comes out of the tradition of vocal jazz but with a distinctly contemporary feel. Bono is an accomplished arranger and improviser. Several of the tunes on this CD were originally written as solo guitar pieces. "I usually start writing music by following a melody that I'm hearing and then search for interesting chords that reflect the meaning of the song and support and enhance the melody," says Bono. He wrote "Dusk," the opening song, for solo acoustic guitar tuned down a whole step to get a rich and lush timber. Cressman's sensitive lyrics capture the poignancy of a deep and long-term relationship.
Recording Notes: On the morning of October 18th, 2015 I arrived at Natalie's apartment from my redeye flight from San Francisco. After coffee we walked to The Bunker to begin work on this beautiful recording. With the kind help of Todd Carder, we set up in Studio B with Mike in the studio and Natalie in the control room with me. She sang into a vintage Neumann/Telefunken U47. Mike's guitars had the forest of microphones that would allow for a lot of flexibility in the mix. The primary microphone was a Neumann CMV563 with an M7 capsule. In addition we had three sets of stereo pairs; A/B spaced omni Gefell MV691 with M93 capsules , Blumlein Coles 4038 and cardioid AKG 452 mics up in the corners of the room. All of the mics fed the Neve 8058 console's preamplifiers and then Lynx conversion to Pro Tools running at 96kHz/24bit. Most of the music was recorded on this day but we did come back the next morning for an hour and a half to get in "Goodbye Lullaby" and redo "Trapped in Forever" on an acoustic guitar instead of electric. We said our thank yous & goodbyes to Todd and The Bunker but we were not done for the day. We recorded Natalie's background vocals at her place on an ADK 3 Zigma CHI Lollipop large diaphragm microphone. Then Mike, Natalie and I had a great meal at Concord Hill restaurant before going back to make rough mixes. The next day I flew home with the recording. In San Francisco over the next week I edited and mixed the recording. After we were all happy with it I had the idea of giving it to Nick Rives to let him run it through all of the magical stuff at Capitol Studios where he works. He agreed and mixed in Capitol Studio A on a Neve 88RS console. The vocal chain included a Fairchild 660 followed by a Pultec EQP-1, the guitar buss had a Fairchild 670 and a touch of console eq. There is also a NTI eq on the mix buss. For Reverbs there is an EMT 250 and one of the Capitol Echo Chambers.
Mike Bono, acoustic guitar
Natalie Cressman, vocals
Recorded by Jeff Cressman at the Bunker Studio, Brooklyn, NY
Edited and pre-mixed by Jeff Cressman at Cressman Music Studios, San Francisco, CA
Mixed by Nick Rives at Capitol Studios, Hollywood, CA
Mastered by Kevin Reeves at Sterling Sound, New York, NY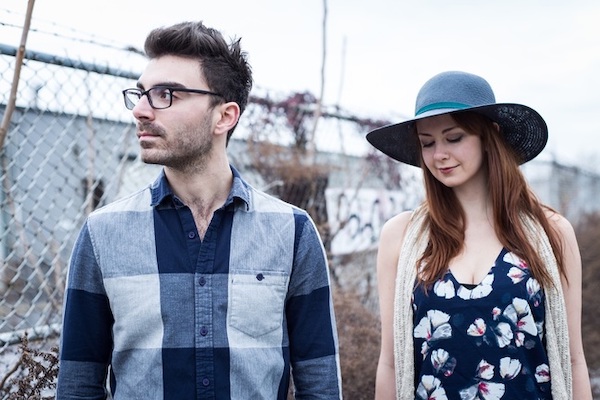 Natalie Cressman & Mike Bono
A collaborative duo since 2014, Natalie Cressman and Mike Bono have developed a repertoire of vibrant and intricate originals which incorporate a combination of genres, including indie rock and contemporary jazz.
Raised in an eclectic musical household, Natalie Cressman has continued to diversify and expand her musical universe throughout her musical career. Still in her early 20s, the trombonist/composer/vocalist has assimilated the full range of her sonic influences into a startlingly-mature and strikingly-original voice. Cressman's sound melds the sophistication of contemporary jazz with captivating storytelling and intoxicating melodies reminiscent of indie rock's most distinctive songwriters. Cressman has spent much of the last six years touring the jam band circuit with Phish's Trey Anastasio, while also performing with jazz luminaries Nicholas Payton, Wycliffe Gordon, and Peter Apfelbaum.
Guitarist Mike Bono, now age 24, is a performer, educator, composer, and recording artist. He began his musical career at the age of 5, and at 18 he auditioned for Berklee College of Music and was the first guitarist in the school's history to be awarded a Presidential Scholarship. While at school, Mike formed The Mike Bono Group, which released their debut record in September 2013, entitled, From Where You Are. In the last five years, Mike has had opportunities to perform with many including, Erykah Badu, Aloe Blacc, Chris Cheek, Dayna Stephens, and Julian Lage, to name a few.
The duo recorded their debut album, Etchings in Amber, in late 2015, to be released in October 2016. The 9 songs, featuring the intimate instrumentation of voice and acoustic guitar, combine Bono's harmonic stylings with Cressman's soulful storytelling. The meeting of these two musical minds results in a transcendent, emotionally stirring journey for listeners.


Dieses Album enthält kein Booklet