---
Album Info
Album Veröffentlichung:
2019
HRA-Veröffentlichung:
15.11.2019
Das Album enthält Albumcover
Entschuldigen Sie bitte!
Sehr geehrter HIGHRESAUDIO Besucher,
leider kann das Album zurzeit aufgrund von Länder- und Lizenzbeschränkungen nicht gekauft werden oder uns liegt der offizielle Veröffentlichungstermin für Ihr Land noch nicht vor. Wir aktualisieren unsere Veröffentlichungstermine ein- bis zweimal die Woche. Bitte schauen Sie ab und zu mal wieder rein.
Wir empfehlen Ihnen das Album auf Ihre Merkliste zu setzen.
Wir bedanken uns für Ihr Verständnis und Ihre Geduld.
Ihr, HIGHRESAUDIO
Wolfgang Amadeus Mozart (1756 - 1791): Quintet in E-flat major, KV 452:

1

Quintet in E-flat major, KV 452: I. Largo - Allegro moderato

10:04

2

Quintet in E-flat major, KV 452: II. Larghetto

07:47

3

Quintet in E-flat major, KV 452: III. Allegretto

05:42

Franz Ignaz Danzi (1763 - 1826): Quintet in D minor, Op. 41:

4

Quintet in D minor, Op. 41: I. Larghetto - Allegro

12:29

5

Quintet in D minor, Op. 41: II. Andante sostenuto

08:57

6

Quintet in D minor, Op. 41: III. Allegretto

04:48

Ludwig van Beethoven (1770 - 1827): Quintet in E-flat major, Op. 16:

7

Quintet in E-flat major, Op. 16: I. Grave - Allegro ma non troppo

13:07

8

Quintet in E-flat major, Op. 16: II. Andante cantabile

07:01

9

Quintet in E-flat major, Op. 16: III. Rondo - Allegro, ma non troppo

05:46

Total Runtime

01:15:41
Info zu Mozart / Danzi / Beethoven: for Piano and Winds
During their first 10 years, the Oslo Kammerakademi has released a number of acclaimed recordings on the LAWO Classics label, and in this,
their anniversary year - along with pianist Christian Ihle Hadland - offer some extra special treats for piano and winds!
W.A. Mozart wrote the following in a letter to his father on April 10, 1784 about his Quintet in E-flat major, KV 452 for piano and four winds: "I hold it to be the best work I have ever written." At this time, Mozart was already a celebrated composer with more than 450 works to his name. Not surprisingly, Mozart writes fantastically well for piano. He also writes completely idiomatically for winds; perhaps no composer, before or since, has brought forth the voice of each individual wind instrument in the same way as Mozart.
Composing quintets for this instrumentation in the wake of Mozart's pioneering work couldn't have been an easy task, but after all Danzi came from Mannheim, where Mozart a few years earlier had become acquainted with the city's renowned court orchestra, which in itself was pioneering. The orchestra was known, among other things, for using the winds to a much greater soloistic extent than what was considered the norm in Mozart's hometown of Salzburg. Danzi's biggest accomplishment as a composer was his ability to place winds on the map for a large number of chamber music works.
Beethoven's quintet makes clear references to Mozart's trailblazing work for this instrumentation. He chooses the same key, and the work possesses the same external structure as Mozart's, but the content is completely different. Beethoven displays an emotional depth whereas Mozart sets himself on a divergent track - Beethoven offers surprises and unforeseen whims, while Mozart chooses to be gallant and poised.
Christian Ihle Hadland and Oslo Kammerakademi exhibit their distinctive signature on this CD - virtuosic and passionate playing combined with historical performance practice, alongside modern and historical instruments, in beautiful unity. Christian Ihle Hadland has established himself amongst the European elite as a soloist and chamber musician. Critics have called attention to Hadland's broad diversity in his treatment of sound, subtle phrasing, and singing tone. Oslo Kammerakademi performs chamber music for winds with the historical Harmoniemusik instrumentation as a foundation. Founded by Artistic Director and oboist David Friedemann Strunck, the ensemble has established itself as a leader in Europe, with critically acclaimed CD recordings and recurring invitations to prestigious festivals. Oslo Kammerakademi utilizes historical brass instruments in repertoire from the baroque, classical, and romantic periods.
About the album: Unfortunately there is no real Norwegian language equivalent to the expression "unsung hero," but one can immediately place Franz Danzi in that category. His upbringing in Mannheim in the 1770s and 80s provided him with the perfect backdrop to experience the most important musical currents of the time, where people puttered around with such things as synchronized bowings and soloistic wind parts in the orchestra – elements commonplace to us today, but considered quite groundbreaking then. The young Danzi also met Mozart, who showed a great interest in the pioneering work in Mannheim, and Danzi expressed boundless admiration for the old master throughout his entire life.
Danzi's big dream was to further develop the German Singspiel genre, where Mozart, with the operas The Abduction from the Seraglio and The Magic Flute, had laid a golden foundation. Danzi's wife, Margarethe Marchand, was an outstanding soprano and an enthusiastic promoter of her husband's works, but when she died at the young age of 32, Danzi seemed to lose interest in the genre. However, he was an avid supporter and inspiration to his younger colleague, Carl Maria von Weber. Weber's Singspiel Der Freischütz (The Marksman) took the genre to new heights, with the manifestation of nature as a singing creature. For this we must thank Danzi!
Quintets for winds and piano are a rare bird in music history, and the reason for that may very well be that Mozart's and Beethoven's own works set such high standards that few dared to follow in their footsteps. This idea is by no means an oddity. We can think of the clarinet quintets of Mozart and Brahms, which depict a perfectly symbiotic soundscape just waiting to be explored. But where these two towers loom over all others, later "structures" have been few and far between. From the Mannheim development, which gave the winds more space in the orchestra, came the desire for pure wind ensembles of various sizes, and also in combination with other instruments. Mozart's quintet is a natural first stopping point for this development, and as is often the case with Mozart, his first attempt becomes a great success: an ensemble that basically isn't particularly homogenous, in a perfect unit, where there is still plenty of room for each instrument to shine. The piano has a supporting role but often discreetly lies in the background against the vibrant escapades of the winds. The first movement has a lithe introduction where the lines wander, in the most outstanding Mozart-esque way, from instrument to instrument, intersecting and inspiring each other, but never overshadowing or disturbing one another. The Larghetto is an archetypal Mozart movement from this period, seemingly uncomplicated, but where long, increasingly intricate harmonic surfaces unfold before it all returns to the charming, operatic bits that bring us safely to shore. And to mark the soloistic element of this quintet, Mozart rounds off the finale's lively rondo with a brief cadenza, where the instruments mimic each other before uniting together toward the final stretch.
One of music history's most mythical, yet almost unwritten encounters is the one that took place between Mozart and the then 16-year-old Beethoven in Vienna in 1787. Virtually every source contradicts the other. Some claim that Mozart was beside himself with enthusiasm, others that he was lukewarm and didn't want Beethoven as his student. Neither Mozart nor Beethoven mentions the meeting in his own correspondence, but we can infer from Beethoven's late sketchbooks he used to keep a conversation going – he received written questions and answered them verbally – that a meeting took place and that there may have been more than just cordiality on Mozart's part.
Mozart was 28 years old when he composed his quintet. With over 450 works under his belt, his name was well-established in Vienna and he could thus allow himself to compose a piece where other musicians could shine. Beethoven was a relatively unknown 26-year-old when he released his quintet. He first and foremost sought to emerge as a pianist, and to a lesser extent a composer. His quintet is often regarded as a twin piece to Mozart's, but despite all the external similarities – the key, the slow introduction, the three movements – they have very little else in common. Mozart represents the coronation of classicism, an Olympic, brilliantly clarified form in which established frames are fully exploited. Beethoven wants to get away from white, delicate porcelain skin under parasols in the imperial pavilions into a raw world where the pianist is quite impolite as the work draws to a close, leaving on a long improvisational tour while the other musicians find themselves sitting and waiting. The theme continues when it suits him. Still, there is no doubt that Beethoven's quintet is very much an ensemble piece; the twisted evolution of ideas in the first movement's introduction and the mysterious, veiled development section in that same movement is the work of a master. Long, swimming pedals and a canon section in the finale, that most of all sounds like a big misunderstanding, are both indicative of what's to come. Early Beethoven has an uncomplicated, musical feel, the welcoming and charming themes of the 2nd and 3rd movements sit in one's ear and both form the basis for the rondo movements with delicately carved, contrasting episodes.
As a liberating antithesis to the happiness in E-flat, comes Danzi's quintet in D minor. Here we are far from lace and crystal, but on the contrary, deep-seated in a pre-romantic, bleak landscape – and perhaps the slow introduction is a slight nod to Mozart's unfinished requiem? To a greater extent than Beethoven, Danzi sets the piano and winds up against each other, where themes are often first presented in the winds and are then embroidered or further developed in the piano voice – which in the first movement is swirling and swarming, while the wind voice is heavy, broad, and insistent. The second movement begins with a gentle, slightly withdrawn theme before it all slowly rolls away, seasoned with improvisational whims and long, uninterrupted sounds. The third movement is an abrupt affair with a partly jarring, somewhat singable theme, interrupted by more optimistic middle parts, which nevertheless fail to remove the impression of a rather dark world.
All in all, a trilogy of vastly different origins takes shape – the superb Mozart, the forging ahead, self-centered Beethoven, and the "worker ant" Danzi, who while playing the piano himself, wanted to clear a space for wind instruments within chamber music. He achieved this not in the least as the "father" of the wind quintet, where he has a catalogue of outstanding works to his name. – Christian Ihle Hadland
Christian Ihle Hadland, piano
Oslo Kammerakademi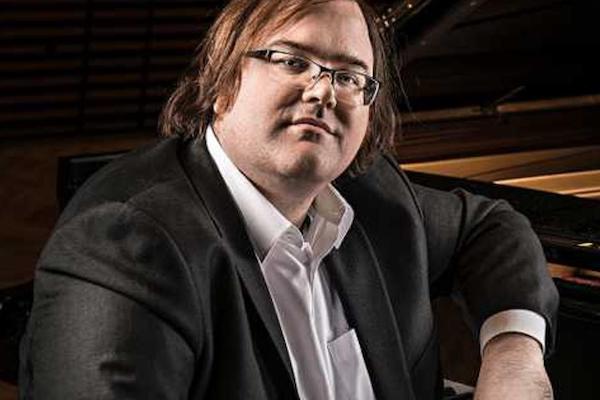 Christian Ihle Hadland
In the last decade Christian Ihle Hadland has established himself as a true craftsman of the piano, a musician whose delicate, refined playing and individual touch have led him to the most prestigious stages in the world.
Christian came to international attention in 2011 when he began a two-year stint as a BBC New Generation Artist. As an NGA he performed with all five of the BBC's symphony orchestras from London to Manchester and broadcast solo and chamber recitals for the corporation in London. As a finale to his tenure, Christian was the soloist in Beethoven's Second Piano Concerto at the BBC Proms with the Oslo Philharmonic under Vasily Petrenko; the concert was broadcast live and Christian was praised by London critics for his 'pearly' and 'otherwordly' sound.
Christian made his professional concerto debut with KORK, the Norwegian Radio Orchestra, aged 15. He has since performed with all the major orchestras in Scandinavia including the Swedish Radio and Danish National Symphony Orchestras, and the Royal Stockholm, Helsinki and Oslo Philharmonics and the Swedish Chamber Orchestra. In the UK he has appeared as a concerto soloist with the Hallé Orchestra, the Royal Scottish National Orchestra, the Scottish Chamber Orchestra and Manchester Camerata, in addition to his work with the BBC orchestras. This season includes his debut with Orchestre National de Lyon, aside Leonard Slatkin, re-invitation to Helsinki Philharmonic with Thomas Søndergaard, as well as performances with BBC Philharmonic and the Norwegian Chamber Orchestra.
Christian is highly sought after as a chamber musician and has been Artistic Director of the International Chamber Music Festival in Stavanger, his hometown, since 2010. He is a frequent guest at The Wigmore Hall, since he gave his debut solo recital in 2013, and is a regular guest at the Bergen International Festival in Norway. He has also performed at the BBC Proms Chamber Music Series, where he collaborated with the Signum Quartet. In 2015 he gave a three-week chamber music tour of Australia with the Australian Chamber Orchestra and American mezzo Susan Graham. In 2006, Christian performed with soprano Renée Fleming at the Nobel Prize Award Ceremony in Oslo.
Christian is a respected recording artist whose disc of Mozart Piano Concertos with the Oslo Philharmonic Orchestra was nominated for the Spellemann Prize in 2014, the highest honour for recorded music in Norway. Christian's Holberg Variations CD, recorded with Ensemble 1B1, won the Spellemann Prize in 2015. His recording of works for cello and piano by Grieg and Granger, made with the Danish cellist Andreas Brantelid, was released on BIS in 2015 and immediately named a Gramophone Editor's Choice. His most recent album The Lark, released on Simax, was immediately nominated for Spellemann prize 2017.
Christian Ihle Hadland has played with renowned conductors at the highest level, including Sir Andrew Davis, Herbert Blomstedt and Thomas Dausgaard.
Christian was born in Stavanger in 1983 and received his first piano lessons at the age of eight. At the age of eleven he entered the Rogaland Music Conservatory, and in 1999 began lessons with Professor Jiri Hlinka, both privately and at the Barratt Due Institute of Music in Oslo.


Dieses Album enthält kein Booklet