---
Album Info
Album Veröffentlichung:
2019
HRA-Veröffentlichung:
11.12.2019
Das Album enthält Albumcover
Nils Henrik Asheim (b. 1960): Høgsongen:

1

Høgsongen – Eg søv, men hjartet vaker

27:52

Pyotr Ilyich Tchaikovsky (1840 - 1893): Serenade for String Orchestra in C major, Op. 48:

2

Serenade for String Orchestra in C major, Op. 48: I. Pezzo in forma di sonatina. Andante non troppo — Allegro moderato

09:34

3

Serenade for String Orchestra in C major, Op. 48: II. Valse. Moderato. Tempo di Valse

03:43

4

Serenade for String Orchestra in C major, Op. 48: III. Elegia. Larghetto elegiaco

09:00

5

Serenade for String Orchestra in C major, Op. 48: IV. Finale (Tema russo). Andante — Allegro con spirito

07:12

Total Runtime

57:21
Info zu Asheim: Høgsongen / Tchaikovsky: Serenade
"Høgsongen" (the Song of Songs): Some several thousand years ago a text came into being, pieced together from a number of sources. Some were in use as nuptial poetry, some were known through oral tradition, and some of the text was composed. There are those who say it originated with King Solomon; others simply call it the "Song of Songs". No matter what, it is a magnificent celebration of love and eroticism. As a book of the Bible, it is written in a surprisingly direct first-person voice. Both he and she speak in turns, but it is the woman who leads, and it is from here we have picked the excerpts to be used in this work. Different passages, different stages of desire and attraction.
Ensemble Allegria
Petronella Barker, narrator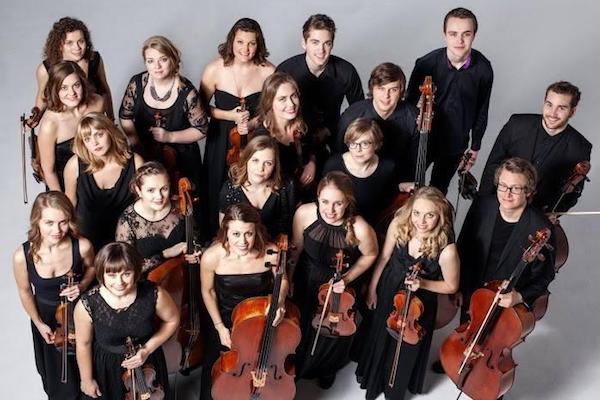 Ensemble Allegria
The chamber orchestra Ensemble Allegria is regarded as one of Norway's leading ensembles. The orchestra has attracted attention for its playful performance style and spirited virtuosity. Since 2008, artistic director Maria Angelika Carlsen and her 22 fellow musicians have challenged one another to improve and become a force to be reckoned with in Norwegian musical life.
Leading international soloists with whom the orchestra has performed include Lawrence Power, Tine Thing Helseth, Martin Fröst, Kathryn Stott, Benjamin Schmid and Truls Mørk. In recent years, Ensemble Allegria has collaborated closely with the Norwegian Soloists' Choir.
Ensemble Allegria regularly performs at festivals, among them, the Bergen International Festival, the Hardanger Music Festival, the Oslo Chamber Music Festival, the Rosen- dal Chamber Music Festival, and the Ultima Oslo Contemporary Music Festival.
The ensemble has its own concert series called NÅ, with concerts held in Gyldendalhuset in Oslo.
In 2012 Ensemble Allegria was the first ensemble ever to be awarded the Statoil Talent Award for classical music. In the words of jury chairman Leif Ove Andsnes: "Ensemble Allegria radiates a bright musicality that generates ensemble playing with ardour and intensity."
Petronella Barker
has worked as an actor for over thirty years. She is part of the permanent ensemble at the National Theatre in Oslo, and she has been associated with Stockholm City Theatre and the Royal Dramatic Theatre in Sweden. She has played major classical roles in both Norwegian and Swedish — Ibsen, Strindberg, Chekhov, Shakespeare, among others — and she has also done film, TV, radio, and audio books.
A partial list of stage roles: Hedda Gabler in Hedda Gabler; Rebecca West in "Rosmersholm"; Solveig, Åse, Woman in Green in "Peer Gynt"; Agnes in "Brand"; Rita in "Little Eyolf"; Helena in "A Midsummer Night's Dream"; Genia in "The Vast Domain", Countess Orsina in "Emilia Galotti". Partial list of film roles: Mol in "Thrane's Method"; Bobbie-Pop in "Hawaii, Oslo"; Victoria's mother in "Victoria"; Christine Hoff in "Codename Hunter"; the Queen in "The Ash Lad II".


Dieses Album enthält kein Booklet