---
Album Info
Album Veröffentlichung:
2023
HRA-Veröffentlichung:
17.03.2023
Das Album enthält Albumcover Booklet (PDF)
Entschuldigen Sie bitte!
Sehr geehrter HIGHRESAUDIO Besucher,
leider kann das Album zurzeit aufgrund von Länder- und Lizenzbeschränkungen nicht gekauft werden oder uns liegt der offizielle Veröffentlichungstermin für Ihr Land noch nicht vor. Wir aktualisieren unsere Veröffentlichungstermine ein- bis zweimal die Woche. Bitte schauen Sie ab und zu mal wieder rein.
Wir empfehlen Ihnen das Album auf Ihre Merkliste zu setzen.
Wir bedanken uns für Ihr Verständnis und Ihre Geduld.
Ihr, HIGHRESAUDIO
1

Flow

05:06

2

Strait

04:56

3

Make Someone Happy

03:53

4

Ubi Sunt

04:46

5

Guitarra Piccante

04:25

6

At First Light

04:44

7

Danny Boy

03:40

8

Fat Foot

03:58

9

Argentinian Nights

01:41

10

Little Old Lady

03:17

11

Empty Stage

03:42

Total Runtime

44:08
Info zu At First Light
Der US-amerikanische Gitarrist Ralph Towner nimmt seit Anfang der 70er Jahre für ECM auf und hat mit seinen Alben ein einzigartiges Gesamtwerk geschaffen. Im Mittelpunkt seines Schaffens stehen seine Soloaufnahmen, von denen die erste, Diary, vor 50 Jahren veröffentlicht wurde. At First Light setzt diese große Tradition fort und schöpft Inspiration aus einer breiten musikalischen Palette. "Meine Soloaufnahmen haben immer auch eigene Kompositionen enthalten, in denen sich Spuren der vielen Komponisten und Musiker finden, die mich über die Jahre begeistern konnten", schreibt Towner in dem CD-Begleittext und nennt unter anderem den Einfluss von George Gershwin, John Coltrane, John Dowland und Bill Evans: "Ich habe das Gefühl, dass At First Light ein gutes Beispiel dafür ist, wie ich diese Vielzahl von Einflüssen in meine persönliche Musik einfließen lasse." Neben seinen eigenen Stücken spielt Towner auch Hoagy Carmichaels "Little Old Lady", Jule Stynes "Make Someone Happy" und den irischen Traditional "Danny Boy". At First Light wurde im Auditorio Stelio Molo RSI, Lugano, im Februar 2022 aufgenommen und von Manfred Eicher produziert.
"Man kann überzeugend darlegen, dass Ralph Towner im Solo-Setting am besten ist" (Frank-John Hadley, Down Beat)
Ralph Towner, klassische Gitarre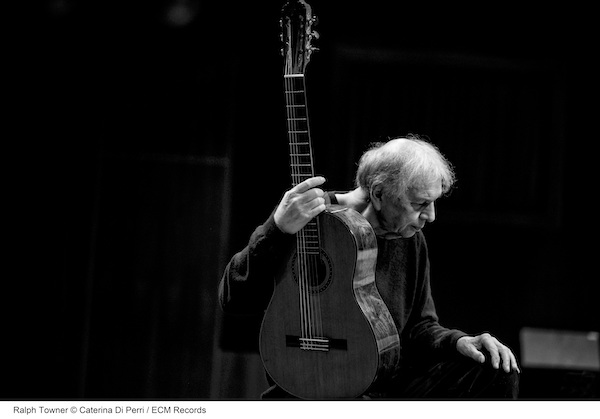 Ralph Towner
Musical innovation is no easy feat. It not only requires an innate talent, but also a devotion to the art that is not blinded by the commercial glare of the popular culture. Ralph Towner is such an innovator on the modern musical landscape, his ideas ever fresh, though they span a career of more than forty years.
Best known as the lead composer, guitarist, and keyboardist for the acoustic jazz ensemble "Oregon", Towner has also had a rich and varied solo career that has seen fruitful and memorable musical collaboration with such great modern musicians as Gary Burton, John Abercrombie, Egberto Gismonti, Larry Coryell, Keith Jarrett, Jan Garbarek, and Gary Peacock.
Towner was born in Chehalis, Washington on March 1st, 1940 into a musical family, his mother a piano teacher and his father a trumpet player. Towner and his siblings were raised in a nurturing and empowering environment that encouraged free musical experimentation and expression. In 1958, Towner enrolled in the University of Oregon as an art major, later changing his major to composition. He soon thereafter met bassist Glen Moore who would become a lifelong musical partner in the band Oregon.
It was about this time that Towner discovered the early LPs of Bill Evans, whom Towner emulated and whose influence he began to incorporate into his own piano style and composition. It was not much longer until Towner also bought a classical guitar on a lark and became entranced enough with the instrument that the early 1960s saw him heading to Vienna to study classical guitar with Karl Scheit. In 1968 Towner moved to New York City and immersed himself in the New York jazz scene, eventually landing a position with the Paul Winter Consort where the friendships and musical partnering with Glen Moore, Paul McCandless, and Collin Walcott were forged, a musical chemistry which was destined to alchemize into the band Oregon. Paul Winter also bestowed Towner with his first 12-string guitar. Towner has since coaxed the 12-string into imbuing his work with such a characteristic uniqueness that most jazz fans, given the two keywords "12-string" and "jazz" would immediately blurt the name Ralph Towner.
Towner's working relationship with producer Manfred Eicher of ECM Records began in 1972 and would provide a forum for his growth as a leader and collaborator with other jazz giants, all while concomitantly breaking open musical frontiers with Oregon throughout the intervening years. ECM's roster of low-volume acts was decidedly contrary to the amplified popular zeitgeist of the era, and provided Towner an opportunity to connect and create with some of the more iconoclastic and innovative artists of the musical culture in the 1970s. Towner's ECM years also saw his most minimalist, yet most bold, endeavor. "Solo Concert", released in 1980 on ECM, was conceptually elemental, a solo live guitar recital. Yet, no one to date had ever synthesized classical contrapuntal composition with improvisational and oddly-metered jazz like this before, especially in such a risky arena as a live performance. Such solo work would later become Towner's signature on recordings such as "Ana" and "Anthem", or augmented only by Gary Peacock's bass on "Oracle" and "A Closer View".
Like any true artist, however, experimentation with technology was simultaneously and paradoxically leading Towner away from this bare-bones approach to composition and performance in 1983 when he began to incorporate the Prophet 5 keyboard synthesizer into his compositions, both with Oregon and his ECM recordings. The Prophet 5 afforded an entirely new dimension to his writing, as well as to the brazen and quirky character of the "free-form" improvisatory pieces for which Oregon had become infamous.
Just as Towner's solo career has seen evolution, his partnership with Oregon would likewise undergo transformations as one might anticipate that any enduring relationship might do. Sadly, in 1984, percussionist Collin Walcott and manager Jo Härting were killed in Germany in a collision involving Oregon's tour bus. Towner and McCandless escaped serious injury in the back of the vehicle. The emotional scars would however be deep, and it at first seemed doubtful that Walcott's critical contribution to Oregon's musical tapestry, lost so tragically, could ever be resurrected by any replacement. Time would luckily find that the intent of Oregon's musical message was vehement enough to again find spontaneous expression after grief. Two subsequent world-class percussionists of a like mind, and gifted with rhythmic virtuosity, Trilok Gurtu in 1992 and Mark Walker in 1997, would share in and expand on Oregon's vision. That vision would explode in an epic way in 2000 upon release of "Oregon in Moscow", an orchestral double-CD recorded with the Tchaikovsky Symphony Orchestra, earning the ensemble four Grammy nominations.
Towner's creativity and virtuosity into the new millennium retain all the vitality of his younger years, even now into his 70s. Always in service to the music, he continues to have a knack for fostering new musical relationships with those who share a mission to synergize art into a sum greater than its parts, recently and most notably with Austrian guitarist Wolfgang Muthspiel and Australian guitarist Slava Grigoryan, a trio colloquially known as "MGT." Likewise, his later jazz duos with Italian trumpeter Paolo Fresu and Argentine clarinetist Javier Girotto have reaffirmed his unique niche in the international world of improvisational jazz. Ralph Towner has come full circle with the 2017 release of "My Foolish Heart," his 26th recording for ECM records, and an homage to the jazz pianist who inspired Towner on his original quest for compositional innovation, Bill Evans.


Booklet für At First Light