---
Album Info
Album Veröffentlichung:
2022
HRA-Veröffentlichung:
27.07.2022
Das Album enthält Albumcover
1

Lass from a Distant Shore

03:51

2

Farewell to the Strawberry Tree

04:50

3

I Wish We'd Sailed on the Jeanie Johnston

04:42

4

The Unwelcome Tide of Tomorrow

04:21

5

Splendid Ring

03:16

6

Brothers Grey

03:53

7

Shout Our Redemption to the Silvery Pines

03:52

8

The Man Who Taught the Nation

06:43

9

Four Fine Females

05:00

10

Scarlet Berries for the Mistle Thrush

04:23

11

The Birds of Belfast Lough

03:32

Total Runtime

48:23
Info zu Hark the Voice That Sings for All
Born in Dublin, Alison made her first single, 'Feeling High' for SNP's Simon Napier Bell and David Hemmings at the age of 15 with the cult folk-rock band, Mellow Candle. The band appeared in concert with the likes of Genesis, Thin Lizzy, Donovan, The Chieftains and Steeleye Span. They signed to Decca's Deram label in the early 70s and gigged their album 'Swaddling Songs' in Ireland and Britain. In the mid 90s their highly collectable vinyl album achieved critical acclaim and is now ranked as a true folk rock classic.
Alison has not been hiding since those hazy days but has continued to record and release with such artists as the traditional group Flibbertigibbet, The Owl Service and The United Bible Studies plus solo projects. 2021, Alison spent her time recording Hark The Voice That Sings For All, a collection of new songs in the ancient tradition and one that many say is her finest to date.
Alison O'Donnell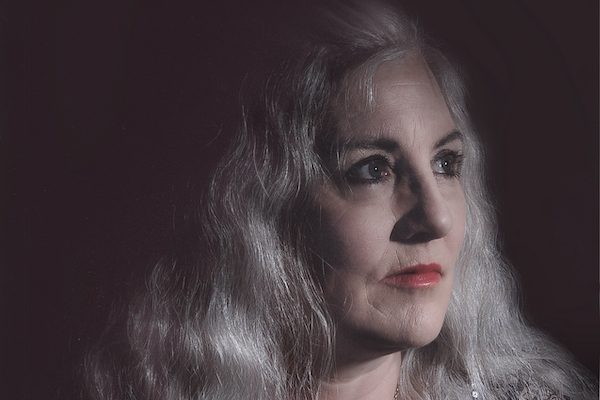 Alison O'Donnell
Born in Dublin, Alison made her first single, 'Feeling High' for SNP's Simon Napier Bell and David Hemmings at the age of 15 with the cult folk-rock band, Mellow Candle. The band appeared in concert with the likes of Genesis, Thin Lizzy, Donovan, The Chieftains and Steeleye Span. They signed to Decca's Deram label in the early 70s and gigged their album 'Swaddling Songs' in Ireland and Britain. In the mid 90s their highly collectable vinyl album achieved critical acclaim and is now ranked as a folk rock classic.
After moving to Johannesburg with Dave Williams, Mellow Candle's guitarist, they formed traditional group Flibbertigibbet. In 1978 the band's album 'Whistling Jigs to the Moon' was released on the Stanyan label, and the group worked for several years in South Africa and Botswana. They also performed on national television and radio. When band members moved on Alison freelanced on recordings mostly for David Marks of 3rd Ear Music and session work for t.v. and radio advertising commercials. She also worked with a number of singer songwriters, most notably Roger Lucey and Colin Shamley, on both live and recorded contributions to their albums. During the early 80s, together with a troupe of eminent actors and musicians, she helped to stage and perform a series of popular satirical revues. She toured with the musical 'I'm getting my act together and taking it on the road', appeared with a number of jazz and rock bands, including the fledging Ella Mental and recorded an album for writer/producer (Daydreamer), Terry Dempsey's band Plastik Mak. Alison then went on to assist in the running of underground Hillbrow club venue Le Chaim, which featured anti-apartheid musicians, where she performed occasionally. In the mid 80s Alison joined contemporary jazz group Earthlings, co-writing the band's material up until her move to Britain in 1986.
In London Alison spent a number of years working in public sector administration whilst also acting as promoter and publicist for the re-release and reissue of earlier recordings. In the latter part of 1997 she moved to Brussels, working with jazz and folk musicians, on theatrical productions, and giving voice coaching. In 1998 she formed traditional group Éishtlinn with Flemish guitarist Philip Masure. The band played concerts in Belgium, Holland, France and Luxembourg and recorded the album 'eist linn' on the Kissing Spell label. A year before moving back to Dublin in 2001, she worked with Flemish singers in the group, Oeda, singing their original songs in Flemish and French.
Since returning to Ireland in 2001, Alison sings and plays bodhrán in sessions, festivals and gigs including a long-standing residency at The Wishing Well in Blackrock. She is also a member of the traditional singer's club An Goilín and TAC (Traditional Arts Collective). In 2005 the BBC filmed her in a documentary about her grandmother entitled 'Mother of Pearl' for the Family Ties series, directed by BAFTA award-winning director and producer Claire Faragher. In 2006 she released a first album under her own name, 'Mise agus Ise', comprising original songs and tunes with multi-instrumentalist, Isabel Ní Chuireáin.
2007/8 brought collaborations with Dave Colohan of Agitated Radio Pilot on his 'World Winding Down' double album and Steven Collins of The Owl Service (EP and vinyl) entitled 'The Fabric of Folk', Static Caravan, and on tracks for 'The Burn Comes Down' and 'The View From a Hill'. In 2008 indie prog/psych folk label, Fruits de Mer issued a vinyl double A-side single of cover versions of Nick Drake's 'Day is Done' and Nico's 'Frozen Warnings' by Alison and Head South By Weaving. In 2011 a copy of the single sold on eBay for £74.00. Alison became a member of the acclaimed psych folk collective United Bible Studies in 2008. This collaboration has resulted in a slew of recording projects and albums as well as live performances. 2010/11 saw the formation of her band Bajik, which headlined at their maiden concert in Spain at the Datura Folk Festival. Between 2010 and 2013 there has been a solo album 'Hey Hey Hippy Witch' on Floating World Records, which includes songs written with Michael Tyack of Circulus, Kevin Scott of Canadian band, Mr Pine, Graeme Lockett of Head South By Weaving and Dave Colohan and Gavin Prior of United Bible Studies and an album with Head South By Weaving entitled 'The Execution of Frederick Baker', Ritual Echo Records. Contributions have also been made to the Mr Pine album, 'Rewilding', 'Freedom and the Dream Penguin' by The Fieldmouse Conspiracy, a project run by Belfast based author and musician Colin Harper, 'Towards Abstraction' for British contemporary electronic psychedelic band Big Dwarf and 'Songs From The Black Meadow', Compilation, (Black Meadow Song) 2016 Mega Dodo. She also guested on doom metal band Cathedral's ninth album, 'The Guessing Game' and two albums by fellow UBS student Richard Moult, 'Last Night I Dreamed of Hibrihteselle' and 'Sjoraust'. 2015/16 marked the release on CD and vinyl of 'Anointed Queen' with British folk noir group Firefay. Solo album written and created with Dave Colohan, 'Climb Sheer The Fields Of Peace' on Mega Dodo, released on vinyl/CD/digital July 2017. A third solo album entitled 'Exotic Masks and Sensible Shoes' was released on CD mid-July 2019 on Freeworld, a subsidiary label of Floating World Records. The main contributors are Canadian pianist Kevin Scott, Dave Colohan, Graeme Lockett, James Connor and Ronnie Maxwell. Four completed albums are 'Three Barrows Round' and 'Cave Hill Ascension' with United Bible Studies, 'A Colloquy of Birds', which is a collection of songs about Irish and Scottish birds with Gayle Brogan and 'Five Forests', a follow-up album with Head South By Weaving. Work in progress will soon commence for a collection of original songs in the traditional idiom. In the RTE 1 documentary broadcast on 30th December 2018 by Dearg Films about the making of Phil Lynott's song 'Old Town', Alison was a talking head contributor. Buntús Rince: Explorations in Irish Jazz, Fusion & Folk 1969-71 was launched at All City Records in Dublin in April 2019. Mellow Candle contributed a track to a vinyl album of lost gems put together by RTE presenter and DJ Peter Curtin. 2020 sees the release of five United Bible Studies recordings a digital compilation by Alison entitled Spread Your Sailing Angels Over Me (50 years of song) and a digital release for their second album together, 'Five Forests' by Alison and Head South By Weaving. Current projects are filmed performances for Music Town Festival 2020, The Frank Harte Festival 2020 and an album of original songs in the traditional idiom with Anthony Bools. 'The Travels of Janus', second album with Firefay, released 5th February 2021. Twitter Listening Party April 2021 Tim Burgess/Pete Paphides. RTE Lyric FM Radio 12 April 2022 documentary by Cathal Funge 'Swaddling Songs at 50'. Fourth solo album released 22 July 2022 Hark The Voice That Sings For All, new songs in an ancient tradition by Talking Elephant Records.


Dieses Album enthält kein Booklet