---
Album Info
Album Veröffentlichung:
2022
HRA-Veröffentlichung:
24.06.2022
Das Album enthält Albumcover Booklet (PDF)
Franz Liszt (1811 - 1886): Piano Concerto No. 1 in E-Flat Major, S. 124:

1

Liszt: Piano Concerto No. 1 in E-Flat Major, S. 124: I. Allegro maestoso (Tempo giusto)

05:32

2

Liszt: Piano Concerto No. 1 in E-Flat Major, S. 124: II. Quasi adagio

04:47

3

Liszt: Piano Concerto No. 1 in E-Flat Major, S. 124: III. Allegretto vivace

04:14

4

Liszt: Piano Concerto No. 1 in E-Flat Major, S. 124: IV. Allegro marziale

04:29

Piano Sonata in B Minor, S. 178:

5

Liszt: Piano Sonata in B Minor, S. 178: I. Lento assai

07:45

6

Liszt: Piano Sonata in B Minor, S. 178: II. Allegretto energico come prima

04:20

7

Liszt: Piano Sonata in B Minor, S. 178: III. Andante sostenuto

07:41

8

Liszt: Piano Sonata in B Minor, S. 178: IV. Allegro energico (Fugue)

03:10

9

Liszt: Piano Sonata in B Minor, S. 178: V. Recapitulation (accentuato il canto)

04:04

10

Liszt: Piano Sonata in B Minor, S. 178: VI. Andante sostenuto

03:46

Piano Concerto No. 2 in A Major, S. 125:

11

Liszt: Piano Concerto No. 2 in A Major, S. 125: I. Adagio sostenuto assai

05:29

12

Liszt: Piano Concerto No. 2 in A Major, S. 125: II. Allegro agitato assai

02:05

13

Liszt: Piano Concerto No. 2 in A Major, S. 125: III. Allegro moderato

05:51

14

Liszt: Piano Concerto No. 2 in A Major, S. 125: IV. Allegro deciso

02:54

15

Liszt: Piano Concerto No. 2 in A Major, S. 125: V. Marziale - un poco meno Allegro

04:41

16

Liszt: Piano Concerto No. 2 in A Major, S. 125: VI. Allegro animato

01:54

Total Runtime

01:12:42
Info zu Liszt: Piano Concertos Nos. 1 & 2, Sonata
Alexander Ullman ist der Gewinner des Internationalen Franz-Liszt-Klavierwettbewerbs von 2011 in Budapest. Er studierte an den renommierten englischen Instituten Purcell School und Royal College of Music sowie am amerikanischen Curtis Institute. Ullmans Debütalbum bei Rubicon war ein Recital großer russischer Ballettmusik von Tschaikowsky, Prokofjew und Strawinsky, arrangiert für Klavier. Es erhielt begeisterte Kritiken aus aller Welt. Seine neue Aufnahme widmet er nun allein Franz Liszt: den beiden Klavierkonzerten mit dem BBC Symphony Orchestra unter Andrew Litton sowie dem Solitär der h-Moll-Sonate.
Alexander Ullmann, Klavier
BBC Symphony Orchestra
Andrew Litton, Dirigent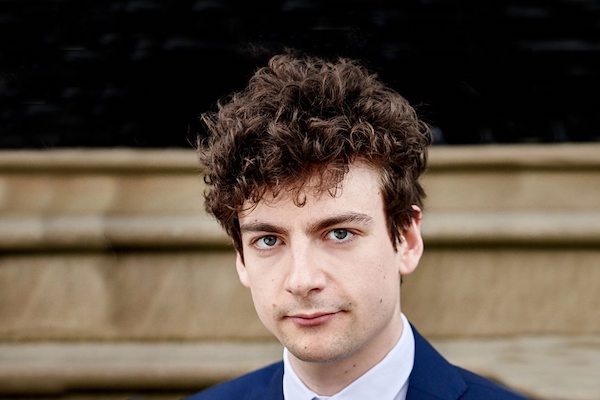 Alexander Ullman
Praised for his subtle interpretations and refined technical mastery, British pianist Alexander Ullman has impressed audiences and critics worldwide with his deep understanding of the scores he interprets, his elegant touch and crystalline phrasing.
Recent highlights include performances with the NCPA Orchestra in Beijing (Liszt Piano Concerto No. 2 under Markus Stenz) and Orquestra Simfònica de Barcelona (Tchaikovsky Piano Concerto No. 1 under Josep Vicent), as well as his debuts at Lucerne Piano Festival and Montreal Chamber Music Festival. He also made his debut with the Moscow State Symphony Orchestra and performed recitals in Germany (Munich, Bayreuth, Weimar and Berlin), Austria (Wiener Konzerthaus and Liszt Festival Raiding), Hungary (Liszt Academy Budapest), the Netherlands, Poland, Italy, Georgia, Mexico, Korea (Seoul Arts Center) and his native UK.
The 21/22 season sees his evening recital debut at Wigmore Hall and debuts with Münchner Symphoniker (under Joseph Bastian) and Hong Kong Sinfonietta (under Ola Rudner), both with Rachmaninov Piano Concerto No. 3. He returns to the Sofia Philharmonic Orchestra (Beethoven Piano Concerto No. 4 under Dennis Russell Davies) and Klavierfestival Ruhr, and performs a recital at Hong Kong's Premiere Performances.
In Spring 2019, Alexander's first album on Rubicon, featuring Tchaikovsky's Nutcracker Suite, Prokofiev's Six Pieces from Cinderella, as well as Stravinsky's Petrushka and Firebird suites, received rave reviews. In Spring 2022 the label will release a second album, featuring Piano Concerto Nos. 1 and 2 by Franz Liszt with the BBC Symphony Orchestra under Andrew Litton, coupled with his Piano Sonata in b minor.
The winner of the 2017 International Franz Liszt Piano Competition in Utrecht, Alexander has appeared with the Philadelphia Orchestra, Royal Philharmonic Orchestra, Netherlands Radio Philharmonic, Norwegian Radio Orchestra, St. Petersburg Philharmonic, Budapest Radio Orchestra and Korean Symphony Orchestra, as well as the New Jersey, Fort Worth and Montreal symphonies, working with conductors such as Vladimir Ashkenazy, Giancarlo Guerrero, Miguel Harth-Bedoya, Valentin Uryupin and Cristian Măcelaru. In the 17/18 season he closed the Lille Piano(s) Festival with Orchestre de Picardie under Jean-Claude Casadesus.
He has performed at Wigmore Hall and Queen Elizabeth Hall (London), the Concertgebouw (Amsterdam), Gewandhaus (Leipzig), Kimmel Center (Philadelphia), Kennedy Center (Washington DC), Seoul Arts Center, Shanghai Oriental Arts Center and the NCPA in Beijing, and has been featured in the Nottingham and Oxford international piano series, on BBC Radio 3, France Musique and MDR Klassik. Chamber music highlights include performances at the International Musicians Seminar at Prussia Cove (UK), Festspiele Mecklenburg-Vorpommern (Germany), the Pablo Casals Festival in Prades (France) and La Jolla Summerfest (US) with performers such as the Dover Quartet, violinists Barnabas Kelemen and Aleksey Semenenko, and cellist Michael Petrov.
Alexander first came to international attention in 2011 after winning the Franz Liszt International Piano Competition in Budapest. From 2014 to 2017 he was represented by Young Classical Artists Trust (YCAT). Born in London, in 1991, he studied at the Purcell School, the Curtis Institute and the Royal College of Music, completing his Artist Diploma as the "Benjamin Britten Piano Fellow" in 2017 (awarded by the Philip Loubser Foundation). His teachers have included William Fong, Leon Fleisher, Ignat Solzhenitsyn, Robert McDonald, Dmitri Alexeev, Ian Jones and Elisso Virsaladze.


Booklet für Liszt: Piano Concertos Nos. 1 & 2, Sonata