---
Album Info
Album Veröffentlichung:
2019
HRA-Veröffentlichung:
06.12.2019
Das Album enthält Albumcover
Frank Wallace: 5 Kleine Stücke:

1

5 Kleine Stücke: No. 1, Sequenz I

01:49

2

5 Kleine Stücke: No. 2, Basel 1298

01:36

3

5 Kleine Stücke: No. 3, Lindenberg 2017

01:10

4

5 Kleine Stücke: No. 4, Durch den Rhein

01:33

5

5 Kleine Stücke: No. 5, Sequenz II

02:31

A Distant Wind:

6

A Distant Wind: I. Tjaldur

03:50

7

A Distant Wind: II. Drunnhvíti

04:01

Guitar Sonata No. 2 (Timid Nightingale):

8

Guitar Sonata No. 2 (Timid Nightingale): I. The Sweet Voice Sings

05:31

9

Guitar Sonata No. 2 (Timid Nightingale): II. If I Forget to Love

03:51

10

Guitar Sonata No. 2 (Timid Nightingale): III. Garden and Grove

02:48

11

Guitar Sonata No. 2 (Timid Nightingale): IV. A Joy That Rises

03:50

Benjamin Britten (1913 - 1976): Nocturnal after John Dowland, Op. 70:

12

Nocturnal after John Dowland, Op. 70: I. Musingly

01:40

13

Nocturnal after John Dowland, Op. 70: II. Very Agitated

00:59

14

Nocturnal after John Dowland, Op. 70: III. Restless

01:31

15

Nocturnal after John Dowland, Op. 70: IV. Uneasy

01:27

16

Nocturnal after John Dowland, Op. 70: V. March-Like

01:27

17

Nocturnal after John Dowland, Op. 70: VI. Dreaming

01:54

18

Nocturnal after John Dowland, Op. 70: VII. Gently Rocking

01:27

19

Nocturnal after John Dowland, Op. 70: VIII. Passacaglia - Slow and Quiet

06:01

Frank Wallace:

20

Friends: II. Ben

01:16

Julio Salvador Sagreras (1879 - 1942):

21

Romanza sin palabras No. 2, Op. 49 (La ideal)

04:14

Frank Wallace:

22

Amanda's Dance

06:15

Total Runtime

01:00:41
Info zu A Distant Wind
"A Distant Wind" music inspired by faraway times and places. In this age of retreat, anti-immigration and denial of our oneness, I dedicate this album to the good that comes from afar: spices from Zanzibar, yoga from India, pizza from Italy, French fries, rosewood from Brazil, tomatoes and potatoes from Peru, corn from the Maya, the blues from Africa, hummus from the Middle East, poetry from Persia, stories from Nordic lands, sculpture and democracy from Greece. The music on this CD is inspired by a song from 16th century England (Nocturnal), friendship in the Faroes (A Distant Wind), friendship and history in Basel, choral singing in my young adult days in Boston (Amanda), the first cellist of the Boston Symphony in the 1950's who loved a troubadour song from 12th century Provence and has a loving son in New Jersey. OK, New Jersey isn't so far, but you get my point. All modern life takes treasures from all over the world to get through a day – any day, every day.
My influences: The I Ching says, "In the words and deeds of the past there lies hidden a treasure that men may use to strengthen and elevate their own characters." My musical roots are as American as apple pie. In other words I am a polyglot of music – a melting pot of styles. Even as a teenager I listened to Jobim and Getz, Buddy Rich and Wes Montgomery, Los Romeros, Segovia and Bream, Bach and flamenco, the Beatles, the Stones and West Side Story and South Pacific. True, Machaut and Schoenberg came a little later, but not much. My music has been likened to Britten and Takemitsu – both had their roots in many pies as well. Takemitsu the Beatles, Britten ancient song and dance of the British Isles. As a composer I love the riches given to me in this incredible age we live in where time and place have become so fluid. In the practice of Qigong, it is said there are three forms of Q,or universal energy: Jing, Qi and Shen. They can be seen as equivalent to the energy of past present and future and it is believed they are all present at once. That is how I feel about the music on this album.
This album is a celebration of connections to time, people and place. It is dedicated to many people who have changed and moved my life: Nancy Knowles, my adoring wife and my sons Gus and Adam, who have stayed by my side through great hardship; John Fleagle, an old friend who went down many distant paths with me for a time and whose musical gifts still blow through my life and music; Aaron Green who built my exquisite guitar; all those who have inspired my compositions, too mny to name here; my parents who supported my musical education and loved listening to me play late at night as the went to sleep.
I conclude with a short recent poem that ponders the question where did I get my musical talent, my gifts? I never met my paternal grandfather, a poet, and my mother's Dad was distant after I was five years old and died soon after we moved from Texas to California. He played piano by ear, but I recall nothing of it, and so I wonder still…
Frank Wallace, classical guitar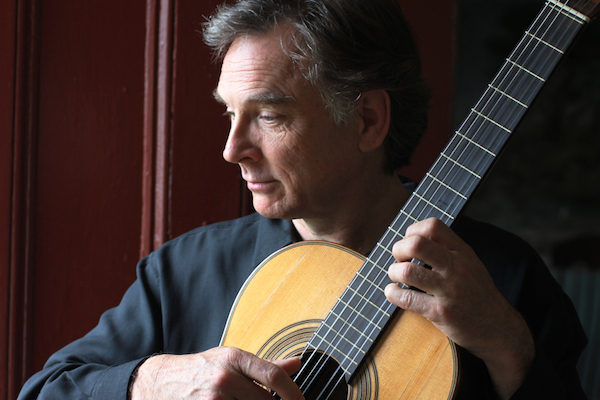 Frank Wallace
is a consummate and reputable six-stringer currently based in Antrim, New Hampshire (U.S.A.) who reveals his playing style as modern classical, as a listener can readily experience on his most recent album, "His Own New Works". photoHis most utilized guitars consist of a Fleta and a Traphagen. Wallace has been playing guitar since 1967, and with no holds barred reveals his career aspiration, "I want to combine my interests in guitar, lute, vihuela and singing and re-establish an active touring schedule throughout America and Europe, presenting music from many eras, always featuring my own compositions - for each instrument."
When asked to divulge his one essential effect for the guitar, Wallace responded by saying, "Natural reverberation, particularly, stone churches are what turn me on," and continued by mentioning his musicial goals, "Music is music to me - I don't know where it comes from or why - but it is a beautiful thing that it does. That is to say, it all comes from the spirit - music is the spirit to me - I want to be an agent of beauty, not destruction, not ugliness and hate - music should lift us up above those emotions, even when expressing fear or confusion. It should still be beautiful. Too much music is now designed to be aggressive, negative - we need not wallow in those emotions, but rather try to transform them into beauty." He fervently hopes to one day study rock with Santana, and is presently listening to the Assads, Santana, Andrea Bocelli, Masayuki Kato and Georgian choral music. His primary fulfillment? "Finishing a new composition," he declares incontestably.
Wallace concludes by detailing current and approaching undertakings succinctly, by saying, "My wife [Nancy Knowles] and I are totally involved in creating CDs - we plan to finish seven in the next year: a second solo guitar CD [I am still writing for that]; one of her reading her own poetry [some with my guitar improvs] and singing spiritual songs [Shakers and medieval]; and several of songs from the 16th to 19th centuries. My most exciting project is a song cycle that includes guitar solos and songs for two singers - man and woman - using poetry that she and I have written along with Rumi and other texts."


Dieses Album enthält kein Booklet