---
Biographie Christophe Sirodeau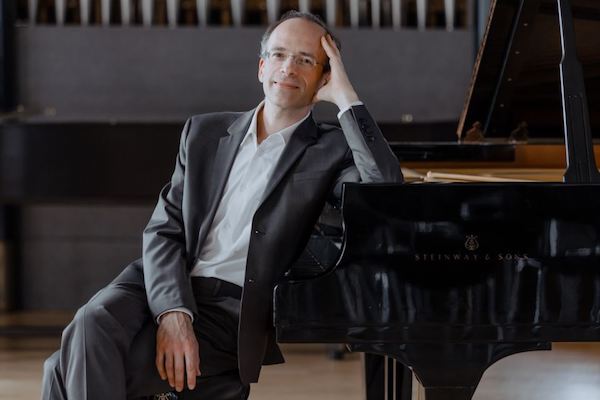 Christophe Sirodeau
is principally a pupil of Evgeny Malinin (from 1982 to 1992) with whom he studied in both France and Russia, laterly at the Moscow Conservatoire (on a state scholarship, 1989-92). Among his others teachers were Alberto Neuman (a disciple of Benedetti Michelangeli), Thérèse Dussaut, Olga Lartshenko and Dora Rybac.
Ch. Sirodeau has recorded the complete piano works by Viktor Ullmann, published in 2014 in Sweden by Bis Records. This recording was widely praised by the international critics (in the Guardian, in Musicweb international, International record review, and in few other web sites, like Resmusica ['Gold Key of the year 2014'], by France Culture, in Diapason (5 stars), Fono-forum, Gramophone, etc....), while some extracts were broadcast by several radios (BBC, France- Musique, Radio Suisse romande, Radio Bremen, etc...).
Sirodeau is known for his broad tastes and his curiosity for rarely heard scores from past and present both in concert, in the recording studio and for the radio (Ullmann, Feinberg, Winterberg, Smit, Skalkottas, Kapralova, Suk, Lourié, Roslavets, Mompou, Bridge, Reger...). He has appeared as soloist (under Leif Segerstam's baton) with the Helsinki Philharmonic Orchestra, Norway Radio Orchestra, Jyväskylä Sinfonia, and the Belgrade Philharmonic. In chamber music he is the partner of the Japanese violonist Eiichi Chijiiwa (one of the leaders of the Orchestre de Paris), of the cellist Pia Segerstam and was playing with the percussions ensemble Symbléma (Marseille), the soloists from the Montpellier National Orchestra and also with the pianist Anna Zassimova (his regular partner in piano duet or 4 hands), and also with the pianists Jonathan Powell & Nikolaos Samaltanos, the actor Timothée Laine, and for "lieder-abend" mainly with the mezzo-sopranos Riitta-Maija Ahonen & Laura Laura Nykänen and the bass Sami Luttinen (of course, he has appeared also in numerous solo recitals).
'Perspectives on music', dedicated to Etienne Barilier, a large multilingual book published in Germany by Verlag Traugott Bautz, for which Sirodeau wrote one third of the contents, was just released in October 2017. The lost works, the long awaited recording of the posthumous 1st Violin Sonata by Feinberg as well as pieces by Winterberg, is now published by Melism as world premiere.
His previous recordings of music by Feinberg (the complete sonatas in alternate collaboration with Samaltanos) and Skalkottas for BIS were also widely praised in the international press before. The first volume of Feinberg was named 'disc of the month' in May 2004 by Music Web International (where Colin Clarke wrote about the 6th Sonata: "The performance (Sirodeau) is miraculous"). Similar accolades followed in "ClassicsToday.com", in the BBC Music Magazine (both volumes), Klassik-Heute, Fanfare (in "The Want List"), and for his recording of Skalkottas' Chamber Concerto (also with Samaltanos), in both Gramophone and in Classica-Répertoire (France, winning the "Recommandé"). The Feinberg series was followed by two world premiere recordings for Altarus (USA), with the 1st piano Concerto and a Lieder recital.