---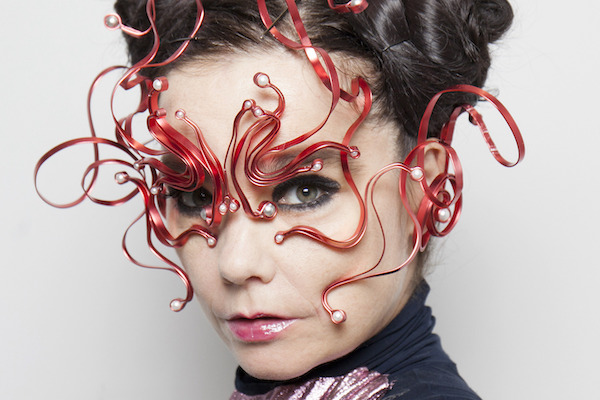 Björk
Through her eclectic avant-garde pop infused with electronica, Björk (born November 21st, 1965) has become an international icon with her intelligent, forward-thinking music that frequently defies expectation.
Following the demise of her band, the Sugarcubes, in 1992, Björk embarked upon a solo career that would lead her to widespread critical acclaim and chart success. Yet this was not her first solo album. Björk had already released a hit record at the young age of 11, a collection of covers that found great success in her native country. The child prodigy later became lead vocalist for the Sugarcubes, whose art rock found a hit album in the US and UK after the release of "Life's Too Good" in 1988. After their break-up, Björk traveled to London, where she became interested in the burgeoning dance scene, which would inform much of her solo musical direction from there on.
In 1992, "Debut" was released, Björk's first solo venture since she was 11 years old. The album took influence from trip hop and electronica, with the likes of Tricky, Underworld and Nellee Hooper lending their production talents. The resulting album became hugely successful, peaking at number three in the UK charts, featuring a number of hit singles that found chart success globally. Björk became a runaway success, earning countless awards and accolades at the year's end.
Björk's following releases continued to find critical acclaim, most notably in the UK, spawning several remix albums of her work subsequently. In 2000, Björk was also named 'Best Actress' at the Cannes Film Festival for her performance in Lars Von Trier's "Dancer in the Dark." Alongside her solo efforts, Björk also created several film soundtracks, helping to diversify her work. In 2004, she released the ambitious "Medúla," an album made up entirely of vocal samples before then returning to the more beat-driven, upbeat record, "Volta" in 2007.
Björk continued to be ambitious in her scope for musical exploration, creating the concept album "Biophillia," which explored humanity's interaction with the natural world, most notably its geological landscape, and how music reflects this. The album also spawned an IMAX film, as well as a BBC 4 documentary, "When Björk met David Attenborough," further exploring this subject matter.
Forever busy, Björk appeared on a Death Grips release, on the album, "Niggas on the Moon." A live DVD of her "Biophillia" project followed shortly after in 2014, which captured Björk's ability to put on an impressive live show. In 2015, her ninth studio album was unexpectedly released after it was leaked prior on the internet, yet Björk still found critical acclaim for her highly anticipated "Vulnicura."