---
Simos, Christoyannis, Maropoulos, Kontos, Arapis, Krilovici, Pazardzhik Symphony Orchestra & Byron Fidetzis
---
Biographie Simos, Christoyannis, Maropoulos, Kontos, Arapis, Krilovici, Pazardzhik Symphony Orchestra & Byron Fidetzis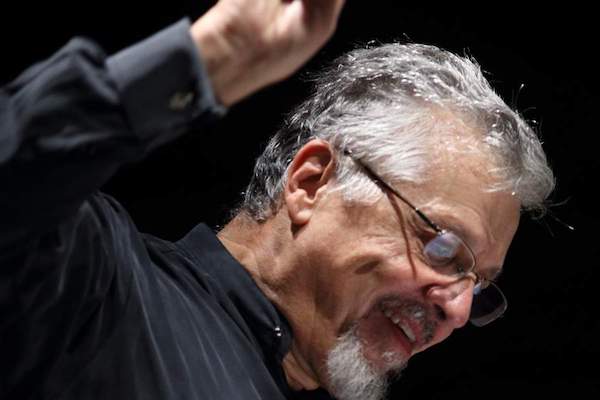 Byron Fidetzis
was born in Thessaloniki, where he also carried out his studies in Music, at its State Conservatory. He studied cello with Manolis Kazabakas and advanced music theory with Solon Michaelides. He owes a great deal of his musical learnedness to Aristotelion University's Musical Department Orchestra, which he joined at the age of 15, under Yiannis Mantakas. The most significant learning school of all however, were the 5 five years he spent with the then Northern Greece Symphony Orchestra (1963 – 68). After being awarded a scholarship by the Greek State Scholarships Foundation, he went on to continue his cello studies at the Vienna University of Music and Performing Arts (with Vladimir Orlof, Andre Navarra and Senta Benes) where he received his diploma (1975). Parallel to this time, he also studied orchestra direction under Hans Swarofsky (at the very same university) where he was also awarded his diploma in orchestra direction (1973- 1977). He was fortunate enough to have great professors in Vienna too, – especially for the theory classes – such as Friedrich Neumann, Erwin Ratz, Alfred Uhl, Friedrich Cerha and Josef Mertin. He also attended various seminars held by conductors such as Miltiades Karydis (Vienna) and Otmar Suitner (Weimar).
He has participated in performances both as a cellist and orchestra director alongside various Greek Symphony Orchestras and foreign music groups. He did so across an extensive number of Greek festivals, such as: the Athens, Corfu, Heraklion and Kalamata Festivals, the "Speech and Art" festival of Lefkas and Ioannina, the Rhodes, Filippon and Ermoupolis festivals, Thessaloniki's "Demetria" Festival as well as the "Manolis Kalomiris" Festival held on the island of Samos. He has also performed around various parts of the world, including Austria, Germany, Italy, China, Japan, Mexico, Poland, Russia, the Czech Republic, Romania, Albania, Armenia, Island, Brazil, Portugal, S. Korea, Serbia, Cyprus, Slovakia, Ukraine, Azerbaijan, Turkey, Egypt and other places. His main and constant drive during these performances was to showcase Modern Greek musical creativity; examples of these creativity components include: The projection of Kalomiris's work in Cyprus, Mexico, Russia, China, Japan, Ukraine, Bulgaria, Slovakia, Turkey, Azerbaijan, Skalkotas's works in Russia, Germany, Bulgaria, Italy, Austria, China, Turkey, Brazil, Mexico, Iceland, Albania. Samaras's operas in Russia and Bulgaria; Axiotis's pieces in Bulgaria, Romania, Italy, Portugal and Japan. Evagelatos's music in China, the Czech Republic, Germany and Bulgaria. Petrides's works in Bulgaria, Turkey and China. Theodorakis's songs in Russia, China and Germany, Lialios's melodies in Turkey and Bulgaria and Tsalahouris's pieces in Turkey, Bulgaria as well as Romania.
He worked with the Greek National Opera over a long period of years, during which he was appointed permanent conductor (1985 – 1992). From September 1990 to 1992 he acted as the principal conductor of the Yekaterinenburg State Philharmonic Orchestra of the former Soviet Union while in 1992 he was a guest conductor at "Kapela Russia" in Moscow (former orchestra of the Union of Soviet Socialist Republics Ministry of Culture). He was also a guest conductor for the Pazardzhik Symphony Orchestra in Bulgaria from 1990- 1999 where he also functioned as the orchestra's artistic director until 2001. During the period 2000-2005 he was responsible for the Thessaloniki State Symphony Orchestra and its artistic direction. From 1987 onwards he was made permanent conductor for the Athens State Orchestra in conjunction with also taking up the post as artistic director (2004 – 2011).
Pazardzhik Symphony Orchestra
was founded in 1969. Instrumental in its creation were violinist Georgi Koev (1947–2013), who served as its leader over many years, and composer and conductor Ivan Spasov (1934–1996), who was artistic director from 1970 to 1992.
The orchestra has come to hold an important position in the musical scene of Bulgaria, gradually expanding the scope of its activities to include numerous tours across Europe.
Its broad repertoire spans the entire spectrum of symphonic music, opera and operetta, and of particular importance is its contribution to the field of Bulgarian contemporary music, with many composers having written pieces for the orchestra. In 2000, it also assumed the name of the 'Maestro G. Atanasov' Orchestra.
It has recorded several Greek operas, among them works by Samaras, Carrer and Mitropoulos, as well as numerous orchestral pieces by Lialios, Lavrangas, Kalomiris and Philippos Tsalachourēs among others.