---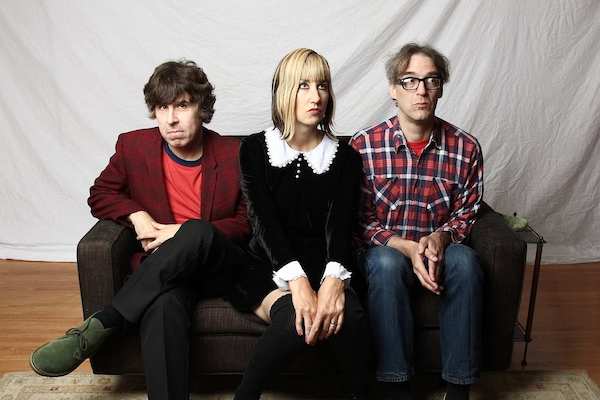 The Muffs
Kim Shattuck formed the Muffs with bassist Ronnie Barnett, drummer Criss Crass and Melanie Vammen. After three singles for indie labels Subpop Records, Au Go Go in Australia, and Sympathy for the Record Industry, which generated a large underground buzz, the Muffs were picked up by Warner Bros and subsequently released their powerful eponymous debut album in 1993. Shortly after, Crass left the group and was replaced temporarily by drummer Jim Laspesa for the tour.
In the Spring of 1994, ex- Redd Kross drummer and longtime Muffs friend Roy McDonald joined the group. The Muffs had asked him back in 1990 but he was moving to Dallas and couldn't do it.
After switching to Reprise Records in late 1994, the Muffs headed back into the studio to record the follow-up, Blonder and Blonder; now a three-piece due to Vammen's departure.
They toured extensively in 1995 in support of their 2nd album Blonder and Blonder, creating havoc and chaos wherever they went. (Mostly in a good way).
Happy Birthday to Me followed in 1997 and two years later Alert Today, Alive Tomorrow was released by a Fat Wreckords label, Honest Don's; a rarities collection, Hamburger, appeared in early 2000 on Sympathy for the Record Industry.
After a long break, The Muffs released their new CD Really Really Happy on Oglio Records during the summer 2004 and toured the US and Japan later that year.
January 2005 The Muffs released a limited edition LP of Really Really Happy on Sympathy for the Record Industry.
In September 2005 The Muffs were featured in a series of Canadian Milk commercials that played throughout Canada.
In February 2009 the Muffs tried out new material during a 20 day tour of Spain. It was wildly successful.
Another tour in September 2010, this time of Spain and Italy. Lots of people and lots of fun chaos.
1/17/11 Another b-sides CD called Kaboodle comes out on Cherry Red Records from England!
Currently the Muffs are gearing up to release their 6th studio album July 2014. It will be released in North America by Burger Records and the rest of the world by Cherry Red Records.