---
The Hilliard Ensemble, Asko-Schönberg Ensemble & Clark Rundell
---
Biographie The Hilliard Ensemble, Asko-Schönberg Ensemble & Clark Rundell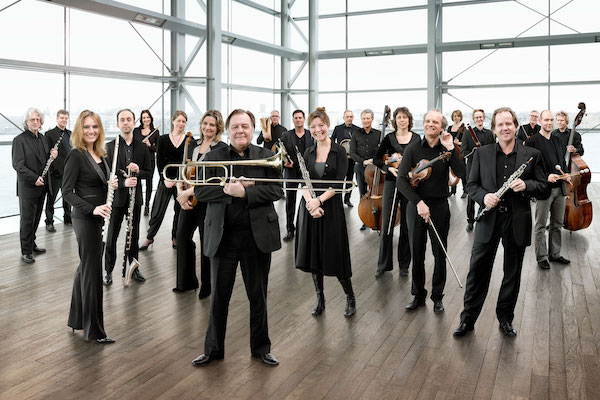 Hilliard Ensemble
The Hilliard Ensemble was a British male vocal quartet originally devoted to the performance of early music. The group was named after the Elizabethan miniaturist painter Nicholas Hilliard. Founded in 1974,[1] the group disbanded in 2014.[2] Although most of its work focused on music of the Medieval and Renaissance periods, the Hilliard Ensemble also performed contemporary music, working frequently with the Estonian composer Arvo Pärt and included in its concerts works by John Cage, Gavin Bryars, Giya Kancheli, and Heinz Holliger.
Asko|Schönberg ensemble
The ensemble's highly qualified and motivated musicians perform works dating from the 20th and 21st centuries, from solos to larger-scale repertoire, both in concert settings and in interdisciplinary productions. Asko|Schönberg occupies an unassailable position in the arts through its enormous versatility, constant forward momentum and its ability to mirror topicality or even fly in the face of it. Collaboration between musicians and composers is a key element of its work. They examine musical and theatrical formats, techniques and possibilities through a dynamic working process that results in exciting discoveries, new insights and innovative methods of presentation. Asko|Schönberg, while respecting its 20th century heritage, is creating the repertoire of the future. The musicians are highly specialised in the performance of new music, thanks in part to their intensive collaboration with the composers.
The ensemble appears in a select number of concert halls both at home and abroad and is a regular guest at festivals in cities such as Cologne, Zagreb and Paris. In recent seasons, the ensemble has performed in South Africa, Melbourne, London, Paris, Los Angeles, New York and Jakarta.
Clark Rundell
is Director of Contemporary Music and Head of Conducting at the RNCM, and Artistic Director of the Royal Liverpool Philharmonic's new music Group, Ensemble 10/10. He studied trombone and conducting at Northwestern University, Chicago, and was subsequently awarded a Junior Fellowship to study conducting with Timothy Reynish at the RNCM. He regularly conducts the Royal Liverpool Philharmonic Orchestra, with whom he made his début in 1987, as well as the BBC Philharmonic, BBC Scottish, BBC Symphony Orchestra, Northern Sinfonia, Hallé and the Philharmonia Orchestra, with whom he recently performed at the Royal Albert Hall.
Deeply committed to the performance of new music, Clark has given world premières of works by composers including Louis Andriessen, Django Bates, David Bedford, Sir Richard Rodney Bennett, Gary Carpenter, Adam Gorb and and Mark-Anthony Turnage.
A highly versatile musician, Clark served for fourteen years as Director of Jazz Studies at the RNCM, and has performed with artists such as John Dankworth, Bob Brookmeyer, Cleo Laine and Andy Sheppard. As an arranger, he has worked with Louis Andriessen and Mark-Anthony Turnage.