---
John Hosking, Olivia Hunt, Bethan Griffiths, Xander Croft
---
Biographie John Hosking, Olivia Hunt, Bethan Griffiths, Xander Croft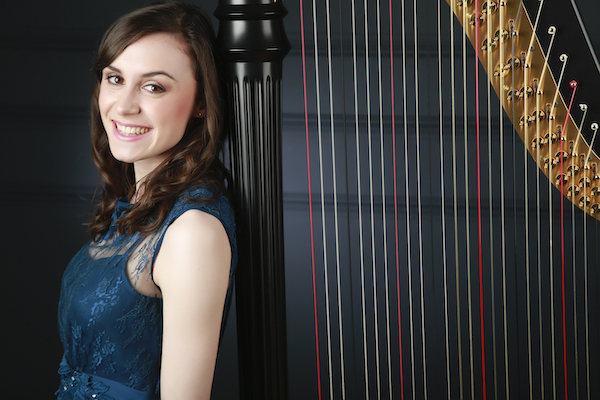 John Hosking
is a freelance organist, composer and conductor based in North Wales.
A student at the Royal College of Music, John became Organ Scholar of Westminster Abbey in 1996 and is the only person to ever hold this post for a period of three years. During this time, John played the organ for many Royal and State occasions, broadcast for the BBC and played numerous solo recitals in the Abbey. He was Assistant Director of Music at St Asaph Cathedral from 2004 – 2018.
In much demand as a recitalist and accompanist, John appears on several CDs, his most recent, Variation, is recorded at St. Asaph Cathedral for Regent Records. He will release a further disc for Willowhayne Records from St Asaph Cathedral in 2019 with a programme of works for organ, soprano, violin and harp. He made his recital debut at Notre-Dame Cathedral, Paris in 2015.
Increasingly active as a composer, John has completed commissions for Bangor, Chester and Peel Cathedrals, St Martin-in-the-Fields and the Conwy Music Festival. His Requiem was premiered in the 2013 North Wales International Music Festival and his large-scale work, The Seven Trumpets premiered in December 2013. John's new setting of the Requiem, "Missa pro defunctis" was premiered on opening night of the 2016 North Wales International Music Festival.
The Choir of Selwyn College Cambridge together with the Ely Cathedral Girls' Choir released a complete disc of his choral works for Regent Records to critical acclaim. John's largest work for organ, The 14 Stations of the Cross (commissioned as part of Sebastian Thomson's Angels of Creation series) has been released on the Convivium label; this recording was Editor's Choice in Organists' Review magazine. His new Toccata for organ is published by Banks Music, with the remainder of his compositions published by Chichester Music Press.
Several of John's compositions have been broadcast as part of the BBC's Introducing scheme.
Olivia Hunt
began singing as a Chorister of Chester Cathedral, culminating her time there as Head Chorister. As a member of the Cathedral Choir, she took part in numerous television and radio broadcasts, both as a soloist (notably the televised Christmas Day Eucharist from the Cathedral in 2009) and as part of the choir. In 2009, Olivia was a finalist at BBC Radio 2's Young Chorister of the Year competition, singing at St Paul's Cathedral to a capacity audience. Studying with Edward Hartwell-Jones, she achieved Grade Eight singing with distinction and passed the Advanced Certificate in performance. She now studies with Damian O'Keeffe and has also had a consultation lesson with Dame Emma Kirkby.
In 2013 she made her solo debut in the North Wales International Music Festival, returning in 2015 as soloist in the Mozart Requiem, and 2016 to sing a variety of works on the Festival's opening night. She opened the 2017 Conwy Festival with Ensemble 1677, took the part of Dido in Purcell's Dido and Aeneas, sang the soprano solo parts in Haydn's "Nelson Mass" and the Handel "Messiah" and gave a solo recital in the 2018 Beaumaris Festival. She has also performed solo recitals in Truro and Bristol Cathedrals.
Her interest in combining music with acting led to her partaking in a workshop with Welsh National Opera, after which she was invited to take part in their series of flashmob operas performed in Wrexham, later published on YouTube.
Olivia appears as the soloist in John Hosking's Requiem on All Angels Cry Aloud (Regent Records) with the Choir of Selwyn College, Cambridge. She has been broadcast several times on the BBC's Introducing scheme and interviewed live on the Radio Wales' Arts Show.
Olivia is the recipient of the 2018 Worshipful Livery Company of Wales Sickle Foundation Award for services to Welsh music, recently performing a commissioned work at the Cardiff Senedd in a concert to mark the Diamond Jubilee of the Company.
Bethan Griffiths
is an award winning harpist based in North Wales and London. She gained a First Class Honours Degree from the Royal College of Music in 2017, studying with internationally renowned harpist Ieuan Jones. She returned to the RCM for postgraduate studies as an Ashley Family Foundation Scholar and recently graduated with a Master of Performance with Distinction. Upon completing her studies she was awarded the prestigious Queen Elizabeth, The Queen Mother Rosebowl award.
Bethan's musical training began aged 7 with piano lessons before beginning to play harp aged 10. She later went on to achieve her ABRSM performance diplomas in both harp and piano and since then has performed in various venues across the UK, Europe and the USA both as a soloist and as part of a variety of ensembles. Some of the highlights include performances for HRH The Prince of Wales and making her solo debut in the USA performing in Washington DC, Maryland and live on WCVE National Public Radio, Richmond.
As a keen competitor in Eisteddfods, she has won many awards which includes prizes at the Urdd Eisteddfod instrumental solo, 1st prize in the National Eisteddfod Harp Solo, as well as being chosen as a finalist in the prestigious Blue Riband competition. In 2016 Bethan was awarded the Nansi Richards Scholarship for harpists as well as the RCM Harp Prize. Her most recent success includes receiving 3rd prize in the RCM Concerto Competition in 2019.
Bethan has performed with many orchestras across the UK including City of Birmingham Symphony Orchestra, NEW Sinfonia and Young Musicians Symphony Orchestra. This has given Bethan the opportunity to work with world renowned conductors including as Bernard Haitink, Edward Gardner and Rafael Payare. She has performed in many of the UK's most prestigious venues including the Royal Festival Hall, Buckingham Palace, House of Commons, Cadogan Hall, Liverpool Philharmonic Hall, Bridgewater Hall Manchester and Symphony Hall, Birmingham. During her studies Bethan was invited to take part in schemes with the BBC Symphony Orchestra and English National Opera working alongside Sioned Williams, Louise Martin and Alison Martin.
Bethan was awarded the Chester Music Society Award for Young Musicians which enabled her to attend the Suonarte Masterclasses in Italy with Emanuela Degli Esposti and Ieuan Jones. She has since participated in masterclasses with many acclaimed musicians including Sylvain Blassel, Marisa Robles, Claire Jones, Isabelle Perrin, Catrin Finch and Jana Bouskova.
Xander Croft
received a Music and Dance scheme Scholarship in 2011 to study violin and piano at the Junior Royal Northern College of Music, where he studied with Ulla Benz and Steven Wilkie, with whom he continues to study.
Xander won the Caerwys Young Musician of the Year competition in both 2014 and 2015, before going on to win the Rotary International Great Britain and Ireland Young Musician of the year competition in 2016. He has been awarded the Ian McPherson prize, the Rohi Gazder prize for violin, and the Rotary prize for performance by the JRNCM, before being offered the Albert and Eugene Trust Scholarship to attend the RNCM.
A keen chamber musician, Xander is a member of the Freeman String Quartet. Formed in October 2017, the group became winners of the RNCM Nossek Prize for chamber music in the same year, before being invited to perform in the RNCM Chamber Festival. The group has performed across the UK and became the first quartet in residence at the South Downs International Summer Music Festival in 2018.
As an orchestral musician Xander has performed in prestigious venues which include the Berlin Konzerthaus, Bridgewater Hall, and Szczecin Philharmonic Hall. He has led both the National Youth Orchestra of Wales and the JRNCM Symphony Orchestra, and also toured with the International Lutosławski Orchestra.
Xander plays a Italian violin made by Mathias Albani in 1702 which is kindly loaned to him by the RNCM, and a bow made by L. Morizot from the collection of Dr Andrew Winter.