---
Biographie Karin Kei Nagano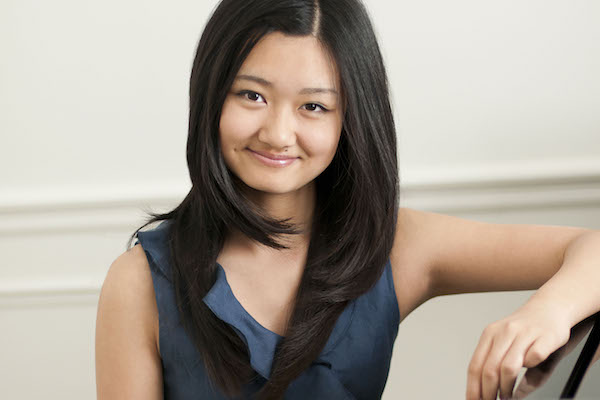 Karin Kei Nagano
Born in Berkeley, California in 1998, pianist Karin Kei Nagano began studying piano at the age of three and has worked with a number of internationally celebrated pianists, including the late Germaine Mounier, the late Vera Gornostayeva, Igor Lazko, and Colette Zerah. Currently, she studies with Rita Wagner and Peter Frankl.
In February 2014, Karin Kei Nagano released her first recording on the Analekta label with the Cecilia String Quartet, featuring two early Mozart piano concertos, Nos. 12 & 13, which was universally acclaimed: "She is a model of interpretative responsability, full of exquisite playing… hugely witty and brimming with personality." (Gramophone)
Ms. Nagano began competing internationally in 2007, winning First Prize at the Paris International Scriabin Competition, First Prize and Best Interpretation Prize at the Berlin International Piano Competition, and First Prize at the Rubinstein International Piano Competition (2009-2010). Since her professional debut, a performance of Mozart's Piano Concerto No. 8, K. 246 under the direction of Wachtang Korisheli, she has appeared with major international orchestras and festivals around the world, including the Bayerische Staatsorchester, l'Orchestre symphonique de Montréal, Tafelmusik Baroque Orchestra, Moscow Soloists Chamber Orchestra, Tokyo Philharmonic Orchestra, Tokyo Symphony Orchestra, Yomiuri Nippon Symphony Orchestra, the Asia America Symphony, and the Schwäbisches Sinfonieorchester.
As a soloist, Ms. Nagano has worked with conductors such as Yuri Bashmet, Wolfgang Sawallisch, Allan Bergius, Kazuyoshi Akiyama, Tadaaki Otaka, David Benoit, and Kent Nagano. She has also performed as a chamber musician alongside artists such as Veronika Eberle, Matt Haimovitz, and Edicson Ruiz in a San Francisco performance. Other appearances include her Los Angeles debut playing Beethoven's Piano Concerto No. 1 under the baton of David Benoit and solo recitals at Montréal's Festival Virée Classique and the Maison de la musique de Sorel-Tracy. She has also performed at the Festival Harmonies d'Automne in Paris, and in a duo recital with her mother, pianist Mari Kodama, at the Fête de la Musique de Tremblant (Québec), the Oxford Piano Festival, and the Bravo Niagara! Festival in Niagara-on-the-Lake.
Although Karin Kei Nagano entered Yale University in 2016 to begin academic studies, she will also perform solo in Paris, San Francisco, Montréal, Hamburg and Japan. Fluent in French, English, German, and Japanese, Ms. Nagano currently divides her time between North America, Europe, and Japan. Her interests have always extended beyond the world of professional music, and she actively enjoys creative writing and filmmaking.
Cecilia String Quartet
Now entering its second decade, the Cecilia String Quartet is Ensemble-in-Residence at the University of Toronto's Faculty of Music. They perform for leading presenters in Canada, the United States and Europe. Prizewinners at several international competitions, they were awarded First Prize at the 2010 Banff International String Quartet Competition. Their concert recordings have been broadcast on more than a dozen international public radio networks. They have taught at leading universities and festivals across North America and have presented educational programs for elementary and high schools across North America and in Italy and France. They have performed for homeless youth, homeless veterans, prisoners, and for the elderly in care facilities. New initiatives include Xenia Concerts, welcoming children with autism disorder (ASD) and their families, and Celebrating Canadian Women in Music, with newly commissioned works for both concert and CD presentation.
"Pure musical joy" was how musicaltoronto.org welcomed the quartet's 2012 début album of music by Antonín Dvořák on the Analekta label. "Opulent sonority… rhythmically flexible, overtly Romantic approach," added The Strad. A second release, Amoroso, in 2013, featuring music by Janáček, Berg, and Webern, was applauded by Gramophone magazine for "unleashing the music's ecstasy and angst." A third release on Analekta in 2014 presented piano concertos by Mozart with pianist Karin Kei Nagano. "Mozart's musical train of thought emerges in higher relief, especially when played with the comprehension and grace of these performances." (Gramophone)
Min-Jeong Koh plays on a ca. 1767 Joannes Baptista Guadagnini violin and Sarah Nematallah plays on an 1851 Jean Baptiste Vuillaume violin, both on loan from an anonymous donor. Rachel Desoer performs on the 1929 Carlo Giuseppe Oddone cello on loan from the Canada Council for the Arts. Caitlin Boyle plays on a 2002 viola by Joseph Curtin. The quartet would like to thank the anonymous donor, the Canada Council for the Arts, and the Ontario Arts Council for their generous support.