---
Biographie Alarm Will Sound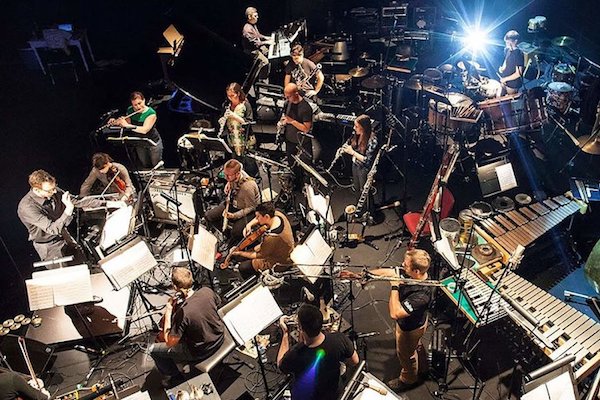 Donnacha Dennehy
Born in Dublin in 1970, Donnacha Dennehy has had work featured in festivals and venues around the world, such as the Edinburgh International Festival, Royal Opera House, Carnegie Hall, The Barbican, BAM, Huddersfield Contemporary Music Festival, Dublin Theatre Festival, ISCM World Music Days, WNYC's New Sounds Live, Bang on a Can, Ultima Festival, Musica Viva, Saarbrucken Festival, Schleswig-Holstein Festival, and the Gaudeamus Festival. Nonesuch previously released Dennehy's Grá Agus Bás in 2011.
Iarla O'Lionáird
has carved a long and unique career in music in Ireland. From his iconic early recording of the vision song "Aisling Gheal" as a young boy to his ground breaking recordings with Dublin's Crash Ensemble he has shown a breadth of artistic ambition that sets him apart in the Irish Music fraternity. He has worked with a stellar cast of composers internationally including Dennehy, Nico Muhly, Dan Trueman, Gavin Bryars, and David Lang and he has performed and recorded with such luminaries as Peter Gabriel, Robert Plant, Nick Cave, and Sinead O'Connor. O'Lionáird previously performed on Nonesuch's 2011 release, Donnacha Dennehy's Grá Agus Bás.
Katherine Manley
studied at the Royal College of Music, London. Her early career had great success in baroque and classical repertoire with Handel in particular. She later went on to develop a reputation for her exploration of the contemporary repertoire, including world premières by Michel van der Aa and Donnacha Dennehy. Manley has also performed in the musicals of Rodgers and Hammerstein and Lerner and Loewe to critical acclaim, including performances in the UK, France, and the US.
Alarm Will Sound
is a twenty-member band committed to innovative performances and recordings of today's music, gaining a reputation for performing demanding works with energetic skill. The group's performances have been described as "equal parts exuberance, nonchalance, and virtuosity" by Financial Times and as "a triumph of ensemble playing" by the San Francisco Chronicle. The New York Times has said that Alarm Will Sound is "one of the most vital and original ensembles on the American music scene." Nonesuch previously released the ensemble's 2009 album a/rhythmia and its recording of Steve Reich's Radio Rewrite (2014) and his Music for Large Ensemble (Triple Quartet, 2001)
Alan Pierson
has been praised as "a dynamic conductor and musical visionary" by the New York Times. In addition to his work as artistic director of Alarm Will Sound, he is principal conductor of the Crash Ensemble; has served as artistic director of the Brooklyn Philharmonic; and has acted as a guest conductor for the Los Angeles Philharmonic, Chicago Symphony Orchestra, London Sinfonietta, Orchestra of St. Luke's, Steve Reich and Musicians, Ensemble Connect, Tanglewood Music Center Orchestra, New World Symphony, and Silkroad. Pierson's previous Nonesuch releases include Donnacha Dennehy's Grá Agus Bás (2011) and Alarm Will Sound's a/rhythmia (2009).