---
Biographie 5 Seconds of Summer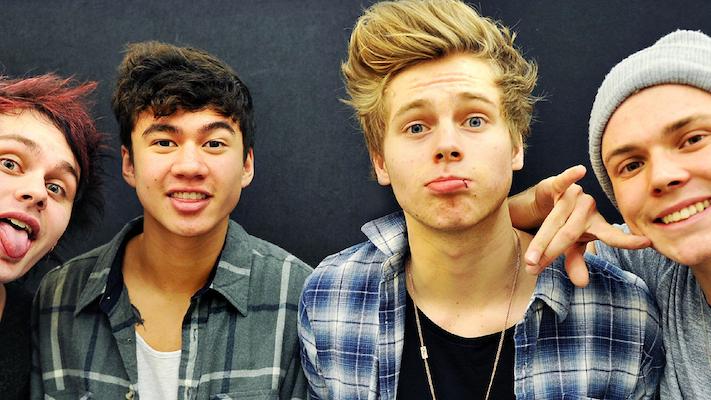 5 Seconds of Summer
das sind Luke Hemmings, Michael Clifford, Callum Hood und Ashton Irwin. Kennengelernt haben sich die Jungs in ihrer Schule daheim in Sydney. Bei ihrer Anfangs- und Gründungszeit 2011 coverten sie Songs (wie von Justin Bieber) und stellten sie auf YouTube. Erst als Drummer Ashton dazustoß, fingen sie an eigene Songs zu schreiben. Die Reaktionen waren mit über 37 Millionen Aufrufen weitaus positiv, sodass die junge Band 2012 von Sony Music unter Vertrag genommen wurden.
Unter selbsternannten Einflüssen wie Blink-182, All Time Low, Ed Sheeran und Nickelback entstanden bei ihrem Songwriting Trip in London eine Reihe emotionaler Pop-Rock-Songs, die sie in ihrer ersten EP Ende 2012 veröffentlichten. Damit erreichten sie Platz 3 der australischen iTunes Charts. Noch mehr Bekanntheit errangen sie im darauffolgenden Jahr durch die gemeinsame Tour mit One Direction.
5 Seconds Of Summer veröffentlichten ihr gleichnamiges Debütalbum im Sommer 2014, welches ihnen einen ersten Platz in Australien, Neuseeland, den USA, aber auch in europäischen Ländern wie Dänemark und den Niederlanden bescherte. Ein Ticket zu einem Konzert ist begehrt, vor allem nach der erfolgreichen Europa Tour 2014. Die kontinentübergreifende bekannte Band veröffentlichte im Oktober 2015 ihr zweites Album mit dem Titel "Sounds Good Feels Good".