---
Album info
Album including Album cover
1

Evidence

08:27

2

Cedar Tree

08:05

3

Round Midnight

05:38

4

Lockdown Blues

10:55

5

Mia's Waltz

06:32

6

Church

07:36

Total Runtime

47:13
Info for Back to Back

The undiscovered formation of instruments in a century old jazz. Sonic delight and a bomb.
A very unique affair. Artie Zaitz is widely known to most as a guitarist, when he's not touring with Moses Boyd or performing and recording with The Banger Factory or his own groovy outfit, he can be found pulling out all the stops on his 1961 Hammond C-3 named Big Bertha. He's also executing complex lines on bass pedals, just like organ giants before him. Jimmy Smith, Brother Jack McDuff and Larry Goldings.
Then there's Mark Kavuma renowned for his fabulously expressive trumpet playing. Mainly heading his brainchild The Banger Factory, but also no stranger to high profile gigs with some of the best in jazz, Nu Civilisation Orchestra, Jazz Jamaica All Stars and Wynton Marsalis amongst many others. Here Mark channels one of his biggest heroes Thelonious Monk through the keys of an upright piano, and on occasion Wurlitzer electric piano.
This little side project has been developing for the past few years only to fully blossom during the global pandemic when these two found themselves practicing literally back to back.
The instrument configuration here is extremely rare. With an album in the can due for release sometime next year, it may be the first. Meanwhile, enjoy this musical brotherhood to its fullest.
Complementing the trio is a man of legend, Steve Brown on drums. Coming with the unparalleled experience, knowledge and familiarity of the vast jazz heritage and a big smile.
1961 Hammond C-3 Organ against 1971 Wurlitzer 200A Electric Piano, or a Stairway Grand Piano with a support from a drumming tour de force William Cleasby, lending his dexterity and groove mastery here. This interesting and distinctively unique conception has been developing for the past few years only to fully blossom during the global pandemic, when Zaitz and Kavuma found themselves practicing literally back to back. Strikingly monumental "Lockdown Blues" penned by Zaitz is an absorbing and sincere attestation to the state of affairs and will leave you spellbound. Followed by Kavuma's own reflection of personal struggle of coping with separation in "Mia's Waltz", and the reading of Monk's "'Round Midnight" is spectacular, the kind that would make you reassess if you ever knew this tune in the first place.
Artie Zaitz, guitar, Hammond C-3 organ
Mark Kavuma, trumpet, Wurlitzer 200A electric piano, Steinway Grand piano
Will Cleasby, drums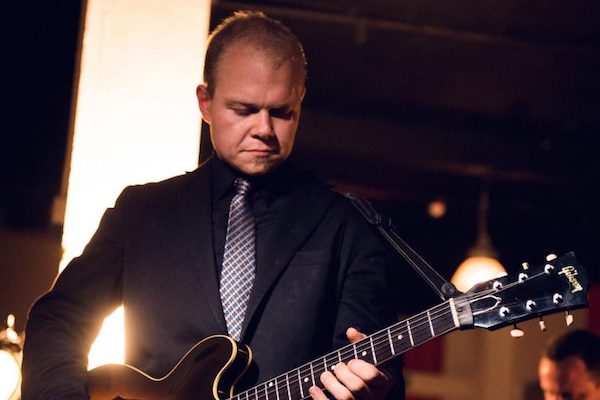 Artie Zaitz
is swiftly emerging as the Uks top young guitarist. Coming from a family of musicians he was exposed to the sounds of jazz from an early age. He studied classical guitar with Prof. David Parsons, and later went on to study jazz piano with Andrea Vicari as well as jazz guitar with David Okumu. He developed a particular interest in recordings from the Blue Note label which had a profound influence on the current material he performs with his quartet and trio. Artie is inspired by artists such as Grachan Moncur III, Grant Green, Kenny Burrell, Wayne Shorter along with Miles Davis, John Scofield and John Coltrane (to name but a few). Artie also has recording experience, starting with the release of Earl Green's "One Way" (Snakestone Records 2008), which features tenor giant, former James Brown MD "Pee Wee" Ellis and Queen Bee's "Stranger" (Snakestone Records 2008), where he arranged the horn section and strings.He is part of the trendy "Banger factory "scene who have released their debut disc on the acclaimed Ubuntu music label.
Mark Kavuma
Born and partly raised in Uganda, Mark Kavuma is a prominent young Trumpet player on the British jazz scene. Leading his own Quartet, the 'Floor Rippers' house band and his main outfit 'The Banger Factory'. As well as, playing with Jean Toussaint's Young Lions, Jazz Jamaica, Nu Civilisation Orchestra and also one of the brass leaders at London based carnival band Kinetika Bloco.
In 2012 Mark was featured as Guest soloist with Wynton Marsalis and Jazz at Lincoln Centre Orchestra having been voted best soloist at the very first 'Essentially Ellington' competition in the UK. 2013 saw Mark involved in the national theatre's production of the Amen Corner, got the opportunity to play with the great Mulatu Astatke, played a support slot for Wayne Shorter at the Barbican (London jazz festival) with A quintet Mark co-leads with Ruben Fox(sax) and also featured on trumpet in the 'El Train', Hoxton Hall (directed by Sam Yates and Ruth Wilson).
In 2014 Mark toured the world featuring in Peter Brooke's production of 'The Suit' and in 2015 he went on the road with the legendary Salif Keita and Les Ambassaduers.
In 2016 Mark got another opportunity to play as guest soloist with Wynton Marsalis and Jazz at Lincoln Centre Orchestra performing the Gershwin songbook at the Barbican, before resuming his studies at Trinity College of music. He Featured in Hoagy B Carmichael's production of 'This Joint Is Jumpin' at the Other Palace Theatre (2017) before starting to work on his debut album which was released on Ubuntu Music, in summer 2018.
Will Cleasby
is a jazz drummer and a backbone to the two of the most revered outfits on London's Jazz Scene today. The Banger Factory and Kansas Smitty's House Band. Recipient of the highest honours from Trinity Laban Conservatoire, where he received his bettering from the likes of Gene Calderazzo and Dave Wickens. You can often bump into Will at premier London venues, Ronnie Scott's, Vortex and Jazz Cafe, where he may be performing with Judy Jackson or the Grammy-winning and legendary Kurt Elling.

This album contains no booklet.