---
Album info
Album including Album cover
1

This I Dig of You

05:46

2

Blood Wolf Moon Blues

06:51

3

I'm Getting Sentimental Over You

06:38

4

My Old Flame

04:58

5

Cheese Cake

07:05

6

Edward Lee

08:03

7

Somewhere in the Night

06:22

8

Yesterdays

06:34

9

I'll Wait and Pray

08:13

10

Full House

06:16

Total Runtime

01:06:46
Info for This I Dig of You

Name a canonical jazz artist, and chances are Jimmy Cobb has shared a stage or recording studio with them. Starting with his first recordings with Earl Bostic at the tender age of 21 all the way up to his new album This I Dig of You, due out August 16 via Smoke Sessions Records, Cobb has been not just a jazz drummer but the jazz drummer — a musician unmatched in technique and experience.
60 years ago, of course, Cobb played on what wound up becoming the most indelible record in jazz history, Kind Of Blue. This recording, with a band of Cobb's longtime collaborators — pianist Harold Mabern, guitarist Peter Bernstein, and bassist John Webber — pays tribute to that seminal album by proving that it's still not yet history. The 90-year-old drummer, after all, is as vital and thoughtful as he ever was as he swings through standards and contemporary compositions by his bandmates alike.
Mabern is Cobb's oldest friend in the band; they've known each other since meeting in Miles Davis' band in 1963. "It's not that much different," Cobb says of playing with Mabern then compared to what it's like to share a stage today. "We've probably both gotten better. I think I have. I know more about it, have had more experience with it."
Bernstein was one of Cobb's students at the New School, and introduced him to Webber. They wound up as members of Cobb's first working band, Cobb's Mob, alongside Brad Mehldau — the band on Cobb's first Smoke Sessions album, 2014's The Original Mob. "He's one of the originals," says Webber now. "He's such a great listener, he hears everything — there are a lot of young drummers on the scene, but I don't think I can say they've surpassed Jimmy in any way."
The album's classic, rich swing was recorded with a casualness that recalls the kind of sessions Cobb was booked for during the music's heyday. "I let them pick the tunes," Cobb says of his bandmates, who chose from the wide array of songs in the Cobb's Mob repertoire while focusing on ones that they'd never recorded before. This I Dig of You required no rehearsal, and was recorded in just one session.
But the thing that makes the album so special isn't the design of the tracklist — it's the precision and detail the legendary drummer uses to carefully guide each song, responding to and amplifying the soloists in his quartet.
The uptempo opener, Hank Mobley composition "This I Dig of You," finds Cobb carving out all kinds of fresh rhythmic intricacies in an extended solo that still sounds timeless. Bernstein's "Blood Wolf Moon Blues," inspired by recent astronomical events, spotlights the drummer's inimitable feel underneath groovy solos by Mabern, Bernstein and Webber.
Cobb first recorded "I'm Getting Sentimental Over You" with Earl Bostic in 1951; all these years later, ironically, it sounds less sentimental than ever — Bostic's swooning vibrato replaced by unhurried but never indulgent melodies. Heartfelt ballad "My Old Flame" has a similarly storied place in Cobb's repertoire — he recorded it with his old flame, Dinah Washington, in 1955. "Like Miles used to say, probably the best time I had with my clothes on," Cobb remembers, laughing.
Dexter Gordon's knotty "Cheese Cake" shows that Cobb has lost none of his fire and urgency behind the kit, while Mabern's "Edward Lee" proves the pianist's ageless, poignant playing. "Somewhere in the Night" updates the Teri Thornton (another Cobb collaborator) original to a fresher version of jazz at its most romantic and sophisticated.
"Yesterdays," which Cobb first recorded live with John Coltrane and Stan Getz in 1960, provides another subtle dose of nostalgia with Mabern quoting Duke Ellington and Cobb playing every last angle of the tune, drawing out exactly what still makes it fascinating to play. "I'll Wait And Pray" is also drawn from Cobb's catalog with Coltrane (they recorded it together 60 years ago), but Sarah Vaughan (naturally, another Cobb collaborator) had famously recorded the classic tune as well. Wes Montgomery's "Full House" is another tune that Cobb himself originated, though you wouldn't know it by listening to how vibrant he sounds over 50 years later.
Ask Cobb about how it feels to have spent over seven decades as one of jazz's pillars, and he responds in typically self-effacing fashion. "I didn't really expect to be alive all these years later — I'm thankful that I've been able to be here this long," articulating a sentiment shared by jazz fans the world over.
Jimmy Cobb, drums
Harold Mabern, piano
Peter Bernstein, guitar
John Webber, bass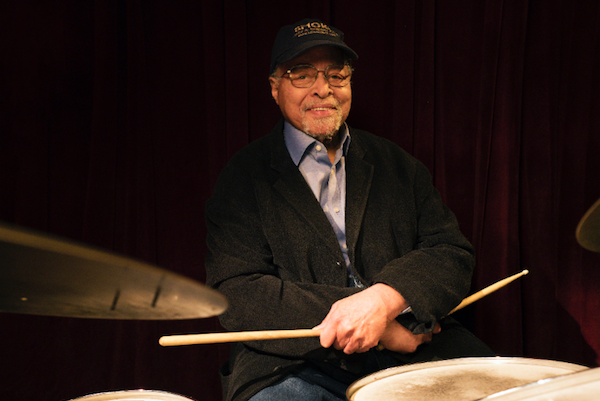 Jimmy Cobb
Largely self-taught, Cobb spent his younger days in his hometown of Washington, DC, playing engagements with Charlie Rouse, Frank Wess, and Billie Holiday, among others. He left DC in 1950, joining Earl Bostic, with whom he cut his first recordings, before finding work with Dinah Washington, Pearl Bailey, Clark Terry, Dizzy Gillespie, and Cannonball Adderley.
In 1957, Cobb began playing with Miles Davis, eventually becoming part of a formidable rhythm section that included Paul Chambers on bass and Wynton Kelly on piano. Between 1957 and 1963, Cobb played (along with saxophonists John Coltrane and Cannonball Adderley) on some of Davis' most noted records: Kind of Blue, Sketches of Spain, Someday My Prince Will Come, Live at Carnegie Hall, Live at the Blackhawk, and Porgy and Bess, among others. In 1963, Cobb left the Davis band to continue working as a trio with Chambers and Kelly. The trio disbanded in the late 1960s, and
Cobb worked with singer Sarah Vaughan for nine years. He then freelanced for the next 20 years with artists such as Sonny Stitt, Nat Adderley, Ricky Ford, Hank Jones, Ron Carter, George Coleman, David "Fathead" Newman, and Nancy Wilson.
Cobb released his first CD (and music video) for the A&E network in 1986; it featured Freddie Hubbard, Gregory Hines, and Bill Cosby. In 2006, Cobb was produced by Branford Marsalis for the Marsalis Music Honor Series, recorded around Cobb's 75th birthday. In the last few years, he has released several albums as a leader -- New York Time, Cobb's Corner, and West of 5th -- playing with stalwart musicians such as pianists Cedar Walton and Hank Jones and relative newcomers such as bassist Christian McBride and trumpeter Roy Hargrove.
Cobb continues to play music in New York City, where he lives with his wife and two children. He now leads the Jimmy Cobb "So What" Band, celebrating 50 years of Kind of Blue and the music of Miles Davis, and travels the international circuit. Cobb currently teaches master classes at Stanford University's Jazz Workshop and has taught at The New School for Jazz and Contemporary Music, the University of Greensboro in North Carolina, the International Center for the Arts at San Francisco State University in California, and international educational institutions.
I am humbled to be included among the great musicians in our American history. I express my gratitude to these jazz giants, many of whom were close friends, who shaped this great American art form called jazz and ultimately helped to shape my life as well. I thank the NEA committee for recognizing America's jazz masters and the art of jazz itself and I am honored and privileged to be a part of this legacy."
An accomplished accompanist and soloist, Jimmy Cobb is best known for being a key part of Miles Davis' first great quintet in the late 1950s.

This album contains no booklet.