---
Album info
Album including Album cover Booklet (PDF)
Johann Sebastian Bach (1685 - 1750): The Well-Tempered Clavier, Book 1, Prelude & Fugue in C Major, BWV 846:

1

The Well-Tempered Clavier, Book 1, Prelude & Fugue in C Major, BWV 846: I. Prelude

02:59

2

The Well-Tempered Clavier, Book 1, Prelude & Fugue in C Major, BWV 846: II. Fugue

01:46

The Well-Tempered Clavier, Book 1, Prelude & Fugue in C Minor, BWV 847:

3

The Well-Tempered Clavier, Book 1, Prelude & Fugue in C Minor, BWV 847: I. Prelude

02:17

4

The Well-Tempered Clavier, Book 1, Prelude & Fugue in C Minor, BWV 847: II. Fugue

01:44

The Well-Tempered Clavier, Book 1, Prelude & Fugue in C-Sharp Major, BWV 848:

5

The Well-Tempered Clavier, Book 1, Prelude & Fugue in C-Sharp Major, BWV 848: I. Prelude

01:25

6

The Well-Tempered Clavier, Book 1, Prelude & Fugue in C-Sharp Major, BWV 848: II. Fugue

02:24

The Well-Tempered Clavier, Book 1, Prelude & Fugue in C-Sharp Minor, BWV 849:

7

The Well-Tempered Clavier, Book 1, Prelude & Fugue in C-Sharp Minor, BWV 849: I. Prelude

04:32

8

The Well-Tempered Clavier, Book 1, Prelude & Fugue in C-Sharp Minor, BWV 849: II. Fugue

03:55

The Well-Tempered Clavier, Book 1, Prelude & Fugue in D Major, BWV 850:

9

The Well-Tempered Clavier, Book 1, Prelude & Fugue in D Major, BWV 850: I. Prelude

01:38

10

The Well-Tempered Clavier, Book 1, Prelude & Fugue in D Major, BWV 850: II. Fugue

02:29

The Well-Tempered Clavier, Book 1, Prelude & Fugue in D Minor, BWV 851:

11

The Well-Tempered Clavier, Book 1, Prelude & Fugue in D Minor, BWV 851: I. Prelude

01:20

12

The Well-Tempered Clavier, Book 1, Prelude & Fugue in D Minor, BWV 851: II. Fugue

01:57

The Well-Tempered Clavier, Book 1, Prelude & Fugue in E-Flat Major, BWV 852:

13

The Well-Tempered Clavier, Book 1, Prelude & Fugue in E-Flat Major, BWV 852: I. Prelude

04:44

14

The Well-Tempered Clavier, Book 1, Prelude & Fugue in E-Flat Major, BWV 852: II. Fugue

01:58

The Well-Tempered Clavier, Book 1, Prelude & Fugue in E-Flat Minor, BWV 853:

15

The Well-Tempered Clavier, Book 1, Prelude & Fugue in E-Flat Minor, BWV 853: I. Prelude

05:05

16

The Well-Tempered Clavier, Book 1, Prelude & Fugue in E-Flat Minor, BWV 853: II. Fugue

04:48

The Well-Tempered Clavier, Book 1, Prelude & Fugue in E Major, BWV 854:

17

The Well-Tempered Clavier, Book 1, Prelude & Fugue in E Major, BWV 854: I. Prelude

01:58

18

The Well-Tempered Clavier, Book 1, Prelude & Fugue in E Major, BWV 854: II. Fugue

01:11

The Well-Tempered Clavier, Book 1, Prelude & Fugue in E Minor, BWV 855:

19

The Well-Tempered Clavier, Book 1, Prelude & Fugue in E Minor, BWV 855: I. Prelude

03:38

20

The Well-Tempered Clavier, Book 1, Prelude & Fugue in E Minor, BWV 855: II. Fugue

01:12

The Well-Tempered Clavier, Book 1, Prelude & Fugue in F Major, BWV 856:

21

The Well-Tempered Clavier, Book 1, Prelude & Fugue in F Major, BWV 856: I. Prelude

01:29

22

The Well-Tempered Clavier, Book 1, Prelude & Fugue in F Major, BWV 856: II. Fugue

01:25

The Well-Tempered Clavier, Book 1, Prelude & Fugue in F Minor, BWV 857:

23

The Well-Tempered Clavier, Book 1, Prelude & Fugue in F Minor, BWV 857: I. Prelude

03:15

24

The Well-Tempered Clavier, Book 1, Prelude & Fugue in F Minor, BWV 857: II. Fugue

04:16

The Well-Tempered Clavier, Book 1, Prelude & Fugue in F-Sharp Major, BWV 858:

25

The Well-Tempered Clavier, Book 1, Prelude & Fugue in F-Sharp Major, BWV 858: I. Prelude

02:39

26

The Well-Tempered Clavier, Book 1, Prelude & Fugue in F-Sharp Major, BWV 858: II. Fugue

02:03

The Well-Tempered Clavier, Book 1, Prelude & Fugue in F-Sharp Minor, BWV 859:

27

The Well-Tempered Clavier, Book 1, Prelude & Fugue in F-Sharp Minor, BWV 859: I. Prelude

01:16

28

The Well-Tempered Clavier, Book 1, Prelude & Fugue in F-Sharp Minor, BWV 859: II. Fugue

04:07

The Well-Tempered Clavier, Book 1, Prelude & Fugue in G Major, BWV 860:

29

The Well-Tempered Clavier, Book 1, Prelude & Fugue in G Major, BWV 860: I. Prelude

01:06

30

The Well-Tempered Clavier, Book 1, Prelude & Fugue in G Major, BWV 860: II. Fugue

02:49

The Well-Tempered Clavier, Book 1, Prelude & Fugue in G Minor, BWV 861:

31

The Well-Tempered Clavier, Book 1, Prelude & Fugue in G Minor, BWV 861: I. Prelude

03:37

32

The Well-Tempered Clavier, Book 1, Prelude & Fugue in G Minor, BWV 861: II. Fugue

02:24

The Well-Tempered Clavier, Book 1, Prelude & Fugue in A-Flat Major, BWV 862:

33

The Well-Tempered Clavier, Book 1, Prelude & Fugue in A-Flat Major, BWV 862: I. Prelude

01:32

34

The Well-Tempered Clavier, Book 1, Prelude & Fugue in A-Flat Major, BWV 862: II. Fugue

02:08

The Well-Tempered Clavier, Book 1, Prelude & Fugue in G-Sharp Minor, BWV 863:

35

The Well-Tempered Clavier, Book 1, Prelude & Fugue in G-Sharp Minor, BWV 863: I. Prelude

02:34

36

The Well-Tempered Clavier, Book 1, Prelude & Fugue in G-Sharp Minor, BWV 863: II. Fugue

03:22

The Well-Tempered Clavier, Book 1, Prelude & Fugue in A Major, BWV 864:

37

The Well-Tempered Clavier, Book 1, Prelude & Fugue in A Major, BWV 864: I. Prelude

01:21

38

The Well-Tempered Clavier, Book 1, Prelude & Fugue in A Major, BWV 864: II. Fugue

02:34

The Well-Tempered Clavier, Book 1, Prelude & Fugue in A Minor, BWV 865:

39

The Well-Tempered Clavier, Book 1, Prelude & Fugue in A Minor, BWV 865: I. Prelude

01:21

40

The Well-Tempered Clavier, Book 1, Prelude & Fugue in A Minor, BWV 865: II. Fugue

04:48

The Well-Tempered Clavier, Book 1, Prelude & Fugue in B-Flat Major, BWV 866:

41

The Well-Tempered Clavier, Book 1, Prelude & Fugue in B-Flat Major, BWV 866: I. Prelude

01:47

42

The Well-Tempered Clavier, Book 1, Prelude & Fugue in B-Flat Major, BWV 866: II. Fugue

01:48

The Well-Tempered Clavier, Book 1, Prelude & Fugue in B-Flat Minor, BWV 867:

43

The Well-Tempered Clavier, Book 1, Prelude & Fugue in B-Flat Minor, BWV 867: I. Prelude

03:20

44

The Well-Tempered Clavier, Book 1, Prelude & Fugue in B-Flat Minor, BWV 867: II. Fugue

03:14

The Well-Tempered Clavier, Book 1, Prelude & Fugue in B Major, BWV 868:

45

The Well-Tempered Clavier, Book 1, Prelude & Fugue in B Major, BWV 868: I. Prelude

01:41

46

The Well-Tempered Clavier, Book 1, Prelude & Fugue in B Major, BWV 868: II. Fugue

02:01

The Well-Tempered Clavier, Book 1, Prelude & Fugue in B Minor, BWV 869:

47

The Well-Tempered Clavier, Book 1, Prelude & Fugue in B Minor, BWV 869: I. Prelude

07:15

48

The Well-Tempered Clavier, Book 1, Prelude & Fugue in B Minor, BWV 869: II. Fugue

09:16

The Well-Tempered Clavier, Book 2, Prelude & Fugue in C Major, BWV 870:

49

The Well-Tempered Clavier, Book 2, Prelude & Fugue in C Major, BWV 870: I. Prelude

04:28

50

The Well-Tempered Clavier, Book 2, Prelude & Fugue in C Major, BWV 870: II. Fugue

01:44

The Well-Tempered Clavier, Book 2, Prelude & Fugue in C Minor, BWV 871:

51

The Well-Tempered Clavier, Book 2, Prelude & Fugue in C Minor, BWV 871: I. Prelude

02:22

52

The Well-Tempered Clavier, Book 2, Prelude & Fugue in C Minor, BWV 871: II. Fugue

02:35

The Well-Tempered Clavier, Book 2, Prelude & Fugue in C-Sharp Major, BWV 872:

53

The Well-Tempered Clavier, Book 2, Prelude & Fugue in C-Sharp Major, BWV 872: I. Prelude

02:40

54

The Well-Tempered Clavier, Book 2, Prelude & Fugue in C-Sharp Major, BWV 872: II. Fugue

01:34

The Well-Tempered Clavier, Book 2, Prelude & Fugue in C-Sharp Minor, BWV 873:

55

The Well-Tempered Clavier, Book 2, Prelude & Fugue in C-Sharp Minor, BWV 873: I. Prelude

06:14

56

The Well-Tempered Clavier, Book 2, Prelude & Fugue in C-Sharp Minor, BWV 873: II. Fugue

02:32

The Well-Tempered Clavier, Book 2, Prelude & Fugue in D Major, BWV 874:

57

The Well-Tempered Clavier, Book 2, Prelude & Fugue in D Major, BWV 874: I. Prelude

05:46

58

The Well-Tempered Clavier, Book 2, Prelude & Fugue in D Major, BWV 874: II. Fugue

02:26

The Well-Tempered Clavier, Book 2, Prelude & Fugue in D Minor, BWV 875:

59

The Well-Tempered Clavier, Book 2, Prelude & Fugue in D Minor, BWV 875: I. Prelude

01:31

60

The Well-Tempered Clavier, Book 2, Prelude & Fugue in D Minor, BWV 875: II. Fugue

02:10

The Well-Tempered Clavier, Book 2, Prelude & Fugue in E-Flat Major, BWV 876:

61

The Well-Tempered Clavier, Book 2, Prelude & Fugue in E-Flat Major, BWV 876: I. Prelude

03:24

62

The Well-Tempered Clavier, Book 2, Prelude & Fugue in E-Flat Major, BWV 876: II. Fugue

02:28

The Well-Tempered Clavier, Book 2, Prelude & Fugue in E-Flat Minor, BWV 877:

63

The Well-Tempered Clavier, Book 2, Prelude & Fugue in E-Flat Minor, BWV 877: I. Prelude

04:28

64

The Well-Tempered Clavier, Book 2, Prelude & Fugue in E-Flat Minor, BWV 877: II. Fugue

03:25

The Well-Tempered Clavier, Book 2, Prelude & Fugue in E Major, BWV 878:

65

The Well-Tempered Clavier, Book 2, Prelude & Fugue in E Major, BWV 878: I. Prelude

06:47

66

The Well-Tempered Clavier, Book 2, Prelude & Fugue in E Major, BWV 878: II. Fugue

02:53

The Well-Tempered Clavier, Book 2, Prelude & Fugue in E Minor, BWV 879:

67

The Well-Tempered Clavier, Book 2, Prelude & Fugue in E Minor, BWV 879: I. Prelude

04:59

68

The Well-Tempered Clavier, Book 2, Prelude & Fugue in E Minor, BWV 879: II. Fugue

03:39

The Well-Tempered Clavier, Book 2, Prelude & Fugue in F Major, BWV 880:

69

The Well-Tempered Clavier, Book 2, Prelude & Fugue in F Major, BWV 880: I. Prelude

03:20

70

The Well-Tempered Clavier, Book 2, Prelude & Fugue in F Major, BWV 880: II. Fugue

01:52

The Well-Tempered Clavier, Book 2, Prelude & Fugue in F Minor, BWV 881:

71

The Well-Tempered Clavier, Book 2, Prelude & Fugue in F Minor, BWV 881: I. Prelude

06:52

72

The Well-Tempered Clavier, Book 2, Prelude & Fugue in F Minor, BWV 881: II. Fugue

02:37

The Well-Tempered Clavier, Book 2, Prelude & Fugue in F-Sharp Major, BWV 882:

73

The Well-Tempered Clavier, Book 2, Prelude & Fugue in F-Sharp Major, BWV 882: I. Prelude

04:42

74

The Well-Tempered Clavier, Book 2, Prelude & Fugue in F-Sharp Major, BWV 882: II. Fugue

03:07

The Well-Tempered Clavier, Book 2, Prelude & Fugue in F-Sharp Minor, BWV 883:

75

The Well-Tempered Clavier, Book 2, Prelude & Fugue in F-Sharp Minor, BWV 883: I. Prelude

03:47

76

The Well-Tempered Clavier, Book 2, Prelude & Fugue in F-Sharp Minor, BWV 883: II. Fugue

05:56

The Well-Tempered Clavier, Book 2, Prelude & Fugue in G Major, BWV 884:

77

The Well-Tempered Clavier, Book 2, Prelude & Fugue in G Major, BWV 884: I. Prelude

02:29

78

The Well-Tempered Clavier, Book 2, Prelude & Fugue in G Major, BWV 884: II. Fugue

01:33

The Well-Tempered Clavier, Book 2, Prelude & Fugue in G Minor, BWV 885:

79

The Well-Tempered Clavier, Book 2, Prelude & Fugue in G Minor, BWV 885: I. Prelude

04:44

80

The Well-Tempered Clavier, Book 2, Prelude & Fugue in G Minor, BWV 885: II. Fugue

04:56

The Well-Tempered Clavier, Book 2, Prelude & Fugue in A-Flat Major, BWV 886:

81

The Well-Tempered Clavier, Book 2, Prelude & Fugue in A-Flat Major, BWV 886: I. Prelude

05:53

82

The Well-Tempered Clavier, Book 2, Prelude & Fugue in A-Flat Major, BWV 886: II. Fugue

03:08

The Well-Tempered Clavier, Book 2, Prelude & Fugue in G-Sharp Minor, BWV 887:

83

The Well-Tempered Clavier, Book 2, Prelude & Fugue in G-Sharp Minor, BWV 887: I. Prelude

06:14

84

The Well-Tempered Clavier, Book 2, Prelude & Fugue in G-Sharp Minor, BWV 887: II. Fugue

04:40

The Well-Tempered Clavier, Book 2, Prelude & Fugue in A Major, BWV 888:

85

The Well-Tempered Clavier, Book 2, Prelude & Fugue in A Major, BWV 888: I. Prelude

02:09

86

The Well-Tempered Clavier, Book 2, Prelude & Fugue in A Major, BWV 888: II. Fugue

01:40

The Well-Tempered Clavier, Book 2, Prelude & Fugue in A Minor, BWV 889:

87

The Well-Tempered Clavier, Book 2, Prelude & Fugue in A Minor, BWV 889: I. Prelude

03:44

88

The Well-Tempered Clavier, Book 2, Prelude & Fugue in A Minor, BWV 889: II. Fugue

02:01

The Well-Tempered Clavier, Book 2, Prelude & Fugue in B-Flat Major, BWV 890:

89

The Well-Tempered Clavier, Book 2, Prelude & Fugue in B-Flat Major, BWV 890: I. Prelude

09:10

90

The Well-Tempered Clavier, Book 2, Prelude & Fugue in B-Flat Major, BWV 890: II. Fugue

02:31

The Well-Tempered Clavier, Book 2, Prelude & Fugue in B-Flat Minor, BWV 891:

91

The Well-Tempered Clavier, Book 2, Prelude & Fugue in B-Flat Minor, BWV 891: I. Prelude

02:39

92

The Well-Tempered Clavier, Book 2, Prelude & Fugue in B-Flat Minor, BWV 891: II. Fugue

05:25

The Well-Tempered Clavier, Book 2, Prelude & Fugue in B Major, BWV 892:

93

The Well-Tempered Clavier, Book 2, Prelude & Fugue in B Major, BWV 892: I. Prelude

02:39

94

The Well-Tempered Clavier, Book 2, Prelude & Fugue in B Major, BWV 892: II. Fugue

03:33

The Well-Tempered Clavier, Book 2, Prelude & Fugue in B Minor, BWV 893:

95

The Well-Tempered Clavier, Book 2, Prelude & Fugue in B Minor, BWV 893: I. Prelude

02:29

96

The Well-Tempered Clavier, Book 2, Prelude & Fugue in B Minor, BWV 893: II. Fugue

02:33

The Well-Tempered Clavier, Book 1, Prelude & Fugue in C Major, BWV 846:

97

The Well-Tempered Clavier, Book 1, Prelude & Fugue in C Major, BWV 846: I. Prelude

02:45

Total Runtime

05:10:41
Info for J.S. Bach: The Well-Tempered Clavier, Books 1 & 2

Three centuries ago Johann Sebastian Bach combined his matchless knowledge of counterpoint and inexhaustible imagination to create forty-eight pairs of preludes and fugues in all the keys. His revolutionary keyboard pieces, gathered in the two volumes of The Well-Tempered Clavier, stand among western art's towering landmarks.
The Paris and Chicago-based Franco-American pianist George Lepauw was compelled to record the complete preludes and fugues by his 'desire to become a more complete musician, and a better human being'.
But first, in the Winter of 2017 Lepauw traveled in Bach's footsteps, tracing the arc of the composer's life from his birthplace in Eisenach to his grave in Leipzig, in order to feel more connected to the man behind the name Bach. He returned to Germany six months later to record The Well-Tempered Clavier in Weimar's Jakobskirche, a church well-known to Bach and close to where he had served the dukes of Saxe-Weimar and was briefly imprisoned by his aristocratic masters for disobedience.
Bach48: The Complete Well-Tempered Clavier charts Lepauw's life-enhancing encounter with the composer. "These pieces contain everything there is to say about the human condition," notes Lepauw. "What I feel today, having completed the recording of these preludes and fugues, is something that marks life. It has taught me that my folly has a reason."
George Lepauw, piano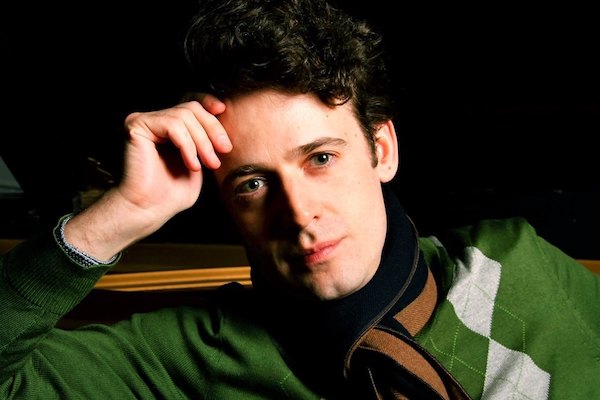 George Lepauw
"A prodigious pianist" (Chicago Tribune) recognized for his "singing tone" (New York Times), and a cultural activist who "likes to shake it up" (Chicago Tribune), George Lepauw uses music and the arts to inspire and bring people together. Named "Chicagoan of the Year (2012) for Classical Music" (Chicago Tribune), George represents the ideal 21st century musician, intensely focused on his art and wholly engaged with the world.
On February 14th, 2020, George's first major solo album will be released worldwide: the complete Well-Tempered Clavier by J.S. Bach in a box-set of 5 CDs and on all streaming services released by London-based label Orchid Classics distributed by Naxos. The Bach48 Album also includes a full film of the entire recording, and a 33-minute documentary film about Bach's Well-Tempered Clavier and George's journey to record it in Bach's Germany, directed by Martin Mirabel and Mariano Nante. Learn more at www.bach48.com or pre-order the box-set here.
A concert pianist since his formal debut at age ten in Paris, George Lepauw has performed ever since as a recitalist, chamber musician, vocal collaborator, and soloist with orchestra. He also occasionally collaborates with musicians from other musical genres, including cabaret, musical theater, traditional Chinese and Persian music, flamenco, blues, and pop.
In 2008 he founded the International Beethoven Project (IBP), a radical non-profit organization focused on connecting tradition and innovation in classical music, motivated by Beethoven's indomitable spirit as an artist and humanist, through the production of multi-disciplinary festivals, special events, and media. He continues to serve as its President and Artistic Director.
As part of the Beethoven Project Trio, George performed in the World Premiere concert, in Chicago, of a newly-discovered, long-lost piano trio of Beethoven's in 2009 to great acclaim, followed by a highly-praised first recording on Cedille Records produced by the legendary Max Wilcox, which reached 24th place on the Classical Billboard charts in 2010.
Over the course of his life, George Lepauw has been deeply engaged in community-building and education through the arts and culture. In college, he co-founded and served as both Vice-President and then President of the French Cultural Association of Georgetown University, working hand in hand with multiple university departments as well as with the French Embassy, the Alliance Française, and other organizations in Washington, DC. From 2007 to 2010, he founded and published a print magazine, the Journal of a Musician, which featured original articles and interviews with some of classical music's biggest stars (including Hilary Hahn, Yefim Bronfman, Natalie Dessay, James Conlon, Henri Dutilleux). In 2014-15, George was Artistic Director of the Chicago Academy of Music, helping to launch an after-school music education program for deserving children of Chicago's South Side, and between 2016-18, George served as Executive Director of the Chicago International Movies & Music Festival (CIMMfest), leading two festivals over the course of his term which presented dozens of films, live concerts, and panel discussions.
George grew up in an artistically engaged family: his sister Consuelo Lepauw is a violinist based in Chicago, his father Didier Lepauw was a founding member and First Violin in the Orchestre de Paris, and his grandfather Roger Lepauw was Principal Viola of the Orchestre de Paris and previously of the Orchestre de l'Opéra de Paris; his mother Jane Lepauw is a writer and civic activist.
George began piano studies at the age of three in Paris with Aïda Barenboim (mother of Daniel Barenboim), and furthered his studies with Elena Varvarova, Brigitte Engerer, Vladimir Krainev, Rena Shereshevskaya, Ursula Oppens, James Giles, and Earl Wild, among others. Significant supporters and mentors have included Maestro Carlo-Maria Giulini, Maria Curcio, and Maestro Kurt Masur.
He obtained his Bachelor of Arts degree from Georgetown University in Washington, D.C. with a double major in English Literature and History, and received his Masters of Music in Piano Performance from Northwestern University. George has taught piano privately for over fifteen years, gives master classes around the world, and is a frequent guest speaker at universities and "ideas festivals". He also makes regular appearances as a performer or speaker on radio and television. He is also a founding member of the Chicago Ideas Co-op, a leadership committee of the Chicago Ideas Festival, and recently sat on the Grant Park Music Festival Artistic Vision Committee, to help bring this legendary American festival to the next generation of music-lovers.
His current creative projects include recordings, films, and multimedia explorations on several composers, as George believes that in this 21st century musicians must make use of visual content to attract younger audiences. In 2020, George intends to record the complete Beethoven Sonatas on the occasion of the composer's 250th anniversary, for audio and film. George occasionally hosts a podcast, Through The Stage Door, with guests including Ton Koopman, Lucas Debargue, Anderson & Roe, and he writes occasional posts for his personal blog.
George Lepauw shares his time between his two homes of Paris and Chicago.

Booklet for J.S. Bach: The Well-Tempered Clavier, Books 1 & 2