---
Album info
Album including Album cover
I`m sorry!
Dear HIGHRESAUDIO Visitor,
due to territorial constraints and also different releases dates in each country you currently can`t purchase this album. We are updating our release dates twice a week. So, please feel free to check from time-to-time, if the album is available for your country.
We suggest, that you bookmark the album and use our Short List function.
Thank you for your understanding and patience.
Yours sincerely, HIGHRESAUDIO
1

Fool's Paradise

04:41

2

Have A Good Time

03:20

3

Ooh I Like Your Loving

03:39

4

Everybody Has An Aura

03:48

5

Circles

03:56

6

Sweet Thing

03:18

7

Dance Wit Me

03:57

8

Little Boy Blue

04:59

9

On Time

03:31

10

Jive Talkin'

03:33

Total Runtime

38:42
Info for Rufus Featuring Chaka Khan (Remastered)

Rufus featuring Chaka Khan is the gold-selling fourth studio album by the funk band Rufus and Chaka Khan, released on the ABC Records label in 1975.
By 1975, Rufus and lead front woman Chaka Khan had become one of the most popular bands in popular music.[citation needed] With their successful mixing of funk, rock, soul and jazz and the powerful vocals of 22-year-old Khan, the group had set themselves apart from similar groups such as The Isley Brothers and Earth, Wind & Fire. By the now, the group's billing had changed. While they were just known as Rufus on their first two releases, after the success of "Tell Me Something Good", the media (and Rufus' label at the time, ABC Records) had recognized that Khan was the attraction of the group.
Khan's popularity was starting to usurp that of her bandmates. For example, on the album's back cover and inner sleeve, Khan is featured with her trademark hair and outfits, sitting on a lips-decorated couch. On the cover, an animated cover of lips, which appeared to emulate Khan's, gave the impression that Khan was the dominant member of the group. Khan also handled all the talk in interviews for the group and she was given solo covers on magazines such as Jet and EBONY. As they entered the studio to record their fourth album, Khan and Rufus remained a collaborative group together. Unlike their three previous albums, they only recorded one cover version - The Bee Gees' "Jive Talkin'", while other songs were handled by group members and outside collaborators including, most notably, Gavin Christopher.
"One of the most talented bands of the '70s, Rufus Featuring Chaka Khan is the groups' fourth release in close to three years. Although this effort doesn't have the epiphanies of 1974's Rufusized, Rufus Featuring Chaka Khan has them becoming more established as one of the best bands in R&B and pop. The first track, Gavin Christopher's "Fool's Paradise" displays Khan's skill at screaming notes and making complex ideas sound simple, and vice versa. That art is put to work throughout Rufus Featuring Chaka Khan. "Everybody's Got an Aura" surely could be dismissed as babble but Khan gives the sentiments a ring of truth even as she shouts, "Everybody's got karma!" The lilting yet propulsive "Circle" has great bass work from Bobby Watson as Khan sings likeable and spacy lines, the best being, "My love is like a zero/It is nothing and everything." The albums biggest track, the smoldering "Sweet Thing," has Tony Maiden's gentle guitar and Kevin Murphy's economical electric piano chords. The song is arguably the group's best as Khan's bittersweet vocal provided a standard many singers have attempted to approximate to no avail. The party starters "Have a Good Time" and "Dance Wit Me" both tread familiar ground and pale in comparison to the classic "Once You Get Started." The last track, a cover of "Jive Talking," is inexplicably slowed to a crawl, therefore, diminishing its appeal. Rufus Featuring Chaka Khan perfectly captures their unconventional sound and features Tower of Power on horns and Clare Fischer's string arrangements. This album is one of their best and is recommended." (Jason Elias, AMG)
Chaka Khan, vocals
Tony Maiden, guitar, vocals
André Fischer, drums
Kevin Murphy, keyboards
Bobby Watson, bass, vocals
Tower of Power Horn Section
Digitally remastered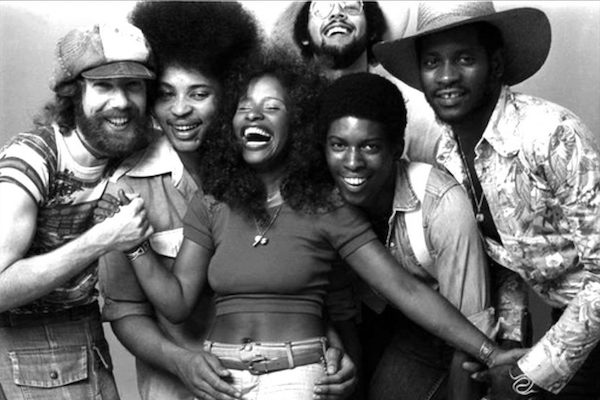 Rufus
Legendary band Rufus label "funk band" does not begin to describe the multi-faceted musical legacy of Rufus, the ever-changing interracial group formed in the seventies that launched vocal superstar Chaka Khan. With ten gold and/or platinum albums (seven of which were #1 R&B charters) and eight #1 charting R&B singles (five of which went multi platinum), Rufus' material spanned from the sublime balladry of "Sweet Thing" and "Hollywood" to the hard-thumpin' grooves of "Ain't Nobody" and "Tell Me Something Good." Over a total of thirteen albums (ten with Chaka), Rufus honed a fierce reputation that resulted in them sharing stages with everyone from Santana and the Commodores to Elton John and the Rolling Stones. Their position in pop history is as among the most versatile soul bands to spring forth from the fertile years of the seventies.
Lead Singer/Guitarist Tony Maiden and Multiple Keyboard Master Kevin Murphy both members of Rufus from its `70s heyday – are proud to bring today's official incarnation of Rufus. Coinciding with several exciting ventures that Rufus is embarking upon, including the live recording of their first musical project in 27 years (which includes a live DVD recording of Rufus classics with very special guests as well as all new material) and the making of a historical documentary that will cover the band's career, the music of the era and its reflection of events around the world.
Reflecting on this incarnation of Rufus, Tony Maiden promises, "Even though Chaka Khan will not be present for this show, the music will remain absolutely organic. We have made every attempt to keep the music as close to what we played on the original recordings, only now there are different artists taking the journey along with us."
Rufus began in Chicago with Kevin Murphy – the founding member a keyboardist from Minneapolis as an evolution of a renegade band of rock-n-soul musicians. The group's name morphed from Smoke to Ask Rufus to just Rufus.
The group's future brightened infinitely when original lead singer Paulette McWilliams departed for a solo career, grooming her replacement in a long-time friend – a diminutive yet fiery young singer named Chaka Khan. Chaka had been hanging out with Rufus for at least a year, so when she auditioned she had their show down cold! What she initially brought to Rufus would become one of the most awe-inspiring voices in pop music. Born Yvette Marie Stevens on the Great Lakes Naval Training Center in Illinois.
The band's first album, 1972′s self-titled Rufus on ABC Records, didn't bear any hits, but their version of Stevie Wonder's "Maybe Your Baby" led to the song which put Rufus on the map. Wonder was so impressed with their cover that he visited them while they were recording their follow-up, Rags to Rufus (1974), and wrote along with Chaka Khan, the sexy funk boiler "Tell Me Something Good." It became Rufus' first smash hit – a platinum-seller that peaked at #3 on both Billboard®'s R&B and pop charts, and won a Grammy® for Best R&B Vocal Performance by a Group. However, after the recording of Rags to Rufus (and before the album was released), several band members quit. This led to the arrival of another crucial key in Rufus' history.
Los Angeles-born Tony Maiden former member of the band High Voltage and an international touring musician with the great Billy Preston. After seeing the original Rufus performing at the Los Angeles nightclub Maverick's Flat, (where a young Maiden started his career) the group asked him to replace guitarist Al Ciner, based on his reputation as a fiery and seasoned player. Tony Maiden brought an arsenal of inventive guitar licks, a game male vocal that could hold its own paired with the powerful Chaka, writing skills and spiritual leadership to the group. Tony's co-lead vocals are featured on Rufus classics such as "Once You Get Started," "Dance With Me" "Do You Love What You Feel," "Blue Love," "Master Jam," "Ain't That Peculiar," "Change Your Ways" and a cover of Bobby Womack's "Stop on By." Some of the Rufus songs he composed "Once You Get Started," "Dance with Me," "Pack'd My Bags," "I'm a Woman (I'm a Backbone)," "Earth Song," "At Midnight (My Love Will Lift You Up)," "Quandry" and "Magic in Your Eyes." "Your Smile" "Tonight We Love" "Keep It Together."
Tony and Chaka's signature song "Sweet Thing" – an often-covered million-seller that netted writers Tony Maiden and Chaka Khan an ASCAP Award in 1993 for its enduring popularity and airplay. Songwriters, arrangers and performers all, the members of Rufus co-produced their next album, Rufusized (1974 – ABC) with the late Bob Monaco before taking the reins completely for Rufus Featuring Chaka Khan (1975 – ABC), Ask Rufus (1977 – ABC) and Street Player (1978 – ABC). These albums harness the essence of Rufus' sound via songs that were composed spontaneously in rehearsals. The band recorded Numbers (which went #15 R&B and 49 on the Pop chart) in (1979 – ABC), the first of three albums without Chaka that also includes Party 'Til You're Broke (1981 – MCA) # 19 R&B & Pop #67. "Seal in Red " #57 R&B, and #64 Pop (1983 – Warner Bros.). Rufus reunited with Chaka under producer Quincy Jones for their final platinum seller, Masterjam (1979 – MCA), featuring the disco smash "Do You Love What You Feel." Rufus returned with the Camouflage album (1981 – MCA) and, finally, the double album Stompin' at the Savoy (1983 – Warner Bros.) which featured three sides recorded live at the fabled New York theatre, and one side of four new studio recordings, including mulit- platinum single "Ain't Nobody" Rufus' final #1 which stayed on Billboard's R&B chart for 27 weeks and won a Grammy for Best R&B Performance by a Group.
Among the outstanding musicians that have contributed to the band's history are Ron Stockert, Dennis Belfield, Al Ciner and Andre' Fischer from the early years to Bobby Watson, Nate Morgan, Richard "Moon" Calhoun, John "JR" Robinson and David "Hawk" Wolinski.
Representing an enviable level of quality and diversity, Rufus stands tall in the upper echelons of bands that sprang from the fertile period of seventies soul.

This album contains no booklet.