---
Album info
Album including Album cover
I`m sorry!
Dear HIGHRESAUDIO Visitor,
due to territorial constraints and also different releases dates in each country you currently can`t purchase this album. We are updating our release dates twice a week. So, please feel free to check from time-to-time, if the album is available for your country.
We suggest, that you bookmark the album and use our Short List function.
Thank you for your understanding and patience.
Yours sincerely, HIGHRESAUDIO
1

Soul Bourgeoisie

05:54

2

Liberia

06:01

3

The Feeling Of Jazz

05:58

4

Giant Steps

04:48

5

Si Te Dicen

06:10

6

Sube

06:45

7

Blue Train

05:55

8

Yam'mote

03:31

9

Poncho Sanchez Medley #2

07:38

10

Trane's Delight

04:40

11

Todo Termino

04:51

Total Runtime

01:02:11
Info for Trane's Delight

On his first new album in seven years, GRAMMY Award-winning conguero Poncho Sanchez celebrates the life and music of the iconic saxophonist John Coltrane. Due out September 20, 2019 via Concord Picante, Trane's Delight is a love letter from one musical pioneer to another, as the Latin Jazz legend pays homage to one of his earliest and most indelible influences. The joyous album arrives just in time for the late tenor titan's 93rd birthday on September 23.
Throughout his career Sanchez has held aloft the torch lit by such Latin Jazz innovators as Mongo Santamaria, Tito Puente and Cal Tjader, embraced by each of those icons and entrusted to carry forward the traditions of Latin Jazz. But Sanchez's influences are numerous, and Coltrane looms large in Sanchez's pantheon alongside those pioneers. On his latest album Trane's Delight, Sanchez pays tribute to the late jazz legend with Latin-tinged reimaginings of Coltrane classics as well as new pieces composed in honor of the tenor titan.
"I've always loved John Coltrane," Sanchez says, "ever since I was a kid and first learned about jazz. I've recorded tributes to a lot of my heroes in life – Mongo Santamaria, Tito Puente, Cal Tjader – so I thought it was definitely time to do a tribute to the great John Coltrane."
Trane's Delight also continues Sanchez's remarkable 37-year relationship with Concord, a rich legacy that has now yielded 27 albums. The album features the conguero's longtime band, featuring trombonist and musical director Francisco Torres, trumpet and flugelhorn master Ron Blake, saxophonist Robert Hardt, pianist Andy Langham, bassists Rene Camacho and Ross Schodek, and percussionists Joey DeLeon and Giancarlo Anderson.
The 11-track album features three classic Coltrane compositions and a pair of new compositions written in honor of the sax master, alongside a host of original pieces and classic favorites chosen to represent Sanchez's wide spectrum of influences. At its heart, though, Trane's Delight provides a direct link from the 67-year old conguero to his 11-year old self, staring in the window of his local record store at the entrancing, blue-tinged cover of the 1962 album Coltrane.
"I had eyeballed this record for about a month, looking at it with not enough money to buy it," Sanchez recalls. "I played a couple little gigs around town and saved up the money, so it was the first album I ever bought by myself. I used to have a little space in my mother's garage with my record player and my drums and congas. I put that record on, and that first track, 'Out of This World,' kicked in and I was blown away. I listened to that record daily for years."
The wonder with which Sanchez first heard Coltrane's singular voice is still present more than a half-century later in his vibrant reimagining of the saxophonist's compositions. Trane's Delight features a buoyant Latin spin on "Liberia," from 1964's Coltrane's Sound; the classic "Blue Train" rendered as a cha-cha-chá; and a rumba twist on the immortal "Giant Steps," that perennial proving ground for jazz musicians, its challenge not only embraced by Sanchez's virtuosic collaborators but taken at a breakneck pace that leaves no room for trepidation.
In collaboration with Torres, Sanchez also penned two brand-new pieces inspired by Coltrane. The bustling title tune is a lively encapsulation of the saxophonist's adventurous spirit, highlighted by DeLeon's rollicking timbale solo. "Yam'mote," meanwhile, coins a new hybrid term combining two cultures' words for the same food: yams and camote. The music, as warm as the comfort food that it references, was inspired by another of the young Sanchez's brushes with his idol.
"When I was in high school, I would lay in bed listening to Los Angeles' jazz radio station," he says. "One night, the DJ announced, 'Tomorrow I'm going to interview John Coltrane at 11am.' It was during the week, but I had to hear this interview, so the next day I woke up and started coughing and told my mother that I didn't feel good, so I didn't have to go to school that day. It ended up being a short interview, but the part that stuck with me the most was at the very end. The host asked Trane his favorite food. My ears grew huge and I leaned in to the radio, thinking he'd say BBQ ribs or fried chicken or something, but he said sweet potato pie."
Dumbstruck, Sanchez asked his mother if she knew how to make sweet potato pie. Instead, she offered to make the candied camotes that is a favorite dish in Mexico and across Central America. "I ate that camote every day for like two weeks because I loved John Coltrane," Sanchez laughs. "I just thank God that he didn't say dog food, because I would've run out and got some dog food. That's how much he meant to me."
As always with Sanchez's wide-ranging interests, Trane's Delight casts its sonic net much wider than just Coltrane's sphere of influence. The blissful Duke Ellington composition "The Feeling of Jazz," provides a bridge: the lovely, relaxed tune, here featuring eloquent turns by Torres and Camacho, was recorded on 1963's Duke Ellington & John Coltrane, the sole meeting of the two jazz icons.
Trane's Delight opens with "Soul Bourgeoisie," a Hubert Laws composition originally recorded by the Jazz Crusaders on their 1965 album Chile Con Soul. Featuring a soulful Hardt solo, the upbeat tune sets the exuberant tone for the album. The classic bolero "Si Te Dicen" slows things down to an elegant sway, with Sanchez's heartfelt vocal harkening back to Joe Cuba's 1966 version featuring singer Cheo Feliciano.
Pianist Andy Langham contributed "Sube" (which translates as "ascend" or "go up"), a bristling 6/8 piece ornamented by the mesmerizing kalimba playing of Cornelius Alfredo Duncan Jr. Sanchez befriended the percussionist more than 40 years ago, and reconnected when he saw a YouTube video of Duncan playing the African thumb piano. He immediately reconnected with his old friend and invited him to join the band for the occasion.
A sequel to the medley of classic tunes that appeared on the conguero's last release, Live in Hollywood, "Poncho Sanchez Medley #2" combines three old favorites: "Baila Mi Gente," from 1979's Poncho, which Sanchez cites as his first original composition; "El Sabrosón," co-written by Sanchez's longtime pianist and musical director, the late David Torres; and "El Shing-A-Ling," a song born from Sanchez's impromptu singing in a Fayetteville, Arkansas convenience store.
The album closes with "Todo Termino," a song written by Bobby Manrique and immortalized by another Sanchez idol, the great Puerto Rican singer and bandleader Tito Rodríguez. For the occasion he invited the Los Angeles vocalist Norell Thomson, a standout voice on the city's salsa scene, to front the ensemble.
Ultimately, Trane's Delight offers a tribute not only to the stellar music and influence of the great John Coltrane, but a spotlight for the myriad ways that the tenor giant's explorations have fueled courageous artists like Poncho Sanchez. The results, as on this passionate new album, would no doubt delight Trane's searching spirit.
Poncho Sanchez, congas, bongos, percussion
Francisco Torres, trombone, musical director
Ron Blake, trumpet, flugelhorn
Robert Hardt, saxophone
Andy Langham, piano
Rene Camacho, bass
Ross Schodek, bass
Joey DeLeon, percussion
Giancarlo Anderson, percussion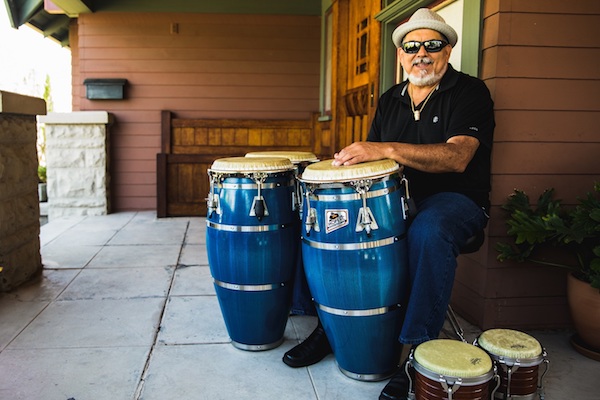 Poncho Sanchez
has long qualified as one of the hardest-working men in Latin jazz. Born in Laredo, Texas as the youngest of 11 children, he grew up in Norwalk, California (where he still lives) and remembers hearing Afro-Cuban music while growing up. "As a kid in third or fourth grade, I would hear my sisters dancing while listening to Machito, Tito Puente, Cal Tjader and various bands from Cuba while my brothers listened to doo-wop music and early rhythm and blues." While in sixth grade, Sanchez bought a fifty- cent guitar in hopes of joining an r&b band that rehearsed across the street from his home. Although he practiced quite a bit, when he showed up for an audition, he knew immediately that he did not stand a chance. "But it turned out that they needed a singer and, although I had never sung, I gave it a try and became the lead vocalist in that band for five years. Then when I was in high school, the first chance I had to get behind a set of conga drums, I hit them and it felt quite natural." Soon Sanchez had saved up money from his singing jobs and was practicing congas as much as possible in his garage, playing to Machito, Tito Puente and Cal Tjader records.
Sanchez's big break occurred in 1975 when, after a period of struggle, he had an opportunity to play with his idol, vibraphonist Cal Tjader. "I found out later that Cal's conga player was planning on leaving soon and he was letting a lot of people sit in with him. I played one number with Cal, he asked if I could play the rest of the set with him and a week later he asked if I could join him for a week, starting New Year's Eve at the Coconut Grove opposite Carmen McRae!" Sanchez would be a major part of Tjader's band for the next seven years, an association that lasted until the vibraphonist's death.
Poncho Sanchez first formed his own group in 1980, leading his ensemble during Tjader's vacation periods and recording two albums for Discovery. Shortly before his death, Tjader recommended to Concord founder Carl Jefferson that he sign Sanchez to his Concord Picante label (a subsidiary originally started to document Tjader's music). 18 recordings, a Grammy Award (for 1999's Latin Soul) and a countless number of performances around the world (at venues ranging from concert halls and nightclubs to free festivals) have resulted in the years since. "My band and I really do love Latin jazz. We played this music before it was popular and I think we've played a part in helping it to become popular again. Our main goal is always to keep Latin jazz alive, growing and moving, while being authentic to the music that we love. I'm proud to say that we have stuck to the basic fundamentals and the roots which are very important to us. And, as I always say in clinics, this music is not just for Latino people. It was born in the United States and it is American music. It is for everybody!" Soul of the Conga Poncho's latest release on Concord Records features Sanchez's three-horn three-percussion octet who have been joined on past recordings by such guests as Tito Puente, Freddie Hubbard, Eddie Harris, Dianne Reeves, the Jazz Crusaders and Mongo Santamaria.Soul Of The Conga features the great organist Joey DeFrancesco as part of Sanchez's band on seven numbers.
The first time that Sanchez worked with an organist since he started leading his band was a few months before this recording took place. "Joey DeFrancesco was our special guest for a full week at Yoshi's" remembers Sanchez. "He adjusted himself quickly to our Latin groove and he is such a fine musician that it was easy to play with him." DeFrancesco, whose rise to fame in the 1990s helped the Hammond B-3 organ to make a major comeback, clearly inspires Sanchez and his sidemen with his enthusiasm and remarkable technique. The organist is not the only guest on Soul Of The Conga. "Stella By Starlight" features Terence Blanchard, one of the top trumpeters in jazz. "We appeared at the same festivals a few times and always liked each other's music but had never played together before." In addition, Sanchez has a rare opportunity to explore the early roots of Cuban music during the four numbers in which he interacts with the Five Ortiz Brothers.
The well-rounded and continually intriguing program begins with DeFranco in the spotlight during the funky blues "Joseito." Tenor-saxophonist Scott Martin also has a strong spot while trumpeter Sal Cracchiolo (who has been with the band since near the beginning) and trombonist Francisco Torres (who at two years, is the newest member of the Sanchez family) have brief tradeoffs with the percussion section. "Oye Lo" features some happy group singing and a groove worthy of Sanchez's late boss Cal Tjader; Cracchiolo takes solo honors.
Next is Poncho Sanchez's first meeting on this release with the five Ortiz Brothers. The siblings had befriended Sanchez years ago when they were kids who were anxious to see his band play. Since then they have become professional musicians and formed Son Mayor, a 14-piece salsa band that has become popular in Los Angeles. "Not many people know about the changui style of music from Oriente, Cuba that they play which uses bongos rather than congas and features the tres (a six-string acoustic guitar)." The traditional changui sound, which can be heard on recordings of the 1920s and 30s, is revived creatively by the Ortiz Brothers. Sanchez and Sal Cracchiolo (whose trumpet playing on this selection is in the style of veteran Chocolate Armenteros) sound quite at home with the Ortiz Brothers on "Venga A Bailar Bailadores."
"Moon Pie" with DeFrancesco is in the style of classic soul jazz of the 1960s. The catchy "Haitian Lady" finds the solos of DeFrancesco and Cracchiolo being pushed by the exciting rhythmic patterns of pianist David Torrez. Sanchez, a superior singer, has a vocal feature on the romantic "Cosas Del Alma," a number that is perfect for dancing couples. "Nengon" features the vintage and spirited group singing and acoustic instruments of the Ortiz Brothers along with Sanchez and pianist Torres. Alphonse Mouzon's "Virtue" (which has a groove a bit similar to that of "Afro Blue") and a wonderfully Latinized rendition of Henry Mancini's "Days Of Wine And Roses" gives Sanchez's regular band opportunities to stretch out with DeFrancesco.
The Ortiz Brothers return for "Fania Fungue" which has some particularly infectious group singing. Terence Blanchard's ballad feature on "Stella By Starlight" is quite heartfelt and beautiful, making one look forward to future collaborations by the trumpeter with the perfectly complementary Sanchez band. "Bodacious Q" finds Sanchez (and particularly pianist David Torres) playing in a Ramsey Lewis groove which, with its handclapping, is reminiscent of a Lewis live date from the 1960s. Tito Rodriguez's "Asi Asi" looks back to the classic Cuban dance bands of the 1950s; among the group singers are Joey DeFrancesco himself. The consistently appealing Soul Of The Conga concludes with the chanting and percussion of the Ortiz Brothers and Sanchez on "Rumba De Po-Tiz," which in its "Po-Tiz" title was spontaneously named after them.
Soul of the Conga is Latin and Soul and it truly is music for everybody.

This album contains no booklet.