---
Album info
Album including Album cover Booklet (PDF)
I`m sorry!
Dear HIGHRESAUDIO Visitor,
due to territorial constraints and also different releases dates in each country you currently can`t purchase this album. We are updating our release dates twice a week. So, please feel free to check from time-to-time, if the album is available for your country.
We suggest, that you bookmark the album and use our Short List function.
Thank you for your understanding and patience.
Yours sincerely, HIGHRESAUDIO
Johannes Brahms (1833 - 1897): Sonata for Clarinet and Piano No. 2 in E Flat Major, Op. 120 No. 2:

1

Johannes Brahms: Sonata for Clarinet and Piano No. 2 in E Flat Major, Op. 120 No. 2: 1. Allegro amabile

08:35

2

Johannes Brahms: Sonata for Clarinet and Piano No. 2 in E Flat Major, Op. 120 No. 2: 2. Allegro appassionato

05:17

3

Johannes Brahms: Sonata for Clarinet and Piano No. 2 in E Flat Major, Op. 120 No. 2: 3. Andante con moto - Allegro

07:47

Jörg Widmann (b. 1973): Intermezzi for Piano:

4

Jörg Widmann: Intermezzi for Piano: 1. I

00:46

5

Jörg Widmann: Intermezzi for Piano: 2. Zart singend

01:22

6

Jörg Widmann: Intermezzi for Piano: 3. Mit dunkler Glut (Agitato sempre)

11:59

7

Jörg Widmann: Intermezzi for Piano: 4. Wiegenlied (Ruhig fließend)

04:13

8

Jörg Widmann: Intermezzi for Piano: 5. Lento un poco andante

01:49

Johannes Brahms: Sonata for Clarinet and Piano No. 1 in F Minor, Op. 120 No. 1:

9

Johannes Brahms: Sonata for Clarinet and Piano No. 1 in F Minor, Op. 120 No. 1: 1. Allegro appassionato

08:08

10

Johannes Brahms: Sonata for Clarinet and Piano No. 1 in F Minor, Op. 120 No. 1: 2. Andante un poco adagio

05:08

11

Johannes Brahms: Sonata for Clarinet and Piano No. 1 in F Minor, Op. 120 No. 1: 3. Allegretto grazioso

04:24

12

Johannes Brahms: Sonata for Clarinet and Piano No. 1 in F Minor, Op. 120 No. 1: 4. Vivace

05:19

Total Runtime

01:04:47
Info for Johannes Brahms: Clarinet Sonatas

Two great artists, pianist András Schiff and composer/clarinettist Jörg Widmann, join forces for the first time on record, performing Brahms's late masterpieces, the clarinet sonatas op. 120, written in 1894. In between the sonatas Schiff plays Widmann's evocative Intermezzi for piano. As Jörg Widmann explains in a programme note, these are works inspired by his friendship with András Schiff and by a shared love of Brahms, to whom they pay tribute. The album was recorded at Neumarkt's Historischer Reitstadel.
For years András Schiff and Jörg Widmann have come together again and again to play these sonatas from the twilight of Brahms's career. Both artists are firmly rooted in the Austro-German classical-romantic repertoire; they have held deep discussions of their love for Brahms, deciphered the scores, and developed readings at once intimate, emotionally fulfilled and structurally compelling.
'Fragments of remembrance and farewell': thus the musicians describe these sonatas. Yet at times the aura of resignation is mingled with 'an almost youthful delight that merges miraculously with the melancholy, with the leave-taking'.
Weightless entrances, as at the opening of the Second Sonata in E-flat major (one of those works, Schiff adds, 'that don't begin but are already there'), bear witness to the interpretive power of these two musicians, who succeed in illuminating, with subtle hues and gossamer phrasing, moments ranging from intimacy to impulsive outbursts.
Brahms's art of 'composing with almost nothing at all', of probing a limited amount of material to the nethermost detail, has always, Widmann confides, held him spellbound. The movements are tightly interwoven with thematic relations and contrapuntally compressed, and yet they unfold in the most natural way, seemingly without effort. The analytic gaze of Widmann the composer thus guides us to another special feature of the present recording.
In 2010 the two artists gave a recital at the Salzburg Festival retracing the tensions among Brahms's late works with clarinet. For this occasion Widmann, born in 1973, wrote five piano Intermezzi for his pianist friend. They now appear here for the first time on disc. One might say that Schiff interprets his friend's musical portrait of the aged Brahms. As Widmann once put it in an introductory talk before a recital of the pieces on our recording, he drew inspiration from Schiff's 'sound' at the piano, from his 'musicality' and his 'blend of musicianliness and studied reflection'. Schiff, for his part, loves Widmann's sensitive writing for the piano and the supremely lyrical qualities of the Intermezzi.
'Delicately cantabile' (zart singend) reads the expression mark that Widmann borrowed from Brahms. 'I tried to write a piano texture that truly sings', he explains. 'For years I actually lacked the courage to compose a piece that sings so freely'. The relation to the human voice is intimately linked with the special cantabile of Brahms' late works. He even called his op. 117 intermezzos (the famous first one is alluded to in Widmann's fourth piece) the 'lullabies of my sorrow'. His late piano pieces from op. 116 to op. 119 unite wistful farewells and a profound melancholy full of 'ecstasy and contentment' (as Brahms said of op. 119) with extraordinary economy of material and a compositional artistry worthy of the Old Masters.
Perhaps no other composer of today can match Widmann's ability to capture the special tone and instrumental idiom of his great predecessors in a creative spirit and, at the same time, to absorb their poetics. He transforms the stylistic inflection of late Brahms as if it were a rich and manifold language unto itself. Yet the way he assimilates this language allows him to make his own personal and wholly contemporary statements. His acceptance of the principle of musical intertextuality ('No text written today is conceivable without the totality of all existing texts') opens up the possibility of relating his own creations to objets trouvés from the past, of reflecting the new in the familiar and plunging into the technical and mental depths of earlier composers' styles.
It goes without saying that Widmann's Intermezzi initially relate to Brahms's late piano pieces opp. 116 to 119. But other works from the master's final period were no less stimulating. Brahms, the former symphonist and self-critical heir to the German musical tradition from Schütz to Beethoven, summarises his self-imposed restriction to epigrammatic miniatures in the term 'intermezzo', a transitory and fugitive interlude. Nor was he being ironic: in the early 1890s, not yet 60 years old, he actually considered his compositional output to be finished. The intermezzos are thus basically 'postludes' steeped in melancholy.
Brahms's creativity was rekindled in 1891 by his friendship with Richard Mühlfeld, the clarinettist of the Meiningen Court Orchestra. It gave birth to the Clarinet Trio (op. 114) and the Clarinet Quintet (op. 115). Mühlfeld, born in 1856, had started out as a violinist and learnt to play the clarinet later through self-instruction. He played in the Bayreuth première of the Ring in 1876, thereby immediately attracting the attention of Richard Wagner. In 1879 he became the solo clarinettist of the Meiningen Court Orchestra, which, beginning in 1880, was soon shaped into an élite ensemble by its principal conductor, Hans von Bülow.
In 1997 ECM New Series released the recording of Johannes Brahms's two sonatas op. 120, played by Kim Kashkashian and Robert Levin. Brahms considered his version for viola and piano to be equal in importance to the version for clarinet. Our new recording with Schiff and Widmann now features an extraordinary combination of artists in the history of the works' performance.
Andras Schiff, piano
Jörg Widmann, clarinet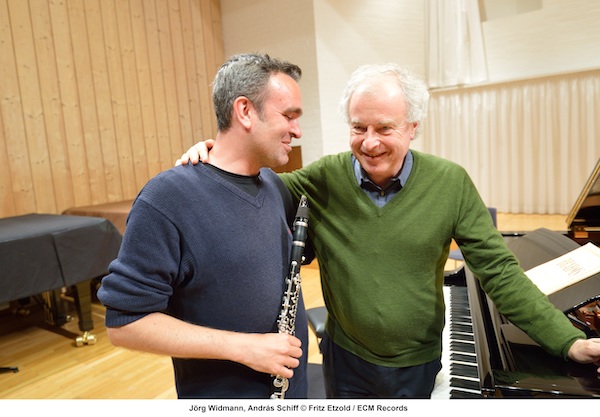 Sir András Schiff
is world-renowned as a pianist, conductor, pedagogue and lecturer. Music critics and audiences alike continue to be inspired by the masterful and intellectual approach he brings to each masterpiece he performs. Born in Budapest, Hungary in 1953, Sir András studied piano at the Liszt Ferenc Academy with Pál Kadosa, György Kurtág and Ferenc Rados; and in London with George Malcom. Recitals and special cycles, including the complete works of Bach, Haydn, Beethoven, Schubert and Bartók constitute an important component of his work. Having collaborated with the world's leading orchestras and conductors, he now focuses primarily on solo recitals, play-conducting appearances, and exclusive conducting projects.
During his fall 2019 tour of North America, Sir András conducted and played with the Boston Symphony Orchestra and the Orchestre Symphonique de Montreal, pairing concerti by Bach, Beethoven and Haydn with Brahms' "Variations on a theme by Haydn" and Bartok's "Dance Suite". He was joined by violinist Yuuko Shiokawa for an all-Mozart program opening New York's 92nd Street Y season.
Vicenza is home to Cappella Andrea Barca - his own chamber orchestra consisting of international soloists, chamber musicians and friends founded in 1999. Together they have appeared at Carnegie Hall, the Lucerne Festival and the Salzburg Mozartwoche. Forthcoming projects include a tour of Asia and a cycle of Bach's keyboard concertos in Europe.
Sir András enjoys close relationships with the Chamber Orchestra of Europe, the Budapest Festival Orchestra, and the Orchestra of the Age of Enlightenment. In 2018 he accepted the role of Associate Artist with the OAE, complementing his interest in performing on period keyboard instruments.
He has established a prolific discography and since 1997 has been an exclusive artist for ECM New Series and its producer, Manfred Eicher. Highlights have included the complete Beethoven Piano Sonatas recorded live in Zurich, solo recitals of Schubert, Schumann and Janacek, as well as J.S. Bach's Partitas, Goldberg Variations and Well-Tempered Clavier. His most recent two disc set of Schubert Sonatas and Impromptus were released in spring of 2019.
He continues to support new talent, primarily through his "Building Bridges" series which gives performance opportunities to promising young artists. He also teaches at the Barenboim-Said and Kronberg academies and gives frequent lectures and masterclasses. In 2017 his book "Music Comes from Silence", a compilation of essays and conversations with Martin Meyer, was published by Barenreiter and Henschel.
Sir András Schiff's many honors include the international Mozarteum Foundation's Gold Medal (2012), Germany's Great Cross of Merit with Star (2012), the Royal Philharmonic Society's Gold Medal (2013), a Knighthood for Services to Music (2014) and a Doctorate from the Royal College of Music (2018).
Jörg Widmann
is one of the most versatile and intriguing artists of his generation. As Carnegie Hall's 2019/20 Richard and Barbara Debs Composer Chair his work will be focused throughout the season. Further performances see him appear in all aspects as clarinetist, composer and conductor as artist in residence at WDR Sinfonieorchester, at Palau de la Música Barcelona and at Bergen International Festival.
Chamber music performances will see him in concerts with long-standing chamber music partners such as Andras Schiff, Daniel Barenboim, Mitsuko Uchida, Tabea Zimmermann, Antoine Tamestit and the Hagen Quartet at the Schubertiade Schwarzenberg, Salzburg Festival, Carnegie Hall New York and Wiener Konzerthaus amongst others.
Continuing his intense activities as a conductor, Jörg Widmann performs this season with the Ensemble Kanazawa, WDR Sinfonieorchester, Swedish Chamber Orchestra and Hessisches Staatsorchester Wiesbaden. In November 2019 he will lead the Irish Chamber Orchestra as their Principal Conductor on tour through the US and in concerts throughout Europe.
Widmann studied clarinet with Gerd Starke in Munich and Charles Neidich at the Juilliard School in New York. He performs regularly with renowned orchestras, such as Gewandhausorchester Leipzig, Orchestra National de France, Tonhalle-Orchester Zürich, National Symphony Orchestra Washington, Orchestre symphonique de Montréal, Vienna Philharmonic Orchestra, Netherlands Philharmonic Orchestra and Toronto Symphony Orchestra. He collaborates with conductors such as Daniel Barenboim, Christoph Eschenbach and Christoph von Dohnányi.
Widmann gave the world premiere of Mark Andre's Clarinet Concerto über at the Donaueschinger Musiktage 2015. Other clarinet concerti dedicated to and written for him include Wolfgang Rihm's Musik für Klarinette und Orchester (1999) and Aribert Reimann's Cantus (2006).
Widmann studied composition with Kay Westermann, Wilfried Hiller and Wolfgang Rihm. His works continue to receive many awards such as the prestigious Chamber Music Society of Lincoln Center's Elise L. Stoeger Prize (2009), the Paul Hindemith Prize in 2001, the Arnold Schönberg Prize by the Vienna Arnold Schönberg Centre and the Deutsches Symphonie-Orchester Berlin (2004) and both the SWR Sinfonieorchester Baden-Baden und Freiburg's composition award and the Berliner Philharmoniker Academy's Claudio Abbado Composition Award in 2006.
Widmann's compositions are performed regularly by conductors such as Daniel Barenboim, Daniel Harding, Valery Gergiev, Kent Nagano, Christian Thielemann, Mariss Jansons, Andris Nelsons and Simon Rattle and premiered by orchestras such as the Wiener and Berliner Philharmoniker, New York Philharmonic, Orchestre de Paris, BBC Symphony Orchestra and many others.
Widmann's appointment as Daniel R. Lewis Young Composer Fellow at the Cleveland Orchestra established an extraordinary artistic collaboration with the orchestra and its Principal Conductor Franz Welser-Möst including the world premiere of Widmann's Flute Concerto, Flûte en suite in May 2011 followed by its European premiere in 2012/13 by the Berliner Philharmoniker and Emmanuel Pahud under Simon Rattle. Cleveland Orchestra featured Flûte en suite as centrepiece in their 2014 European tour, and dedicated an entire evening to Widmann's works at the Berliner Philharmonie. His opera Babylon was premiered in 2012/13 at Bayerische Staatsoper under the baton of Kent Nagano.
Am Anfang by Anselm Kiefer and Jörg Widmann was premiered in July 2009 as part of the 20th anniversary of the Opéra Bastille, in which Widmann acted as composer, clarinetist and made his debut as conductor.
Widmann was Artist in Residence at leading Festivals and Orchestras such as Lucerne Festival and Salzburger Festspiele, Bamberger Symphoniker, Tonhalle-Orchester Zürich's creative chair 2015/16, and both BOZAR and Elbphilarmonie's artist in residence in its opening season. He was featured in Artist Portraits at Vienna's Konzerthaus, Frankfurt's Alte Oper and Cologne's Philharmonie. In the 2017/18 season he was featured as the first ever Gewandhaus Composer in Leipzig's history.
Widmann isFellow at the Wissenschaftskollegs in Berlin and a full member of the Bayerischen Akademie of Schönen Künste, and since 2007, the Freien Akademie der Künste Hamburg, the Deutschen Akademie der Darstellenden Künste and the Akademie der Wissenschaften und der Literatur Mainz. He is professor for composition at the Barenboim-Said Academy, Berlin.

Booklet for Johannes Brahms: Clarinet Sonatas