---
Album info
Album including Album cover Booklet (PDF)
Arnold Schoenberg (1874 - 1951): Violin Concerto, Op. 36:

1

Violin Concerto, Op. 36: I. Poco allegro - Vivace

14:00

2

Violin Concerto, Op. 36: II. Andante grazioso

08:35

3

Violin Concerto, Op. 36: III. Finale. Allegro

13:10

Johannes Brahms (1833 - 1897): Violin Concerto in D Major, Op. 77:

4

Violin Concerto in D Major, Op. 77: I. Allegro non troppo

23:46

5

Violin Concerto in D Major, Op. 77: II. Adagio

09:09

6

Violin Concerto in D Major, Op. 77: III. Allegro giocoso, ma non troppo vivace - Poco più presto

08:35

Total Runtime

01:17:15
Info for Schoenberg & Brahms: Violin Concertos

Family history and the present rise of intolerance to others belong to the story behind Jack Liebecks latest album. His pairing of the Brahms and Schoenberg Violin Concertos, recorded with the BBC Symphony Orchestra and Andrew Gourlay, stands as a personal homage to works from classical musics central European heartlands. It also reflects the experience of his Dutch/German Jewish family who suffered at the hands of the Nazis, in particular, his paternal grandfather Walter Liebeck. In 1934 Walter Liebeck, Jacks grandfather, fled the Nazis to find refuge in South Africa. Walters favourite piece of music was Brahms Violin Concerto and although he didnt live to hear Jack play, his love of Brahms seems to be in the genes and now felt the time for Jack to record the work with Walter in his mind. Alongside Brahms comes Schoenbergs vast and highly virtuosic Violin Concerto (1934-36), written shortly after Schoenbergs own departure from Germany in 1933. A fitting work reflecting that period, which seems still to have extraordinary relevance in todays volatile world.
Jack Liebeck, violin
BBC Symphony Orchestra
Andrew Gourlay, conductor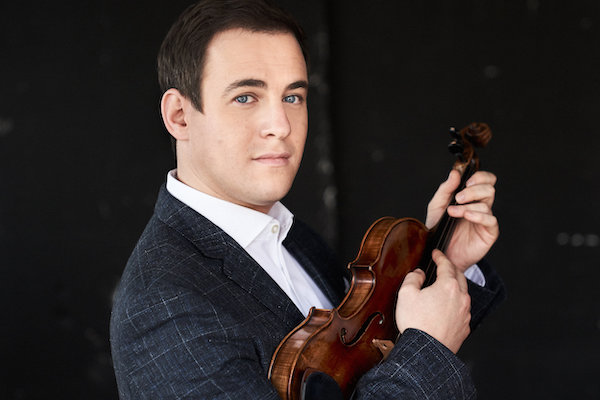 Jack Liebeck
Violinist, director and festival director Jack Liebeck, possesses "flawless technical mastery" and a "beguiling silvery tone" (BBC Music Magazine). Jack's playing embraces the worlds of elegant chamber-chic Mozart through to the impassioned mastery required to frame Brett Dean The Lost Art of Letter Writing. His fascination with all things scientific has included performing the world premiere of Dario Marianelli's Voyager Violin Concerto and led to his most recent collaboration, A Brief History of Time, with Professor Brian Cox and Daniel Harding. This new violin concerto was commissioned for Jack by Melbourne Symphony Orchestra from regular collaborator and composer Paul Dean, and is written in commemoration of Professor Stephen Hawking; A Brief History of Time will receive its world premiere in November 2019.
In the 25 years since his debut with the Hallé, Jack has worked with major international conductors and orchestras including Andrew Litton, Leonard Slatkin, Karl-Heinz Steffens, Sir Mark Elder, Sakari Oramo, Vasily Petrenko, Brett Dean (Royal Stockholm Philharmonic), Daniel Harding (Swedish Radio), Jukka Pekka Saraste (Oslo Philharmonic), David Robertson (St Louis Symphony), Jakub Hrůša and many orchestras across the world including Belgian National, Queensland Symphony, Moscow State Symphony, Orquesta Sinfónica de Galicia, Indianapolis Symphony and all of UK orchestras.
Jack is the artistic director of his own festivals Oxford May Music, the DESY Humboldt Science and Music Series in Hamburg (at Elb Philharmonie and the university), and Alpine Classics in Grindelwald, Switzerland where programming is centred around themes of music, science and the arts. A professional photographer, he loves film and can be heard in the soundtracks of The Theory of Everything, Jane Eyre and Anna Karenina. Jack is a professor of violin at the Royal Academy of Music and has written and curated pieces for BBC Radio 3, Strad Magazine and has guest edited Classical Music Magazine. Jack is also a member of the Salieca Piano Trio and directs his own ensemble of regular collaborators, 'Jack Liebeck and Friends'.
Upcoming highlights include Jack recording and performing the Brahms and Schoenberg violin concertos with BBC Symphony Orchestra for release early next year; 'A Symphonic Universe' for Melbourne Symphony with Daniel Harding and Brian Cox, and his world premiere recording of Stuart Hancock's violin concerto which will also be released on Orchid Classics this autumn. Other new collaborations see Jack featured on a chamber disc for Albion Records in Holst and Vaughan Williams with Mary Bevan, and a recording of Braun's beautiful From the Shtetl with London Chamber Orchestra for release in summer 2020.
Plans for 20/21 include From the Haunted Forest a beautiful 'Jack Liebeck and Friends' quintet programme featuring the Elgar for Kings Place's new Nature Unwrapped series. Recital touring includes performances across Europe, USA and Australasia for festivals and venues such as Wigmore Hall and Sydney International Piano Competition - programmes include Einstein's Universe, a unique recital with Professor Brian Foster, exploring Einstein's concepts of space, time and the evolution of the Universe alongside his lifelong love of the violin, and Hollywood – composers exiled in paradise with Katya Apekisheva. Jack has been privileged to collaborate regularly with Brett Dean and has given territory premieres for pieces such as Recollections and the piano quintet Voices of Angels; plans for Brett's 60th birthday in 2021 include chamber programmes and his violin concerto The Lost Art of Letter Writing.
Regular chamber collaborators throughout Jack's career include internationally acclaimed artists such as brothers Brett Dean & Paul Dean, Renaud and Gautier Capuçon, Gary Hoffman, Gérard Causse, Mary Bevan, Imogen Cooper, Angela Hewitt, Jean-Yves Thibaudet, Piers Lane, Julius Drake, Alexander Madzar, Pascal Moragues, Michael Collins, Nicholas Daniel, Katya Apekisheva, Filipe Pinto-Ribeiro and Mathieu Herzog.
Jack has had an acclaimed recording career, from films to albums including Dvorak (Sony Classics) which won Jack Classical Brit Young Artist of the Year in 2010. His Brahms Violin Sonatas with pianist Katya Apekisheva was reviewed as "His tone is sweet and effortlessly expressive, his lyrical spans marked by many a tastefully judged portamento" (Strad Magazine). Jack's notable relationship with Hyperion Records has included Kreisler with Katya Apekisheva and a complete Bruch concerto series with the BBC Scottish Symphony Orchestra and Martyn Brabbins which won much praise "delightful mix of charm and bucolic spirit through Liebeck's remarkable artistry and imagination" (The Telegraph). Jack has featured as a soloist on Classic FM's, The Glorious Garden (poetry by Alan Titchmarsh, narrated by Alan with music by Debbie Wiseman), in The Mozart Question with Michael Morpurgo and the LPO, and as BBC Music Magazine's cover disc in celebration of Paganini, The Virtuoso Violin.
Jack plays the 'Ex-Wilhelmj' J.B. Guadagnini dated 1785 and is generously loaned a Joseph Henry bow by Kathron Sturrock in the memory of her late husband Professor David Bennett.

Booklet for Schoenberg & Brahms: Violin Concertos