---
Album info
Album including Album cover
I`m sorry!
Dear HIGHRESAUDIO Visitor,
due to territorial constraints and also different releases dates in each country you currently can`t purchase this album. We are updating our release dates twice a week. So, please feel free to check from time-to-time, if the album is available for your country.
We suggest, that you bookmark the album and use our Short List function.
Thank you for your understanding and patience.
Yours sincerely, HIGHRESAUDIO
1

Nevermine

03:54

2

Company

02:37

3

Ages Ago

02:15

4

Taste

03:30

5

Not For Me

04:30

6

Be My Baby

02:24

7

New Face

03:09

8

Saunter

03:23

9

Tired Games

03:08

10

Temporary

03:33

Total Runtime

32:23
Info for Forth Wanderers

Forth Wanderers employ a tin-can-telephone style of composition which they use even when living in the same area code. Since first collaborating in 2013 as Montclair, New Jersey high schoolers, guitarist and songwriter Ben Guterl and vocalist Ava Trilling have passed songs back and forth like pen pals. Guterl will devise an instrumental skeleton before sending it to vocalist Ava Trilling who pens the lyrics based off the melody. The duo then gather alongside guitarist Duke Greene, bassist Noah Schifrin, and drummer Zach Lorelli to expand upon the demo. It's a patient and practiced writing system that has carried the quintet through two EPs (2013's Mahogany and 2016's Slop) and one LP (2014's Tough Love). Forth Wanderers, the group's sophomore record and Sub Pop debut, is the group's most comprehensive and assured statement yet.
Now living in Ohio and New York respectively, Guterl and Trilling have evolved their separate but collaborative writing process. "The only way I can really write is by myself in my room with a notebook, listening to the song over and over again," Trilling says. "I've never sat down to write a story, I write the song as it unfolds." Since her lyrics are often embedded with intimate truths from her life, the private writing experience often leads to intense self-reflection.
On Forth Wanderers these introspections include meditations on relationships, discovery, and finding oneself adrift. Despite the inherent heaviness of those themes, Forth Wanderers feels joyous, a rock record bursting with heart. Take "Not for Me," a romping track about "the ambivalence of love." Trilling's confession of "I can't feel the earth beneath my feet/Flowers bloom but not for me" resists feeling like a dreary, pitying complaint; instead, as her bandmates bolster her melancholy with interlocking harmonic intricacies, she soars with self-actualization. Opener "Nevermine," is a surge of confidence inspired by an ex-lover who is still captivated by her image. "I don't think I know who you are anymore/And I think I knew who I was before," she jabs with relish. On "Ages Ago" Trilling paints the image of a constantly-shifting enigmatic lover. "I wasn't sure who they were, they changed constantly (hence the metaphor describing the "grey coat" and cutting their hair just to "stay afloat")," she says. "I wasn't going to wait any longer to find out."
Recorded over five days by friend and audio engineer Cameron Konner at his Philadelphia home studio, Forth Wanderers amplifies the heartfelt sentiments of their earlier works into massive anthems. Guterl and Greene's guitars have never sounded sharper, Schifrin and Lorelli's terse rhythm section is restless, and Trilling sounds more self-assured than ever. These are exuberant, profound songs driven by tightly bound melodies and a loving attention to detail.
Forth Wanderers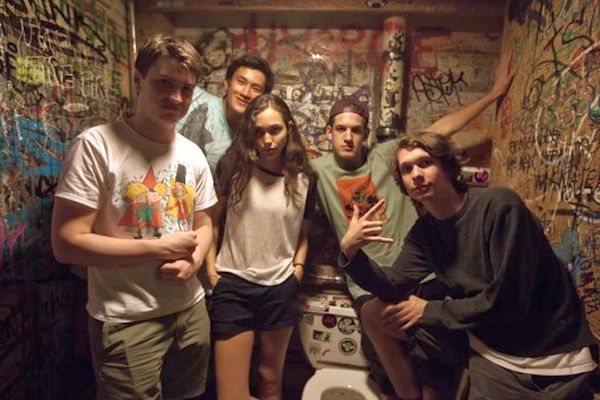 Forth Wanderers
are five friends from Montclair, New Jersey. Together they make some of the most powerfully intimate and emotive indie-rock music you're likely to hear. Comprised of singer Ava Trilling, guitarists Ben Guterl and Duke Greene, bassist Noah Schifrin and drummer Zach Lorelli, despite all being under the age of 21, the group have been prolifically forging musical creations from the bedrooms of their Garden State township since 2013.
It's the kind of story that great songs are written about. But such is the perfect narrative that pre-empted the band's debut EP 'Mahogany', as the songwriting partnership was completed by Ben's three best classroom friends, followed swiftly by long-player 'Tough Love' in 2014. With their burgeoning discography it's hard to believe that Ava only just graduated high school this June, and the rest of the band are in their junior college year. But it's fair to say that with EP 'Slop' the band are truly arriving on the international scene. Over just four tracks the band manage to create an intense impact with the effortless, earnest melody of Ava's talismanic vocals soaring above the untempered churns of Ben's haunting, raw guitars.
Forth Wanderers have been building a loyal fanbase plucked from disparate scenes, drawing comparisons from everyone from Built To Spill and Pavement to Mac Demarco and Weezer. But the urgency and immediacy of what they do feels almost unparalleled amongst the current wave of breaking indie music. The EP is as euphoric as it is lamenting, with 'Know Better' opening proceedings with driving, strident guitar swirls and some real earworm hooks. 'Nerves' bursts forth from fizzing, lo-fi shackles to give some of one the band's most head-nodding moments. Before seismic closer 'Unfold' bring things to a heart-wrenching finale "I've been tired of hearing fake speeches, needless to say I'm in love with you…", Ava croons amidst its epic closing bars. "I was going through a weird time," she remembers. "But these songs felt great to write. With every song Ben sent me, lyrics would ultimately pour out." The cathartic reward that Ava speaks of is impossible to escape when listening to the 'Slop' EP, the empathy from laying bare everyday life's rawest moments. It's this powerful sense of kinship that will likely see the band continue rising as one of the most eagerly followed new acts around.

This album contains no booklet.