---
Album info
Album including Album cover Booklet (PDF)
Franz Joseph Haydn (1732 - 1809): The Creation, Hob. XXI:2, Pt. 1:

1

The Creation, Hob. XXI:2, Pt. 1 (Excerpts Arr. A. Wranitzky for Narrator & String Quintet): No. 1a, Die Vorstellung des Chaos

04:55

2

The Creation, Hob. XXI:2, Pt. 1 (Excerpts Arr. A. Wranitzky for Narrator & String Quintet): No. 1b, Im Anfange schuf Gott Himmel und Erde

01:45

3

The Creation, Hob. XXI:2, Pt. 1 (Excerpts Arr. A. Wranitzky for Narrator & String Quintet): No. 2, Nun schwanden vor dem heiligen Strahle

04:14

4

The Creation, Hob. XXI:2, Pt. 1 (Excerpts Arr. A. Wranitzky for Narrator & String Quintet): No. 3, Und Gott machte das Firmament

02:10

5

The Creation, Hob. XXI:2, Pt. 1 (Excerpts Arr. A. Wranitzky for Narrator & String Quintet): No. 4, Mit Staunen sieht das Wunderwerk

01:55

6

The Creation, Hob. XXI:2, Pt. 1 (Excerpts Arr. A. Wranitzky for Narrator & String Quintet): No. 5, Und Gott sprach es sammle sich das Wasser

00:29

7

The Creation, Hob. XXI:2, Pt. 1 (Excerpts Arr. A. Wranitzky for Narrator & String Quintet): No. 6, Rollend in schäumenden Wellen

03:23

8

The Creation, Hob. XXI:2, Pt. 1 (Excerpts Arr. A. Wranitzky for Narrator & String Quintet): No. 7, Und Gott sprach es bringe die Erde Gras hervor

00:22

9

The Creation, Hob. XXI:2, Pt. 1 (Excerpts Arr. A. Wranitzky for Narrator & String Quintet): No. 8, Nun beut die Flur das frische Grün

04:39

10

The Creation, Hob. XXI:2, Pt. 1 (Excerpts Arr. A. Wranitzky for Narrator & String Quintet): No. 9, Und die himmlischen Heerscharen verkündigten

00:29

11

The Creation, Hob. XXI:2, Pt. 1 (Excerpts Arr. A. Wranitzky for Narrator & String Quintet): No. 10, Stimmt an die Saiten

02:13

12

The Creation, Hob. XXI:2, Pt. 1 (Excerpts Arr. A. Wranitzky for Narrator & String Quintet): No. 11, Und Gott sprach es seyn Lichter

00:26

The Creation, Hob. XXI:2, Pt. 2:

13

The Creation, Hob. XXI:2, Pt. 2 (Excerpts Arr. A. Wranitzky for Narrator & String Quintet): No. 12, In vollem Glanze steiget jetzt die Sonne

01:38

14

The Creation, Hob. XXI:2, Pt. 2 (Excerpts Arr. A. Wranitzky for Narrator & String Quintet): No. 13, Die Himmel erzählen die Ehre Gottes

04:04

15

The Creation, Hob. XXI:2, Pt. 2 (Excerpts Arr. A. Wranitzky for Narrator & String Quintet): No. 14, Und Gott sprach es bringe das Wasser

00:35

16

The Creation, Hob. XXI:2, Pt. 2 (Excerpts Arr. A. Wranitzky for Narrator & String Quintet): No. 15, Auf starkem Fittiche schwinget sich der Adler stolz

07:19

17

The Creation, Hob. XXI:2, Pt. 2 (Excerpts Arr. A. Wranitzky for Narrator & String Quintet): No. 16, Und Gott schuf große Walfisch

01:56

18

The Creation, Hob. XXI:2, Pt. 2 (Excerpts Arr. A. Wranitzky for Narrator & String Quintet): No. 18, In holder Anmut steh'n

04:33

19

The Creation, Hob. XXI:2, Pt. 2 (Excerpts Arr. A. Wranitzky for Narrator & String Quintet): No. 19, Der Herr ist groß in seiner Macht

02:30

20

The Creation, Hob. XXI:2, Pt. 2 (Excerpts Arr. A. Wranitzky for Narrator & String Quintet): No. 20, Und Gott sprach es bringe die Erde hervor

00:16

21

The Creation, Hob. XXI:2, Pt. 2 (Excerpts Arr. A. Wranitzky for Narrator & String Quintet): No. 21, Gleich öffnet sich der Erde Schoß

02:36

22

The Creation, Hob. XXI:2, Pt. 2 (Excerpts Arr. A. Wranitzky for Narrator & String Quintet): No. 22, Nun scheint in vollem Glanze der Himmel

03:20

23

The Creation, Hob. XXI:2, Pt. 2 (Excerpts Arr. A. Wranitzky for Narrator & String Quintet): No. 23, Und Gott schuf den Menschen

01:21

24

The Creation, Hob. XXI:2, Pt. 2 (Excerpts Arr. A. Wranitzky for Narrator & String Quintet): No. 24, Mit Würd' und Hoheit angetan

03:33

25

The Creation, Hob. XXI:2, Pt. 2 (Excerpts Arr. A. Wranitzky for Narrator & String Quintet): No. 25, Und Gott sah jedes Ding

00:16

26

The Creation, Hob. XXI:2, Pt. 2 (Excerpts Arr. A. Wranitzky for Narrator & String Quintet): No. 26, Vollendet ist das große Werk

08:26

The Creation, Hob. XXI:2, Pt. 3:

27

The Creation, Hob. XXI:2, Pt. 3 (Excerpts Arr. A. Wranitzky for Narrator & String Quintet): No. 29a, Einleitung

02:30

28

The Creation, Hob. XXI:2, Pt. 3 (Excerpts Arr. A. Wranitzky for Narrator & String Quintet): No. 29b, Aus Rosenwolken bricht

00:39

29

The Creation, Hob. XXI:2, Pt. 3 (Excerpts Arr. A. Wranitzky for Narrator & String Quintet): No. 30, Von deiner Güt', o Herr und Gott

09:50

30

The Creation, Hob. XXI:2, Pt. 3 (Excerpts Arr. A. Wranitzky for Narrator & String Quintet): No. 31, Nun ist die erste Pflicht erfüllt

00:53

31

The Creation, Hob. XXI:2, Pt. 3 (Excerpts Arr. A. Wranitzky for Narrator & String Quintet): No. 32, Holde Gattin, dir zur Seite

07:51

32

The Creation, Hob. XXI:2, Pt. 3 (Excerpts Arr. A. Wranitzky for Narrator & String Quintet): No. 33, O glücklich Paar! Und glücklich immerfort!

00:17

33

The Creation, Hob. XXI:2, Pt. 3 (Excerpts Arr. A. Wranitzky for Narrator & String Quintet): No. 34, Singt dem Herren, alle Stimmen

03:55

Total Runtime

01:35:18
Info for Haydn: The Creation, Hob. XXI:2 (Excerpts Arr. A. Wranitzky for Narrator & String Quintet)

How can a great oratorio such as "The Creation" be reduced to a few instruments in order to enjoy it in a small, domestic setting? How should the arias, choirs and recitatives be presented, and how can the biblical text be conveyed? Joseph Haydn delegated this apparent challenge to the then well known composer Anton Wranitzky, who arranged the music for string quintet. He left open questions about the text, so the Pandolfis Consort, playing on historical instruments, embarked on the great adventure of integrating spoken recitatives as well as passages of the libretto to illustrate the history of divine action. The role of the narrator took over Fritz von Friedl, one of the most famous Austrian speakers and actors. The result is this highly impressive and moving recording of the chamber music version of this monumental work, which had been wrongly forgotten.
Pandolfis Consort
Fritz von Friedl, direction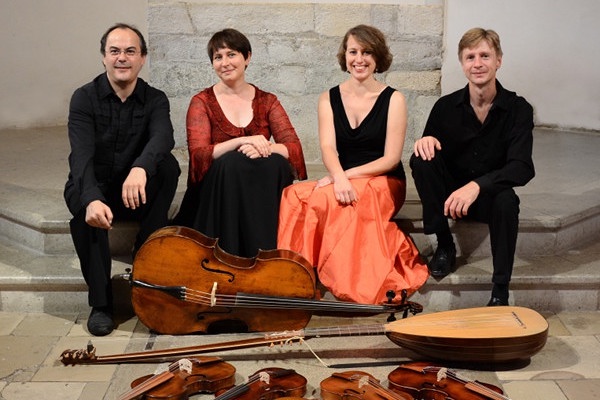 The Pandolfis Consort
was founded in 2004 by Elzieta Sajka-Bachler, viola player und graduate of Krakow Music Academy to bring rarely performed works by famous or forgotten composers to a wider public. The name comes from the violin maker Giuseppe Galieri Pandolfis, who was probably of Greek descent and was a student of Nicola Amati.
The ensemble's repertoire contains some 500 works and extends from early Baroque to Classical to modern music and also includes contemporary compositions written for the Consort. The ensemble's period instruments set composers the interesting task of adapting their modern tonal language and in this way finding new sounds. In 2012 the ensemble gave the first performances of commissioned compositions by Johanna Doderer (Austria) and Stanley Grill (USA) and, in Innsbruck in 2014, of two works by Tyrolean composer, Franz Baur.
Fritz von Friedl
was born in 1941 in Berlin as the son of an Austrian cameraman. He spent his childhood in Waldhausen in Upper Austria. One of the best-known voices in Austria, he is to be heard regularly in documentaries and literature programmes on ORF (Austrian radio).
He trained as an actor at the Max Reinhardt Seminar in Vienna. Until 1972 he performed in German theatres with a particular focus on Hamburg (Thalia Theater). In 1972 he was called to the Burgtheater where he played many roles, among them «Candide». From 1978 there followed the Theater in der Josefstadt, Volkstheater, Ensembletheater and, what for him was the most formative influence, four years of collaboration with George Tabori in the theatre «Der Kreis» from 1987. This activity brought him as far as New Zealand and Australia, where the performances were in English.
Parallel to performing on the stage Fritz von Friedl could also be seen in many film and TV roles.

Booklet for Haydn: The Creation, Hob. XXI:2 (Excerpts Arr. A. Wranitzky for Narrator & String Quintet)