---
Album info
Album including Album cover Booklet (PDF)
Filippo Arlia, Cesare Chiacchiaretta,Giovanni Zonno, Enrico Corapi, Salvatore Russo

1

Michelangelo 70

03:01

Filippo Arlia, Cesare Chiacchiaretta,Giovanni Zonno, Enrico Corapi, Salvatore Russo

2

Concierto para Quinteto 

08:35

Filippo Arlia, Cesare Chiacchiaretta,Giovanni Zonno, Enrico Corapi, Salvatore Russo

3

Decarisimo 

03:01

Filippo Arlia, Cesare Chiacchiaretta,Giovanni Zonno, Enrico Corapi, Salvatore Russo

4

Camorra III 

10:56

Filippo Arlia, Cesare Chiacchiaretta,Giovanni Zonno, Enrico Corapi, Salvatore Russo

5

Bandoneon dalla Suite Troileana 

04:42

Filippo Arlia, Cesare Chiacchiaretta,Giovanni Zonno, Enrico Corapi, Salvatore Russo

6

Adios Nonino 

08:43

Filippo Arlia, Cesare Chiacchiaretta,Giovanni Zonno, Enrico Corapi, Salvatore Russo

7

Revirado 

03:41

Filippo Arlia, Cesare Chiacchiaretta,Giovanni Zonno, Enrico Corapi, Salvatore Russo

8

Resurreccion del Angel 

06:26

Filippo Arlia, Cesare Chiacchiaretta,Giovanni Zonno, Enrico Corapi, Salvatore Russo

9

Escualo 

03:22

Filippo Arlia, Cesare Chiacchiaretta,Giovanni Zonno, Enrico Corapi, Salvatore Russo

10

Verano Porteno 

06:43

Total Runtime

59:10
Info for Astor Piazzolla: Duettango - Revirado

Giulio Cesare Ricci is particularly fond of the music of the Argentinean tango king Astor Piazzolla, and so his label Fone repeatedly releases high-quality music by Piazzolla. On "Duettango", it is a top-class quartet that brings the Tango Nuevo to life: At the centre is violinist Fernando Suarez Paz, who played tango with Piazzolla himself in his Quarteto Nuevo in the 70s. Next to him, we hear his daughter Cecilia, whose singing is in no way inferior to her father's playing. Now you need a bandoneon player for the tango, and on this record it is Cesare Chiachiaretta, one of the best in the world at the moment. Add Filippo Arlia, a classically trained pianist, and you have a tremendously emotional and virtuoso tango formation, captured by Ricci in excellent sound quality.
Arlia Filippo, piano
Cesare Chiacchiaretta, bandoneon
Fernando Suarez, violin
Cecilia Suarez, vocals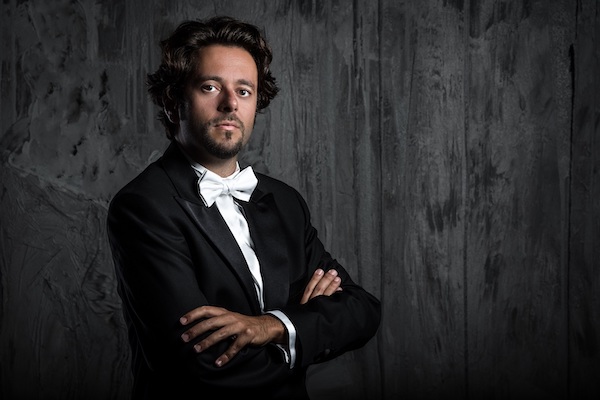 Filippo Arlia
(born 1989) is an Italian pianist and conductor. He is considered one of the most brilliant and versatile Italian musicians of his generation. He completed his piano studies with Lethea Cifarelli at the Conservatory "F.Torrefranca" in Vibo Valentia at the age of 17. He then completed his law studies at the University "Magna Graecia" in Catanzaro. He made his debut as a soloist on the international stage with a European tour dedicated to G. Gershwin. Filippo Arlia feels a special bond with Gershwin, also because of his collaboration with Michel Camilo.
Together with Cesare Chiacchiaretta, Filippo Arlia forms the ensemble "Duettango", which made its Carnegie Hall debut in 2015. In 2017, to mark the 25th anniversary of Piazzolla's death, Duettango released a CD of Piazzolla's works, which won the 2018 Piazzolla Award and Orpheus Award .
In 2011 Arlia founded the Philharmonic Orchestra of Calabria, of which he is still conductor and director. Under his direction, the orchestra collaborated with some of the most well-known musicians of our time, including Sergei Krylov, Yuri Shishkin, Michel Camilo, Sergei Nakariakov, Ilya Grubert, Giovanni Sollima and Danilo Rea.
Arlia has given more than 350 concerts as a soloist and conductor in more than 20 countries around the world and has already conducted well-known orchestras, including the Cluj De Tineret Orchestra, the Adana Cukurova State Symphony Orchestra and the Philharmonic Orchestra "M Jora" of Bacau, the Pacific Symphony Orchestra of Vladivostok, the City of Ferrara Orchestra, the New Scarlatti Orchestra of Naples, the Sanremo Symphony Orchestra, the Akademik Baskent Orchestra of Ankara, the Symphonic Orchestra of the Estado de Mexico, the Orchestra of the University of New Leon in Monterrey, the Haifa Symphony Orchestra , the Cairo Symphony Orchestra, the South Czech Philharmonic, the Odessa Philharmonic Orchestra, the Hungarian National Symphony Orchestra, the New England Symphony Orchestra, the Astana Philharmonic Orchestra, the Orchester do Norte di Porto,the Plovdiv State Opera Orchestra, the Lower Silesian Philharmonic, the Hradec Kralové Philharmonic Orchestra, the Jerusalem Symphony Orchestra.
On his debut at the Verona Theater he conducted the Berliner Symphoniker with Stefano Bollani on the piano (Rhapsody in Blue by G. Gershwin).
Since 2014 he has been the director of the musicological institute "PI Tchaikovsky" in Nocera Terinese (CZ), where he holds a chair in piano and orchestral conducting. In 2018, the International Festival "R. Leoncavallo" in Montalto Uffugo.
Filippo Arlia was awarded the Gold Medal for Orchestral Conducting and Interpretation of the Great Symphonic Repertoire of the Twentieth Century by the University "La Sapienza" in Rome in 2017.

Booklet for Astor Piazzolla: Duettango - Revirado