---
Album info
Album including Album cover Booklet (PDF)
Henry Purcell (1659 - 1695):

1

Timon of Athens, Z. 632: Hark! How the Songsters

03:00

2

Hail, Bright Cecilia, Z. 328: No. 10, In Vain the Am'rous Flute

06:20

3

O Solitude, Z. 406

05:40

4

Dioclesian, Z. 627 (Excerpts): Chaconne (Two in One Upon a Ground)

02:44

John Blow (1649 - 1708):

5

Ah, Heav'n! What Is't I Hear?

03:31

Henry Purcell:

6

Come Ye Sons of Art, Z. 323: III. Sound the Trumpet

02:23

7

Dioclesian, Z. 627 (Excerpts): Since the Toils and the Hazards of War

04:09

8

Bonduca, Z. 574: No. 11, Sing, Sing, Ye Druids

02:36

John Blow:

9

Paratum cor meum Deus

02:22

Henry Purcell:

10

Incassum Lesbia, incassum rogas, Z. 383

07:37

John Blow:

11

No, Lesbia, No, You Ask in Vain

07:07

Henry Purcell:

12

O dive custos Auriacae domus, Z. 504

06:26

John Blow: An Ode on the Death of Mr. Henry Purcell:

13

An Ode on the Death of Mr. Henry Purcell: No. 1, Mark How the Lark and Linnet Sing

03:52

14

An Ode on the Death of Mr. Henry Purcell: No. 2, But in the Close of Night

04:57

15

An Ode on the Death of Mr. Henry Purcell: No. 3, So Ceas'd the Rival Crew When Purcell Came

02:55

16

An Ode on the Death of Mr. Henry Purcell: No. 4, We Beg Not Hell, Our Orpheus to Restore

01:51

17

An Ode on the Death of Mr. Henry Purcell: No. 5, The Pow'r of Harmony Too Well They Knew

02:35

18

An Ode on the Death of Mr. Henry Purcell: No. 6, The Heav'nly Quire, Who Heard His Notes from High

04:28

19

An Ode on the Death of Mr. Henry Purcell: No. 7, Ye Brethren of the Lyre, and Tuneful Voice

02:49

Total Runtime

01:17:22
Info for Elegy

World-renowned countertenor Iestyn Davies, partnered by outstanding young countertenor James Hall and The King's Consort, turns his attention to the music of Henry Purcell and his colleague John Blow.
This beautifully themed programme of solos and duets centres on elegies, and concludes with Blow's magnificent 'Ode on the death of Purcell'. Rarely heard together on one recording are a set of three substantial elegies composed by Purcell and Blow to commemorate the untimely death of the much-loved Queen Mary. Two of these ingeniously take the same text, one in English (by Blow – a particularly fine work), the other in Latin (Purcell). Another highlight is Iestyn's seraphic rendition of the melancholy masterpiece, 'O solitude'. Around these come duets both famous and less familiar, including 'Hark how the songsters', Blow's ravishing 'Ah, heav'n, what is't I hear?', the deliciously languid 'In vain the am'rous flute' and, of course, 'Sound the trumpet'.
The death of Queen Mary, which spurred London's two leading composers into doleful elegiac action, was soon to be followed by a greater musical calamity: the loss of Henry Purcell. John Blow's outstanding 'Ode on the death of Mr Henry Purcell' is not only a heartfelt tribute to his colleague, but one of the most outstanding English works of the era.
Iestyn Davies shows himself to be a true master of this repertoire, beautifully partnered by James Hall and by an ensemble which has dominated the world of Purcell recordings for more than thirty years.
The recording was made in the world-class recording hall, Alpheton New Maltings, demonstrating its exceptional acoustic of striking clarity and warmth. Extensive presentation includes 52 page booklet with liner note in three languages, full texts and translations, as well as 6 pages of session photos.
"They duet ravishingly in Purcell's Hark! How the songsters and Sound the Trumpet, and in less familiar pieces by Blow, whose Ode on the Death of Mr Henry Purcell is the album's moving climax." (Sunday Times)
"Worthy successors to James Bowman and Michael Chance, who also recorded these duets with the King's Consort, Davies and Hall bring a chamber-music intensity to Blow's sublime elegy on Purcell's death, though nothing on the disc quite beats the spine-tingling last bars of Purcell's duet O dive custos." (The Observer)
Iestyn Davies, counter-tenor
James Hall, counter-tenor
The King's Consort
Robert King, direction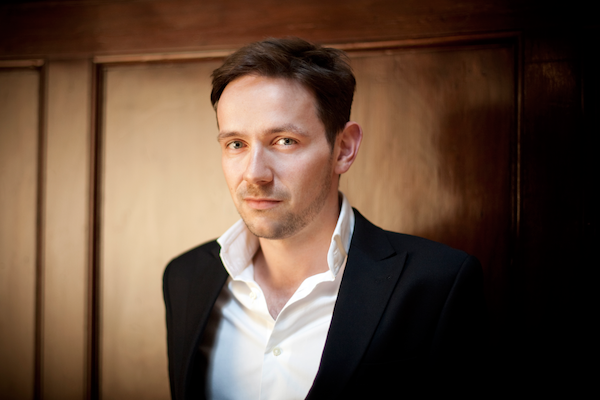 Iestyn Davies
is a British countertenor widely recognised as one of the world's finest singers celebrated for the beauty and technical dexterity of his voice and intelligent musicianship. Critical recognition of Iestyn's work can be seen in two Gramophone Awards, a Grammy Award, a RPS Award for Young Singer of the Year, the Critics' Circle Award and recently an Olivier Award Nomination. He was awarded the MBE in the Queen's New Year's Honours List 2017 for services to music.
Although blessed with a Welsh name, Iestyn hails from York, born into a musical household, his father being the founding cellist of the Fitzwilliam String Quartet.
He began his singing life as a chorister at St John's College, Cambridge under the direction of Dr.George Guest and later Christopher Robinson.
Later, after graduating in Archaeology and Anthropology from St John's College, Cambridge Iestyn studied at the Royal Academy of Music, London of which he is now a Fellow.
In 2015 he delighted London theatre audiences singing the role of Farinelli in the play, Farinelli and the King with Mark Rylance at the Globe Theatre. The hugely successful project transferred to the West End this season and was nominated for a number of Olivier Awards.
His operatic engagements have included Ottone (L'incoronazione di Poppea/Monteverdi) for Zürich Opera and Glyndebourne Festival Opera; Arsace (Partenope/Handel) for New York City Opera; Oberon (A Midsummer Night's Dream/Britten) for Houston Grand Opera, English National Opera and The Metropolitan Opera, New York; Apollo (Death in Venice/Britten) for English National Opera and in his house debut at La Scala, Milan; Hamor (Jephtha/Handel) for Welsh National Opera and Opera National de Bordeaux; Steffani's Niobe at the Royal Opera House, Covent Garden; his debut at The Metropolitan Opera Unulfo (Rodelinda/Handel) where he has also appeared as Trinculo The Tempest; the Lyric Opera of Chicago in Rinaldo; Bertarido Rodelinda for English National Opera; his debuts at the Opéra Comique and the Munich and Vienna Festivals in George Benjamin's Written on Skin and the title role Rinaldo for Glyndebourne Festival Opera. He returned to Glyndebourne in 2015 for David in Handel's Saul.
His concert engagements have included performances at the Teatro alla Scala, Milan with Dudamel, the Concertgebouw and Tonhalle with Koopman and at the Barbican, Théâtre des Champs-Élysées, Lincoln Centre and at the BBC Proms in the Royal Albert Hall with orchestras that include the Bournemouth Symphony Orchestra, London Philharmonic, Britten Sinfonia, Concerto Köln, Concerto Copenhagen, Ensemble Matheus, the Orchestra of the Age of Enlightenment, Academy of Ancient Music and Scottish Chamber Orchestra. He recently made his debut, in recital, at Carnegie Hall, New York. He enjoys a successful relationship with the Wigmore Hall, where, in the 2012/13 season, he curated his own residency.
Recent highlights have included two Bach recitals at the Edinburgh International Festival, Britten's 'A Midsummer Night's Dream' at the Aldeburgh Festival and Schubert's 'Die Schöne Müllerin' with Julius Drake at Middle Temple Hall, London. Future plans include Thomas Adès's "The Exterminating Angel' at the Metropolitan Opera New York and Farinelli & the King with Mark Rylance on Broadway, New York.
His recordings include two versions of Handel's Messiah (New College Oxford, AAM/Naxos) and (Polyphony, Britten Sinfonia/Hyperion), Handel's Chandos Anthems on Hyperion, Handel's Flavio for Chandos with The Early Opera Company and Christian Curnyn, Bach's Easter Oratorio with Retrospect Ensemble, his debut solo recording Live at the Wigmore Hall with his own Ensemble Guadagni, a disc of Porpora Cantatas with Jonathan Cohen and Arcangelo, an award winning disc of works for Guadagni for Hyperion and a disc of Handel arias with The King's Consort for Vivat. 2014/5 saw the release of The Art of Melancholy, a recital of Dowland songs for Hyperion, Flow my tears, songs for lute, viol and voice on the Wigmore Live label and Arise my muse for which he received the Gramophone Recital Award. He has added recordings of Bach Cantatas with Arcangelo, Faure Songs with Malcolm Martineau andlooks forward to the release of Bach's Magnificat and B Minor Mass in the coming months both for Hyperion.
He is the recipient of the 2010 Royal Philharmonic Young Artist of the Year Award, the 2012 & 2014 Gramophone Recital Award, the 2013 Critics' Circle Awards for Exceptional Young Talent (Singer).
James Hall
Praised by The Arts Desk for his "flawless," "stand-out" performances on opera, concert and theatre stages around the world, countertenor James Hall enjoys great success in baroque and contemporary repertoire, and regularly appears with some of the world's leading ensembles and opera companies.
In the 2018/19 season, Hall makes his Glyndebourne Festival debut for their revival production of Handel's Rinaldo, and his house and role debut at the Opéra National de Montpellier as Oberon in Britten's A Midsummer Night's Dream. Other performances in recent seasons include a tour of Purcell and Blow duets with countertenor Iestyn Davies at Wigmore Hall and the Palace of Versailles, Guildenstern in Brett Dean's Hamlet for Glyndebourne on Tour, Narciso for Grange Festival's production of Handel's Agrippina, and the role of Farinelli alongside Oscar-winning actor Mark Rylance in the Olivier and Tony Award nominated play Farinelli and the King on Broadway, New York City.
Further ahead, Hall makes his first appearance with the Scottish Chamber Orchestra, has his house debut at Deutsche Oper Berlin as Oberon in A Midsummer Night's Dream, and sings Goffredo in Glyndebourne on Tour's Rinaldo.
He has created the roles of Leon in Laurence Osborn's The Mother with director Frederic Wake-Walker and Mahogany Opera Group, and Johan in the world premiere of David Bruce's Nothing for Glyndebourne. On the concert platform, Hall joined The English Concert and Harry Bicket at Wigmore Hall for Bach Advent Cantatas, as well as their performance of Handel's Rinaldo at Carnegie Hall, where he made his debut performing with Sir John Eliot Gardiner in Monteverdi's L'Orfeo. He sang Adalberto in Handel's Ottone with George Petrou and Il Pomo d'Oro at Festival de Beaune, Hamor in Handel's Jephtha with the Academy of Ancient Music, Zephyrus in Mozart's Apollo et Hyacinthus with Ian Page and Classical Opera, joined Christian Curnyn and the Early Opera Company for their recent performances of Handel's Giulio Cesare, Bernstein's Chichester Psalms for BBC Radio 3, Mozart Requiem with Masaaki Suzuki and the Singapore Symphony Orchestra, and Bach St John Passion with Harry Bicket and the Royal Northern Sinfonia.
Hall studied at the Royal College of Music, was awarded the Sir Geraint Evans Prize in 2009 and again in 2010, and the inaugural Somerset Song Prize in 2013.

Booklet for Elegy