---
Album info
Album including Album cover
I`m sorry!
Dear HIGHRESAUDIO Visitor,
due to territorial constraints and also different releases dates in each country you currently can`t purchase this album. We are updating our release dates twice a week. So, please feel free to check from time-to-time, if the album is available for your country.
We suggest, that you bookmark the album and use our Short List function.
Thank you for your understanding and patience.
Yours sincerely, HIGHRESAUDIO
Hildur Guðnadóttir (b. 1982):

1

Guðnadóttir: Fólk fær andlit (Arr. Jarkko Riihimäki)

05:20

Hildegard von Bingen (1098 - 1179):

2

Hildegard von Bingen: O frondens virga (Arr. Missy Mazzoli)

04:07

Missy Mazzoli (b. 1980):

3

Mazzoli: A Thousand Tongues

06:44

Sarah Kirkland Snider (b. 1973):

4

Snider: Penelope: IV. The Lotus Eaters

05:57

Missy Mazzoli:

5

Mazzoli: Song from the Uproar: XII. You Are the Dust (Arr. Jarkko Riihimäki)

03:55

Hildur Guðnadóttir:

6

Guðnadóttir: Líður (Arr. Jarkko Riihimäki)

03:45

Missy Mazzoli:

7

Mazzoli: Vespers for a New Dark Age: II. Hello Lord

02:23

8

Mazzoli: Song from the Uproar: II. This World Within Me Is Too Small (Arr. Jarkko Riihimäki)

04:28

Sarah Kirkland Snider:

9

Snider: Caritas

05:35

Hildegard von Bingen:

10

Hildegard von Bingen: O virtus sapientiae (Arr. Sarah Kirkland Snider)

04:48

Sarah Kirkland Snider:

11

Snider: Penelope: IX. Dead Friend

02:40

12

Snider: Penelope: V. Nausicaa

03:09

Total Runtime

52:51
Info for enargeia

Concept, character and cool – Emily D'Angelo's debut album on Deutsche Grammophon encompasses everything that comes so naturally to this young Canadian vocalist. Her chosen title for this thoughtfully curated sonic journey comes from Hellenistic rhetoric and sums up the essence of the album: enargeia – in the artist's own words – "a description so vivid it seems to conjure its subject into existence."
D'Angelo has chosen music from the 12th and 21st centuries written by four female composers – Hildegard von Bingen, Hildur Guðnadóttir, Missy Mazzoli and Sarah Kirkland Snider – several of whose works are presented in brand-new chamber/electronic arrangements. "Each track is born out of the previous," explains the singer, "as the listener is guided through a progression, a cohesive and exploratory listening experience."
enargeia was recorded in Berlin between December 2020 and March 2021 in collaboration with das freie orchester Berlin and conductor Jarkko Riihimäki, the Kuss Quartett and Matangi Quartet, and solo instrumentalists Wolfgang Fischer, Rene Flächsenhaar, Mikayel Hakhnazaryan, Frédéric L'Épée, Jonas Niederstadt, Marc Prietzel, Marion Ravot, Christian Vogel and Norbert Wahren. The album will be released on 8 October 2021.
D'Angelo's starting-point in creating energeia was the work of a musical and intellectual luminary, the medieval Benedictine abbess, scientist, poet, composer and visionary Hildegard von Bingen. As she recalls, "I discovered her music as a kid, when I was singing in choir, and I was transfixed. I'd never heard anything like it before, yet it all sounded so familiar and organic." Hildegard's influence runs like a thread throughout the album, whose works, says the singer, all have in common "the sense of expansiveness in her compositions, the multi-disciplinary expression of her ideas and her belief in music as a heightened communicative mode."
D'Angelo's concept of the music she performs is the combination of words, rhythm and pitch: "No matter the style, it all comes down to these three things," and Hildegard von Bingen's work exemplifies this in its essential quality as "a single vocal line and the text." The composer's two pieces on the album, one in praise of divine wisdom, "O virtus Sapientiae", the other an antiphon to the Virgin Mary, "O frondens virga", are heard in arrangements by two outstanding contemporary American composers whose original work also features here: Sarah Kirkland Snider and Missy Mazzoli. D'Angelo brings a radiant purity to the Latin lyrics and unadorned vocal lines of both new settings.
If Hildegard marks one point in the long history of spirituality in music, Missy Mazzoli marks another in her Vespers for a New Dark Age. For D'Angelo it's "a completely different take on the spiritual element of music." This 2014 work in fact replaces the texts of the traditional Vespers service with secular poetry by contemporary American writer Matthew Zapruder, while at the same time preserving the ritual and repetitive qualities of the original. Both the Vespers pieces and the two excerpts from Song from the Uproar, Mazzoli's chamber opera about the extraordinary life of Swiss explorer, writer and Sufi Isabelle Eberhardt, highlight the dramatic flair that has already brought D'Angelo such glowing reviews for her operatic performances.
The element of character is further explored in the presence of the classical figure of Penelope in the song-cycle of that name by Sarah Kirkland Snider. Inspired by Homer's The Odyssey, it tells of a woman's husband, veteran of an unnamed war, who returns, brain-damaged, after a 20-year absence. "Ruminating on themes of memory, identity and returning home," says D'Angelo, "these works show how art, literature and history can serve as a gateway to understanding the present." She infuses her interpretations of the three extracts presented here with dark, haunting colors, while her clarity of tone, notable throughout enargeia, brings out every nuance of Ellen McLaughlin's emotive lyrics.
Past and present co-exist too in the work of the Icelandic composer Hildur Guðnadóttir, "whose use of bowed instruments as a drone," notes D'Angelo, "harkens to medieval music but through a modern, ambient lens." In "Fólk faer andlit", part of the composer's 2020 response to the plight of refugees in her native country, D'Angelo's voice soars above winds and strings in a line of plainchant-like simplicity, while her gleaming vocals are used to stunning effect in Liður, an extract from Guðnadóttir's award-winning music for the TV series Chernobyl.
The album showcases a host of musical collaborators, notably Jarkko Riihimäki who has arranged many of the pieces, creating a broad range of sensitive accompaniments that offset the singer's rich tone with everything from a single cello to a 20-piece string orchestra, and ultimately broadens into electric guitar, bass and drums while D'Angelo duets with herself in the final work, Snider's "The Lotus Eaters".
Emily D'Angelo, mezzo-soprano
Das Freie Orchester Berlin
Jarkko Riihimäki, conductor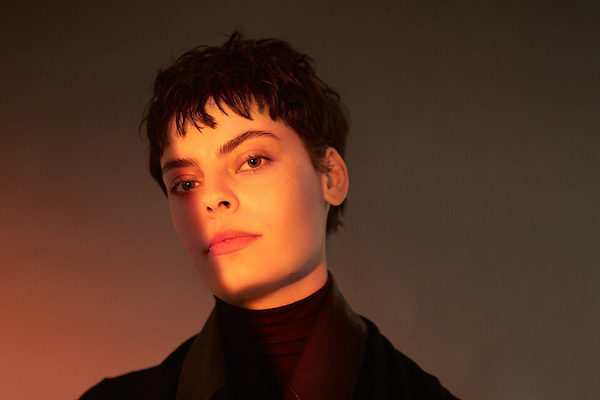 Emily D'Angelo
is the first and only vocalist to have been presented with the Leonard Bernstein Award from the Schleswig Holstein Festival. One of WQXR NYC Public Radio's "40 Under 40" singers to watch, Canada's "Top 30 Under 30" Classical Musicians, and the recipient of a 2020 Lincoln Center Emerging Artist Award, D'Angelo has won first prize in opera's most prestigious international competitions including the Operalia Competition where a historic win included First Prize, the Zarzuela Prize, the Birgit Nilsson Prize, and Audience Prize, as well as the Metropolitan Opera Competition, the Canadian Opera Company Competition, the George London Competition, the Gerda Lissner Competition, the Innsbruck Baroque Competition, and the Monini Prize from the Spoleto Festival dei Due Mondi. ​
A staple of D'Angelo's operatic repertoire is the music of Mozart; beginning with a stage debut in 2016 as Cherubino in Le nozze di Figaro at the Spoleto Festival dei Due Mondi with Maestro James Conlon, D'Angelo has gone on to perform Cherubino at the Berlin Staatsoper and the Bayerische Staatsoper; Annio in the 2019 critically acclaimed production of La clemenza di Tito at the Metropolitan Opera; and Dorabella in Così fan tutte at Teatro alla Scala (broadcast live on RAI), the Canadian Opera Company, and the Santa Fe Opera. In 2021 she will make her company and role debut in a new production at The Royal Opera House as Sesto in La clemenza di Tito, and will return to the Bayerische Staatsoper for her role debut as Idamante in a new production of Idomeneo , and the Berlin Staatsoper Unter den Linden as Cherubino in a new production of Le nozze di Figaro (Broadcast live on Mezzo TV). ​
Another cornerstone of D'Angelo's repertoire is the music of Rossini; D'Angelo made a debut as Rosina in Il barbiere di Siviglia at The Glimmerglass Festival in a new production by Francesca Zambello, and has gone on to perform the role at the Canadian Opera Company, and the Santa Fe Opera. D'Angelo has sung Rossini's seldom-performed cantata Giovanna d'Arco numerous times in concert, both with the original piano score as well as with full orchestra. She looks forward to adding the title role in Cenerentola to her repertoire in future seasons.
D'Angelo has performed diverse recital repertoire at numerous international venues, including the New York Park Avenue Armory, the Kennedy Center Vocal Arts DC, Chile Teatro del Lago, Athens Stavros Center, the Toronto Summer Music Festival, the Los Angeles SongFest Recital Series, the New York Morgan Library, Toronto Koerner Hall, the Santa Fe Festival of Song, the Palm Beach Society for the Four Arts, the Princeton University Concert Series, and has appeared in concert with orchestras including Los Angeles Philharmonic, Toronto Symphony Orchestra, Puerto Rico San Juan Symphony, Schleswig Holstein Festival Orchestra, Canadian Opera Company Orchestra, Cincinnati Symphony Orchestra, Deutsche Oper Berlin Orchestra, Montclair Orchestra, and National Arts Centre Orchestra. ​
D'Angelo was a featured soloist on the Toronto Symphony Orchestra's live-recorded album "Vaughan Williams," which was Grammy Nominated for Best Classical Compendium 2019, and awarded a JUNO for Best Large Ensemble Classical Album, is featured on the first ever international production of PBS's Live From Lincoln Center which was filmed live from Athens, Greece, with the Chamber Music Society of Lincoln Centre and has been released on DVD/CD as "Odyssey." D'Angelo can also be seen in various productions live from the Met, including audio recordings of Annio in La clemenza di Tito, Second Lady in The Magic Flute, and the Met Live in HD broadcast as Soeur Mathilde in Dialogues des Carmélites. ​
Toronto-born, D'Angelo is an alumna of the Metropolitan Opera Lindemann Young Artist Development Program, the Canadian Opera Company Ensemble Studio, and the Ravinia Steans Institute. She is a graduate of the University of Toronto, and a grateful grant recipient of the Jacqueline Desmarais Foundation.

This album contains no booklet.