---
Album info
Album including Album cover Booklet (PDF)
Sven-David Sandström (1942 - 2019):

1

In paradisum

04:39

Ola Gjeilo (b. 1978):

2

Sanctus (London)

05:02

Matthew Peterson (b. 1984):

3

Cantate domino

06:01

Jacob Mühlrad (b. 1991):

4

Anim zemriot

08:30

James MacMillan (b. 1959):

5

Miserere

13:40

Alfred Schnittke (1934 - 1998): 3 Sacred Hymns:

6

3 Sacred Hymns: No. 1, —

01:46

7

3 Sacred Hymns: No. 2, —

01:24

8

3 Sacred Hymns: No. 3, —

04:03

Arvo Pärt (b. 1935):

9

Which Was the Son Of...

07:47

10

Nunc dimittis

07:07

Karin Rehnqvist (b. 1957):

11

Jag lyfter mina händer

04:27

Paul Mealor (b. 1975):

12

The Beatitudes

05:04

Total Runtime

01:09:30
Info for In Paradisum

As the sun sets a jet of orange begins to fill the clouds and sky like a fire dancing around trees. However, it is a peaceful and harmonious fire which softens into the colour of a peach, still holding its suspense as glowing embers do. The horizon transitions into a soft pink, and as if in a dream a hint of purple leads the way into a star specked night.
Sofia Vokalensemble welcomes you to a musical tour featuring the most treasured gems in our musical universe. These renditions consist of our favourite and most frequently performed composers in pieces that depict perceived divinity. Through lyrics and meditative melodies, combined with the fires of our soulful journey made through music, we aspire to help you find your own inner paradise, or perhaps just a brief moment of inner peace.
Sofia Vokalensemble
Bengt Ollen, conductor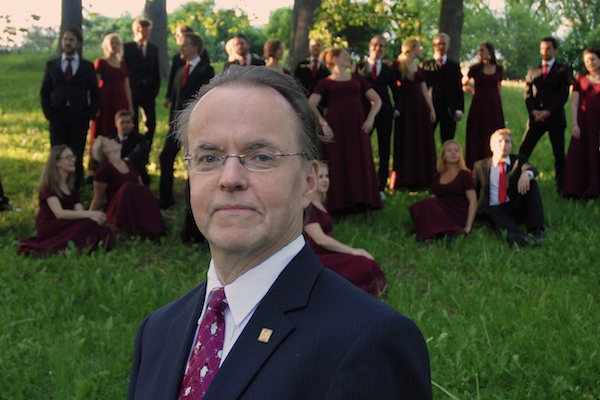 Bengt Ollén
is the founder and musical director of Sofia Vokalensemble. Since 1995 he has led the ensemble with great passion and undying enthusiasm. His leadership has helped shape Sofia Vokalensemble into a distinctive choir brimming with positive energy.
Bengt Ollén studied under Gösta Ohlin and Gunnar Eriksson at the Academy of Music and Drama in Gothenburg. Since 1981 he has founded several successful choirs and further honed his skills. Ollén is in demand as an adjudicator in competitions, a conductor at festivals, workshops and concerts, both nationally and internationally and also as a teacher of conducting. Between the years 1994 and 2018, he was a teacher of choral singing at the well-known secondary school Stockholms Musikgymnasium. His choral ensembles have been highly successful at competitions around the world.
Constantly strengthening the choir's group dynamics has been one of Bengt Ollén's hallmarks. To this end, he uses creative improvisation techniques that produce exciting concert pieces and melody interpretations. He never ceases to encourage communication between the singers, both musically and outside rehearsals. Ollén firmly believes that making good music is a group effort.
The performances of Sofia Vokalensemble under Bengt Ollén's musical direction are characterised by a Swedish choral sound, stage presence and a joy of singing that has proven successful in international competitions and concerts all over the world.
Sofia Vokalensemble
In 1995, Sofia Vokalensemble was founded by Bengt Ollén, who continues to be their committed artistic director. Performances are characterized by a warm, lyrical Swedish choral sound and a stage presence that has taken the ensemble far in international competitions, tours and concerts
Music by Bach, Poulenc, Pärt and Schnittke are frequently featured. The choir has also premiered original work by Jaakko Mäntyjärvi, Fredrik Sixten, Jacob Mühlrad, Sven-David Sandström, Matthew Peterson and Karin Rehnqvist, to name a few. Sofia Vokalensemble is characterized by their great love for music, their pursuit of excellence and their close interaction with their conductor – always with a lot of heart, regardless if the occasion is a regular rehearsal, training camp, travelling to a venue or behind the scenes before a competition. And, of course, on stage together.

Booklet for In Paradisum