---
Johann Sebastian Bach: The Complete Works for Keyboard, Vol. 4 "Alla Veneziana" Benjamin Alard
Album info
Album including Album cover Booklet (PDF)
Johann Sebastian Bach (1685 - 1750):

1

Concerto in G Major, BWV 973: I. [no indication]

02:13

2

Concerto in G Major, BWV 973: II. Largo

01:57

3

Concerto in G Major, BWV 973: III. Allegro

02:28

4

Concerto in G Minor, BWV 975: I. [no indication]

03:10

5

Concerto in G Minor, BWV 975: II. Largo

03:10

6

Concerto in G Minor, BWV 975: III. Giga Presto

02:08

7

Concerto in B Minor, BWV 979: I. Allegro

01:16

8

Concerto in B Minor, BWV 979: II. Adagio

00:40

9

Concerto in B Minor, BWV 979: III. Allegro

03:20

10

Concerto in B Minor, BWV 979: IV. Andante

01:09

11

Concerto in B Minor, BWV 979: V. Adagio

00:46

12

Concerto in B Minor, BWV 979: VI. Allegro

03:46

13

Concerto in D Major, BWV 972: I. [no indication]

02:07

14

Concerto in D Major, BWV 972: II. Larghetto

03:05

15

Concerto in D Major, BWV 972: III. Allegro

02:17

16

Fantasia and Fugue in A Minor, BWV 944

08:01

17

Concerto in D Minor, BWV 974: I. [no indication]

03:07

18

Concerto in D Minor, BWV 974: II. Adagio

03:25

19

Concerto in D Minor, BWV 974: III. Presto

03:50

20

Prelude and Fugue in A Minor, BWV 894: I. Prelude

05:51

21

Prelude and Fugue in A Minor, BWV 894: II. Fugue

04:41

22

Concerto in G Major, BWV 980: I. [no indication]

03:59

23

Concerto in G Major, BWV 980: II. Largo

03:07

24

Concerto in G Major, BWV 980: III. Allegro

04:08

25

Organ Concerto in A Minor, BWV 593: I. [Allegro]

03:52

26

Organ Concerto in A Minor, BWV 593: II. Adagio

03:41

27

Organ Concerto in A Minor, BWV 593: III. Allegro

03:55

28

Concerto in F Major, BWV 978: I. Allegro

02:23

29

Concerto in F Major, BWV 978: II. Largo

01:29

30

Concerto in F Major, BWV 978: III. Allegro

02:38

31

Organ Concerto in D Minor, BWV 596: I. [Allegro]

00:54

32

Organ Concerto in D Minor, BWV 596: II. Grave

00:17

33

Organ Concerto in D Minor, BWV 596: III. Fuga

03:10

34

Organ Concerto in D Minor, BWV 596: IV. Largo e spiccato

02:39

35

Organ Concerto in D Minor, BWV 596: V. [no indication]

03:10

36

Concerto in C Major, BWV 976: I. [no indication]

04:06

37

Concerto in C Major, BWV 976: II. Largo

03:11

38

Concerto in C Major, BWV 976: III. Allegro

03:12

39

Prelude and Fugue in G Minor, BWV 535

07:01

40

Organ Concerto in G Major, BWV 592: I. [Adagio]

03:13

41

Organ Concerto in G Major, BWV 592: II. Grave

02:01

42

Organ Concerto in G Major, BWV 592: III. Presto

01:57

43

Fantasie and Fugue in G Minor, BWV 542/2 (excerpt): II. Fugue

06:12

44

Organ Concerto in C Major, BWV 594: I. [Allegro]

07:15

45

Organ Concerto in C Major, BWV 594: II. Recitativ. Adagio

03:35

46

Organ Concerto in C Major, BWV 594: III. Allegro

08:47

47

"Wo soll ich fliehen hin", BWV 694

03:17

48

Trio for organ in D Minor, BWV 583

05:00

49

"Valet will ich dir geben", BWV 736

04:08

50

Trio super "Allein Gott in der Höh sei Ehr", BWV 664

05:37

51

"Wir glauben all an einen Gott" BWV-Anh. 69

03:07

52

"Vom Himmel hoch, da komm ich her" BWV-Anh. 65

01:16

53

"Freu dich sehr, o meine Seele" BWV-Anh. 52

03:32

54

"Jesu, meine Freude" BWV-Anh. 58

03:09

55

Toccata in C Major, BWV 564: I. Toccata

05:41

56

Toccata in C Major, BWV 564: II. Adagio

04:42

57

Toccata in C Major, BWV 564: III. Fugue

05:07

Total Runtime

03:16:55
Info for Johann Sebastian Bach: The Complete Works for Keyboard, Vol. 4 "Alla Veneziana"

With this volume 4 in a complete recording of Bach's keyboard works whose ingenuity has been underlined by every reviewer (e.g. Gramophone, July 2020), Benjamin Alard continues to explore the Weimar period, known as that of his 'early mastery'. After À la française, we turn to Italy, where the Vivaldian concerto reigned in Venice. The young Bach created here a wonderful space of freedom between the transcriber and the improviser. For 'if transcription is a matter of freedom, it is also a matter of powerful imagination: each piece on this recording transports us into a Venetian universe that fascinated Bach as much as it inspired him', as Benjamin Alard demonstrates on three exceptional instruments.
Benjamin Alard, harpsichord, organ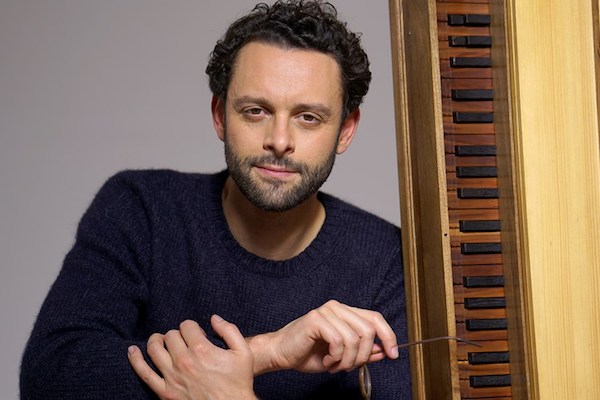 Benjamin Alard
Benjamin's principal passion has always been the music of J.S. Bach and it was for his interpretation of this great composer that he was awarded first prize in the 2004 International Harpsichord Competition in Bruges.
While still quite young he began studying music in his hometown in Dieppe, France. He was soon drawn to the organ and entered the Conservatory of Rouen where he studied with Louis Thiry and François Ménissier.
He was first introduced to the harpsichord by Elizabeth Joyé, with whom he studied in Paris before going on, in 2003, to the Schola Cantorum in Basel to work with Jorg-Andreas Botticher, Jean-Claude Zehnder and Andrea Marcon.
Since 2005 he has been organist of the Bernard-Aubertin organ in the church of Saint-Louis-en-l'Ile where each season he gives concerts about the music of Bach.
Today Benjamin Alard divides his time between performing recitals and chamber music on both the harpsichord and organ. He often performs repertoire for two harpsichords, in duo with the violinist Francois Fernandez and in various formations with the brothers Barthold, Sigiswald and Wieland Kuijken. He is regularly invited to perform as soloist in music series in Europe, Japan and North America.
Since 2005 he has been a member of La Petite Bande, an ensemble founded in 1973 by Gustav Leonhardt and Sigiswald Kuijken, often, in the last few years, conducting the group from the harpsichord.
Benjamin Alard has recorded for the label Hortus and has made several recordings of works by J. S. Bach for Alpha. His recordings have consistently received high praise from the press and have been awarded multiple prizes.
He will now devote himself to the complete works for harpsichord and organ solo of Johann Sebastian Bach for harmonia mundi. The first box will be released in Spring 2018.

Booklet for Johann Sebastian Bach: The Complete Works for Keyboard, Vol. 4 "Alla Veneziana"