---
Album info
Album including Album cover Booklet (PDF)
1

Ahan

04:04

2

Eyin

03:58

3

Omije

07:30

4

Ogbo

04:19

5

Alikama

05:39

6

Ife

05:52

7

Obinrin

05:33

Total Runtime

36:55
Info for Queen of Sheba

Ibrahim Maalouf and Angélique Kidjo will release their new album "Queen Of Sheba". While these two superstars of international music have collaborated before, this is their very first album together. Maalouf is a world-renowned trumpeter, composer and multi-instrumentalist who has sold out the biggest arena in his home country of France and was recently a musical guest on The Late Show with Stephen Colbert, and Kidjo is a 5-time GRAMMY winner (winning Best Global Album for her latest album Mother Nature at the 2022 Awards) and recently named a Time 100 Most Influential Person.
Queen of Sheba is bursting with a thrilling, vibrant energy. A soaring 7-part suite, it was inspired by, and reinvents, the myth of Queen Sheba, an African Queen who heard about the reputation of King Salomon and traveled to Jerusalem to witness the king's wisdom. It's an ancient story that's appeared in the Bible, the Quran, the Talmud and in Ethiopian literature among countless other films and writings.
Queen Of Sheba was composed and scored entirely by Maalouf with all lyrics by Kidjo, and sung by Kidjo in Yoruba. In addition to masterful quarter-tone trumpet performance from Maalouf highlighted throughout the recording, he composed and arranged the music for a full orchestra including strings, horns, drums, percussion, guitar, bass and electric piano. Kidjo's long-celebrated voice is full of power, grit and grace as she reimagines a myth that has long captivated the world in a thought-provoking, modern light.
Long in the making, the idea for Sheba first came together when Maalouf and Kidjo first met, in New York City, in 2018, and from the outset envisioned a project that would blend the music and culture of their backgrounds together: a fusion of the Middle East (Maalouf was born in Lebanon) and Africa (Kidjo was born in Benin). Queen Of Sheba doubles down on the dramatic, an ambitious set that touches upon rock, pop, orchestral music and sounds from across the spectrum of the Middle East and Africa. The album begins with "Ahan," propelled by lightning-quick ostinato rhythms and instruments that seem to float and growl in equal measure. The mysterious "Eyin" follows, punctuated by snare drum snaps and an explosion of percussion. There are moments of somber reflection as well, as "Ife" begins, just Kidjo and guitar.
Prior to it being recorded, Queen Of Sheba has been performed live by Maalouf and Kidjo on some of the most prestigious stages, including Carnegie Hall in New York City, at the Marciac Jazz Festival and North Sea Jazz Fest. After the success of these limited live performances, Maalouf and Kidjo hit the studio. It was recorded at the famous Studio Ferber in Paris as well as Studio Diasporas (Ivry-sur-Seine) and Revival Studio in Los Angeles.
Sheba will also kick off a tremendous year ahead for Maalouf, who has a new solo album slated to be released this fall with a number of special guests that finds him completely reinventing his sound. He recently teased the project with "El Mundo"featuring Flavia Coelho and Tony Romera. Stay tuned for more information.
Angélique Kidjo, vocals
Ibrahim Maalouf, trumpet
Please Note: We offer this album in its native sampling rate of 48 kHz, 24-bit. The provided 96 kHz version was up-sampled and offers no audible value!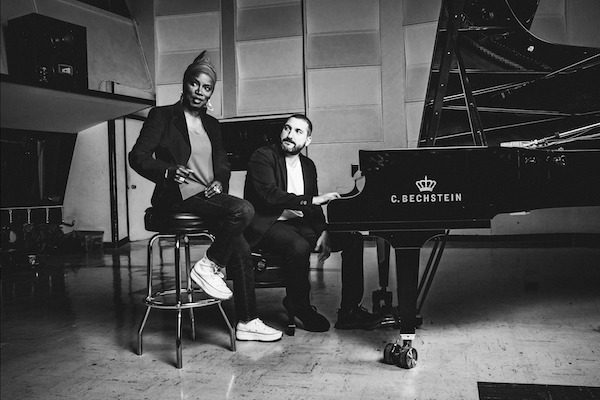 Angelique Kidjo
Five-time Grammy Award winner Angélique Kidjo is one of the greatest artists in international music today, a creative force with sixteen albums to her name. Time Magazine has called her "Africa's premier diva", and named her one of the 100 most influential people in the world for 2021. The BBC has included her in its list of the continent's 50 most iconic figures, and in 2011 The Guardian listed her as one of their Top 100 Most Inspiring Women in the World. Forbes Magazine has ranked Angelique as the first woman in their list of the Most Powerful Celebrities in Africa. She is the recent recipient of the prestigious 2015 Crystal Award given by the World Economic Forum in Davos, Switzerland, the 2016 Amnesty International Ambassador of Conscience Award, and the 2018 German Sustainability Award.
Ibrahim Maalouf
Hailed as a "virtuoso" by The New York Times, trumpet superstar Ibrahim Maalouf has spent his career crossing borders and blurring genres, mixing jazz, pop, classical, electronic, Middle Eastern, and African influences into an explosive, cross-cultural swirl. Born in the midst of a deadly civil war, Maalouf escaped Beirut with his family as a child and spent his formative years in France, where he first fell in love with music's power to transcend race and language. After winning a string of prestigious classical competitions, he began composing his own critically acclaimed work, which soon made him a household name in France, where he sold out the country's largest concert venue, the Accor Arena. Over the course of more than a dozen albums, Maalouf would go on to perform in more than 40 countries, be scouted by Quincy Jones, appear on The Late Show with Stephen Colbert, raise millions for charity, and collaborate with everyone from Wynton Marsalis and Jon Batiste to Josh Groban and Sting. In 2021, Maalouf performed in front of the Eiffel Tower on Bastille Day for an estimated six million viewers.

Booklet for Queen of Sheba