---
Album info
Album including Album cover
I`m sorry!
Dear HIGHRESAUDIO Visitor,
due to territorial constraints and also different releases dates in each country you currently can`t purchase this album. We are updating our release dates twice a week. So, please feel free to check from time-to-time, if the album is available for your country.
We suggest, that you bookmark the album and use our Short List function.
Thank you for your understanding and patience.
Yours sincerely, HIGHRESAUDIO
1

Hot Thoughts

03:04

2

Longer the Wait, Harder the Fall

03:42

3

Torch // Flame

03:53

4

The Beat

03:24

5

Echoes

03:27

6

Heavens (Then We Begin)

05:09

7

In Your Eye

03:29

8

CCCcowboys

05:09

9

Sleepin' In

05:29

Total Runtime

36:46
Info for Torch // Flame

Swedish Grammy Award winning rock duo, Johnossi release their new single 'Echoes' and also announce their forthcoming sixth album 'Torch // Flame'
Guitarist/vocalist John Engelbert and drummer Oskar "Ossi" Bonde turned the album itself into an exploration of the wildly conflicting forces that shape our existence. On single 'Echoes' Engelbert explains: "A song about being driven by ego and the shame and darkness that comes with being a destructive individual. This was the first song we wrote for the album and it set the tone."
The music video for the track is entirely using clips from the 1968´s cult classic horror movie 'Night of The Living Dead', directed by George A. Romero. It´s edited and done by lead singer John Engelbert and his wife Nathalie who had never worked on a music video before. All started with them just having fun and playing around.
"We had this idea of a video that felt haunting, psychological and a bit psychedelic too," explains Engelbert. "Being a fan of black and white 60's horror films for a long time, Nathalie had wanted to do something with the material from 'Night of The Living Dead' for a while. When she heard 'Echoes' she instantly felt that the two would fit well together. By using handpicked scenes from the film and adding a few very simple (crappy) effects we started building our own storyline. A psyche within the film. It was remarkable how the original editing of the film synched so well with the rhythm and pulse of the track."
The estate of the late director George A. Romero in America gave their approval of the film clips usage.
Johnossi made their comeback in November 2019 with first single 'Longer The Wait, Harder The Fall'. Produced and mixed by Pelle Gunnerfeldt (The Hives, Refused, Viagra Boys), forthcoming album 'Torch // Flame' came to life through Johnossi's most immersive album-making experience yet. In an effort to distance themselves from the distractions of everyday life, the band headed to the countryside outside Stockholm and holed up in a huge lakeside mansion, spending all of September 2019 in that happily isolated environment.
"We were pretty much eating, breathing, and sleeping the whole process of creating this record, and it brought a really special feeling into the work," says Bonde. "It felt as if it was never meant to be any other way."
In a departure from their previous album Blood Jungle (a 2017 release made with more pop-leaning producers), Torch // Flame finds Johnossi embracing the raw and untamed vitality of their earliest output – an element that Gunnerfeldt helped to amplify.
Johnossi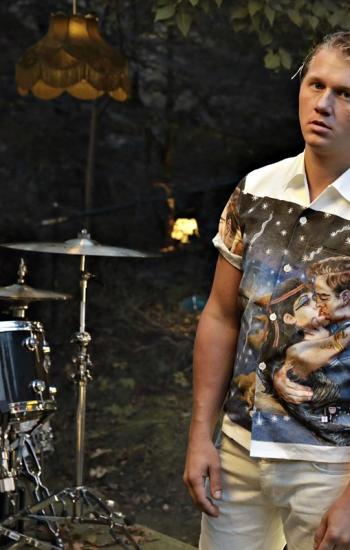 Johnossi
is a rock duo from Saltsjöbaden, Stockholm, Sweden. The band consists of John Engelbert on vocals and guitar, and Oskar "Ossi" Bonde on drums and vocals. The members' names form the band name Johnossi.
Although there are only two members in the band they have a lot of energy, both live and on recordings. Ossi plays powerful drums and John prefers to play an acoustic guitar which further characterizes their sound.
Engelbert and Bonde first met when they were 12 and 15 years old, respectively, and started playing together as a duo in 2004. They recorded their first album after only five months as a band, and with only three live shows to their credit. Their self-titled first album was released in January 2005 by a small Swedish indie label; it was rereleased in September 2006 by V2 Music with an additional three tracks.
Their second album, All They Ever Wanted, had its Scandinavian and Western European release in April 2008, followed by a Japanese release in 2009.
Johnossi has toured extensively in Sweden and Western Europe, both alone and with other Swedish bands such as The Soundtrack of Our Lives, Mando Diao and Sibling Sense. They also toured the US in 2007 with Shout Out Louds. In 2009, they made their first appearances in Japan, supporting The Hives.
In June 2010, the band supported Green Day at Ullevi in their home country.[1]
In 2016 "Into The Wild" was used in the USA Network remake of Eyewitness as the opening song.
Their music is characterized by a full guitar sound supported by Engelbert's unorthodox guitar rig and myriad effects pedals, and Bonde's straightforward beats; studio releases often feature colorful percussion accents on instruments such as tambourine, woodblock, guiro, and chimes. A variety of musical styles appear in their work, from hard rock, to blues riffs, post-punk, and even gloom-pop, though lyrical themes are almost uniformly personal and slightly angsty.

This album contains no booklet.