---
Album info
Album including Album cover Booklet (PDF)
Igor Stravinsky (1882-1971):

1

Pastorale (Arr. for Violin & Piano)

02:47

L'oiseau de feu, KC 10 (Arr. for Violin & Piano):

2

L'oiseau de feu, KC 10 (Arr. for Violin & Piano): Prélude et ronde des princesses

05:06

3

L'oiseau de feu, KC 10 (Arr. for Violin & Piano): Berceuse

02:47

4

L'oiseau de feu, KC 10 (Arr. for Violin & Piano): Scherzo

02:31

Mavra:

5

Mavra: Chanson russe (Arr. for Violin & Piano)

03:30

Petrushka:

6

Petrushka: Danse russe (Arr. for Violin & Piano)

02:33

Suite d'après thèmes, fragments et pièces de Giambattista Pergolesi:

7

Suite d'après thèmes, fragments et pièces de Giambattista Pergolesi: I. Introductione

02:04

8

Suite d'après thèmes, fragments et pièces de Giambattista Pergolesi: II. Serenata

02:53

9

Suite d'après thèmes, fragments et pièces de Giambattista Pergolesi: III. Tarantella

01:51

10

Suite d'après thèmes, fragments et pièces de Giambattista Pergolesi: IV. Gavotta con due variazioni

04:05

11

Suite d'après thèmes, fragments et pièces de Giambattista Pergolesi: V. Minuetto e finale

04:17

Duo concertant:

12

Duo concertant: I. Cantilene

02:52

13

Duo concertant: II. Eglogue I

02:21

14

Duo concertant: III. Eglogue II

03:01

15

Duo concertant: IV. Gigue

04:31

16

Duo concertant: V. Dithyrambe

02:36

Le chant du rossignol (Arr. for Violin & Piano):

17

Le chant du rossignol (Arr. for Violin & Piano): Le chant du rossignol

05:08

18

Le chant du rossignol (Arr. for Violin & Piano): Marché chinoise

03:07

Claude-Joseph Rouget de Lisle (1760 - 1836): La marseillaise:

19

La marseillaise (Version for Violin)

01:03

Total Runtime

59:03
Info for Stravinsky: Music for Violin, Vol. 1

In his autobiography, Igor Stravinsky wrote of his not having had any 'great liking' for the combination of strings and piano. That there nevertheless are a number of chamber works by him featuring the violin is to a large extent due to the violinist Samuel Dushkin. The two were introduced to each other by Stravinsky's German music publisher who wanted to persuade him to compose a violin concerto. They obviously hit it off: their collaboration continued after the concerto had come into being in 1931, and they devised a recital programme to perform together on tours.
The centrepiece was Duo concertant which Stravinsky completed in 1932 as his only original composition for violin and piano. Rather than looking for common ground between the two instruments, Stravinsky aimed to emphasize their individuality in a work that he himself claimed was 'determined by my love of the pastoral poets of antiquity and their scholarly art and technique'. The other pieces on this disc are, with one exception, arrangements of Stravinsky's own works including The Firebird, Petrushka and Le rossignol. The majority were made for and in collaboration with Dushkin, but a few come from the 1920s and were intended for the violinist Paul Kochanski.
One of these is the Suite for violin and piano, arranged from the ballet Pulcinella – material that Stravinsky revisited in the 1930s in order to make a new version for Dushkin. (The resulting Suite italienne will appear on the second and last volume of Stravinsky's music for violin, together with the violin concerto and other works.) With this programme, and in the company of the eminent Russian pianist Peter Laul, the highly virtuosic and temperamental violinist Ilya Gringolts makes his return to BIS, the label for which he made his début recording in 1999.
Ilya Gringolts, violin
Peter Laul, piano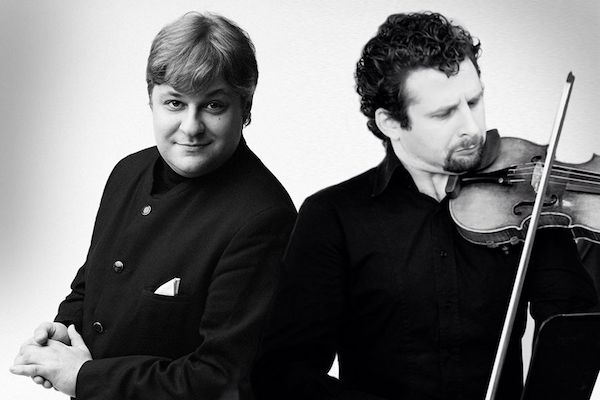 Ilya Gringolts
The Russian violinist Ilya Gringolts wins over audiences with his extremely virtuosic playing and sensitive interpretations, and is always looking for new musical challenges. As a sought-after soloist, he devotes himself to the great orchestral repertoire but also to contemporary and seldom-played works. He has premiered compositions by Peter Maxwell Davies, Augusta Read Thomas, Christophe Bertrand and Michael Jarrell. In addition, he is interested in historical performance practice: most recently he could be seen in a play-conduct role performing Paganini's Violin Concerto No. 1 in its original key with the Finnish Baroque Orchestra, and was invited as soloist with the Oxford Philharmonia.
Ilya Gringolts has performed with leading orchestras around the world such as the Royal Liverpool Philharmonic, BBC Symphony, Deutsches Symphonie-Orchester Berlin, St. Petersburg Philharmonic, Los Angeles Philharmonic, Chicago Symphony, Melbourne Symphony, NHK Symphony, Mahler Chamber Orchestra, Sao Paulo State Symphony, Israel Philharmonic, Hallé Orchestra and both orchestras of Southwest German Radio. Recent highlights included projects with the Bamberg Symphony, Warsaw Philharmonic, BBC Scottish Symphony, Copenhagen Philharmonic, City of Birmingham Symphony Orchestra and Singapore Symphony. In 2016/17, highlights include his debut with the Bavarian Radio Symphony with Ligeti's Violin Concerto and a tour with the Israel Philharmonic Orchestra under the baton of his former teacher Itzhak Perlman.
He is also the first violinist of the Gringolts Quartet, which he founded in 2008 and which enjoys great success with performances at the Salzburg Festival, Lucerne Festival, Menuhin Festival Gstaad and Teatro La Fenice in Venice, among others. As a keen chamber musician, Ilya Gringolts collaborates with artists such as Yuri Bashmet, David Kadouch, Itamar Golan, Peter Laul, Aleksandar Madzar, Nicolas Altstaedt, Andreas Ottensamer, Antoine Tamestit and Jörg Widmann, and is a regular guest at the festivals in Lucerne, Kuhmo, Verbier, Colmar and Bucharest (Enescu Festival), as well as at Wigmore Hall, the Serate Musicali in Milan and St. Petersburg Philharmonia.
Following numerous critically praised recordings on the Deutsche Grammophon, BIS and Hyperion labels, Ilya Gringolts devoted himself to the chamber music of Robert Schumann from 2010 to 2011, releasing three CDs on Onyx. In 2013/14 his recording of Paganini's 24 Caprices for solo violin on Orchid Classics received many outstanding reviews, and in the orchestral realm, following his highly successful recording of Mieczysław Weinberg's Violin Concerto with the Warsaw Philharmonic Orchestra in 2015, most recently two new recordings have been released: Dvorak's violin concerto with Prague Philharmonia for Deutsche Grammophon, and the concertos by Korngold and Adams with Copenhagen Philharmonic (Orchid Classics).
After studying violin and composition in St. Petersburg with Tatiana Liberova and Jeanna Metallidi, he attended the Juilliard School of Music where he studied with Itzhak Perlman. In 1998 he won the International Violin Competition Premio Paganini, as the youngest first prize winner in the history of the competition.
As well as his position as violin professor at the Zurich Academy of the Arts, he is also a Violin International Fellow at the Royal Scottish Academy of Music and Drama in Glasgow. Ilya Gringolts plays a Giuseppe Guarneri "del Gesù" violin, Cremona 1742-43, on loan from a private collection
Peter Laul
was born into a musical family in St. Petersburg, Russia and received his education at the St.Petersburg Conservatory, where he studied with Prof. Alexander Sandler, and where he has since become a faculty member. He won the 3rd prize and special prize for the best Bach performance in the Bremen International Piano Competition in 1995 and again, in 1997, he won the 1st prize and special prize, this time for the best Schubert sonata performance. In addition to that, in 2000 he won 1st prize at the Scriabin International Piano Competition in Moscow and, in 2003, he was awarded the honorary medal "For achievements in the Arts" by the Ministry of Culture of the Russian Federation.
Peter Laul has performed as a soloist with the Saint Petersburg Philharmonic, the Mariinsky Theater Orchestra, the Moscow Symphony Orchestra, the Moscow State Kapella Orchestra, as well as numerous other Russian orchestras under the direction of conductors such as Maxim Shostakovich, Valery Gergiev, Vassily Sinaisky, Eri Klas, Jean-Claude Casadesus, Nikolai Znaider and Nikolai Alexeev among others. He has also performed with the Nordwestdeutsche Philharmonie, the Dessau, the Bremerhaven and the Oldenburg Theatre Orchestras (Germany), the Brasilian National Symphony Orchestra, the Estonian National Symphony and the Tallinn Chamber Orchestras (Estonia) and the 'Les Siècles' (France) under François-Xavier Roth.
Peter Laul's recital performances have taken him to the St. Petersburg Philharmonic Halls, the Symphony Hall of the Mariinsky Theater, the Moscow Conservatory Halls, the Moscow Tchaikovsky Hall and the new Moscow International House of Music. Abroad he has performed in the Auditorium du Louvre, the Théâtre de la Ville, Théâtre du Châtelet and the Musée d'Orsay in Paris, Salle Moliere and Opera Lyon, the Lincoln Center in New York, the Amsterdam Concertgebouw, the Vredenburg in Utrecht, Casino Basel, Die Glocke in Bremen, the Montpellier Corum, the Opera City Hall in Tokyo, the Luxembourg Philharmonic Hall, Le Theatre de la Monnaie in Brussels and in numerous venues and festivals throughout Russia, Europe, Japan and the USA. His most recent performances have been at the Serres d'Auteuil festival in Paris, the Schubertiade and Beethoven Festivals in Colmar, The Stars of White Nights (St.Petersburg), Art November (Moscow), the Kamchatka Spring Festival, the Saint-Riquier Festival, the Lancut Spring Festival in Poland, and Le Printemps des Arts in Monaco.
Mr. Laul is a consummate chamber musician. His chamber music partners include Dmitry Kouzov, Marc Coppey, Ilya Gringolts, Graf Mourja, Sergey Levitin, Valery Sokolov, Alexander Ghindin, Diemut Poppen, Francoise Groben, Gary Hoffmann, David Grimal, Laurent Korcia and Tedi Papavrami.
Peter Laul has recorded for Harmonia Mundi, Aeon, Onyx, Naxos, Marquis Classics, Querstand, Integral Classics, King Records, Northern Flowers and numerous TV and Radio stations in Russia and abroad.

Booklet for Stravinsky: Music for Violin, Vol. 1