---
Album info
Album including Album cover
1

Used to Be Jackson

05:07

2

Plunk

04:50

3

Lockdown – Lockup

04:31

4

Ticket to Ride

05:34

5

Bossarona

04:07

6

I Loves You Porgy

04:41

7

Road Song

05:01

8

Un Dia Bonito

05:09

9

Sweet Emma

04:37

10

The Masquerade is Over

05:01

11

Poinciana

05:20

Total Runtime

53:58
Info for I Loves You Porgy

For years now, the "Milt Jackson Project" has been part of vibraphonist Matthias Strucken's regular repertoire, and it is fair to say that Milt Jackson is an affair of the heart for him. Jackson (1923-1999), himself a vibraphonist and co-founder of the legendary Modern Jazz Quartet, was the definitive master of bluesy swinging and grooving cool jazz, which Strucken now revives in a rousing way together with pianist Martin Sasse, bassist Matthias Nowak and drummer Dominik Raab. It is the simplicity and clarity of melody and form that inspire Strucken: "Keep swinging and keep the soul in your music."
"I loves You Porgy" is the second release of the band, which is expanded in some tracks with guests Paul Heller, Joscho Stephan and Alfonso Garrido. The band's sound never sounds nostalgic, quite the opposite: "I loves You Porgy" shows a fascinating freshness, always turned towards the present, and is open to many influences that Milt Jackson himself would probably never have played in this way. It was important to Strucken to persistently expand his sound and tonal spectrum, which he succeeded in doing in an impressive way. His sound, rich in mood and variety, is fed by both the melodic and percussive possibilities of his instrument, which Strucken not only makes swing, but above all literally sing, warm and warm-hearted, rich in atmospheric sound effects, quasi "softly as in a morning sunrise" as the title of that famous piece reads, which Stucken quotes right in the opener and which also belonged to the repertoire of the Modern Jazz Quartet.
Strucken describes in detail and very personally in the booklet of the CD the selection of his pieces, including four original compositions, partly written during the Corona period as an expression of his optimistic resistance ("Lockdown-Lockup"), partly swinging with wonderful Latin grooves, as if Strucken had been born with Bossa Nova and Samba ("Bossarona", "Un Dia Bonito"). At the same time, familiar standards shine in amazing new versions and astonishing arrangements. The Beatles classic "Ticket to Ride" swings and grooves as if it had been expressly written as a swing shuffle, "The Masquerade is Over" from the late 1930s burns off melodic fireworks full of joie de vivre and joie de vivre thanks to rhythmic finesse, and the final "Pionciana" exudes pensive calm and sacred beauty, "meditative and devotional," as Strucken puts it, and releases one almost inspired into the real world.
Above all this hovers the title piece "I Loves You Porgy" from Gershwin's opera "Porgy and Bess", a beguiling, emotionally deeply sounded ballad, carried by harmonic finesses, the singing bass of Matthias Nowak, but above all by the soulful devotion of all musicians - as it were the quintessence of a virtuoso sound experience, born from the somnambulistic interaction of pure intuition and grandiose creative art.
Matthias Strucken, vibraphone
Martin Sasse, piano
Matthias Nowak, bass
Dominik Raab, drums
Guests:
Paul Heller, tenor saxophone
Joscho Stephan, guitar
Alfonso Garrido, drums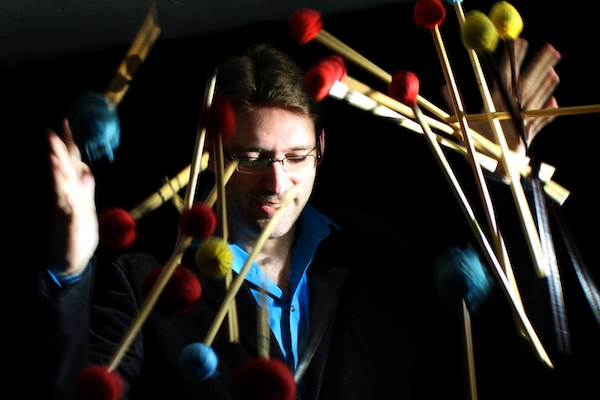 Matthias Strucken
studied secondary school music, instrumental pedagogy, jazz vibraphone and completed his concert exam at the Cologne University of Music with Prof. Tom van der Geld.
He has already had considerable success in his musical career. He played for a long time in the Bundesjazzorchester (BuJazzO) under Peter Herbolzheimer and in the Landesjugendjazzorchester NRW, worked with musicians and artists such as DJ Bobo, Bill Ramsey, Paul Kuhn, Bobby McFerrin, Jonas Kaufmann, Emil Mangelsdorff, Beverly Daley, Greetje Kauffeld, Siggi Gerhard, Marita Breuer, Engelbert Wrobel, Jeff Berlin, Max Greger jr. and Patrice, recorded film and television music ("Die Wilden Hühner", "Romy", "Dschungelkind"), worked as a teacher and juror at "Jugend Jazzt", was a scholarship holder of the "Kulturstiftung Rhein-Neckar-Kreis", produced various CDs under his own name, is a private lecturer and teacher for vibraphone at the Musikhochschule Köln and is founder and leader of various own bands, projects and formations (a. o. Matthias Strucken Swing). Matthias Strucken Swingtett, Milt Jackson Project, Con Mucho Gusto, jazz3, Artfusion, Behr-Strucken-Duo, soulbrothers etc.). In addition to nationwide engagements, he has performed in Mexico, South Korea, Singapore, Belarus, Greece, Spain, Italy, Hungary, France, Holland, Belgium, Luxembourg and Switzerland. He currently lives as a freelance jazz musician in Cologne.

This album contains no booklet.