---
Album info
Album including Album cover Booklet (PDF)
Igor Stravinsky (1882 - 1971): Suite italienne, K034 (1932 Version for Cello & Piano):

1

Stravinsky: Suite italienne, K034 (1932 Version for Cello & Piano): I. Introduzione

02:16

2

Stravinsky: Suite italienne, K034 (1932 Version for Cello & Piano): II. Serenata

02:46

3

Stravinsky: Suite italienne, K034 (1932 Version for Cello & Piano): III. Aria

05:41

4

Stravinsky: Suite italienne, K034 (1932 Version for Cello & Piano): IV. Tarantella

02:18

5

Stravinsky: Suite italienne, K034 (1932 Version for Cello & Piano): V. Minuetto

02:12

6

Stravinsky: Suite italienne, K034 (1932 Version for Cello & Piano): VI. Finale

02:36

Alexander Tcherepnin (1899 - 1977): Songs & Dances for Cello & Piano, Op. 84:

7

Tcherepnin: Songs & Dances for Cello & Piano, Op. 84: No. 1, Georgian Song

03:46

8

Tcherepnin: Songs & Dances for Cello & Piano, Op. 84: No. 2, Tatar Dance

01:29

9

Tcherepnin: Songs & Dances for Cello & Piano, Op. 84: No. 3, Russian Song

03:46

10

Tcherepnin: Songs & Dances for Cello & Piano, Op. 84: No. 4, Cossack Dance

03:58

Sulkhan Tsintsadze (1925 - 1991): 5 Pieces on Folk Themes for Cello & Piano:

11

Tsintsadze: 5 Pieces on Folk Themes for Cello & Piano: No. 1, Carriage Song

04:43

12

Tsintsadze: 5 Pieces on Folk Themes for Cello & Piano: No. 2, Chonguri

01:20

13

Tsintsadze: 5 Pieces on Folk Themes for Cello & Piano: No. 3, Sachidao

02:31

14

Tsintsadze: 5 Pieces on Folk Themes for Cello & Piano: No. 4, Nana

02:53

15

Tsintsadze: 5 Pieces on Folk Themes for Cello & Piano: No. 5, Dance Tune

02:06

Nikolai Kapustin (1937 - 2020): Nearly Waltz for Cello & Piano, Op. 98:

16

Kapustin: Nearly Waltz for Cello & Piano, Op. 98

03:33

Burlesque for Cello & Piano, Op. 97:

17

Kapustin: Burlesque for Cello & Piano, Op. 97

04:01

Elegy for Cello & Piano, Op. 96:

18

Kapustin: Elegy for Cello & Piano, Op. 96

05:15

Total Runtime

57:10
Info for Lost in Style

According to an optical phenomenon, an image reflected in more than one mirror leads to multiple imagines, i.e. images can be reflected ad infinitum. We live in an age of multiple reflections and stylisation.Our attempts to find the origin of a source and to achieve authenticity will only ever lead us to further reflections.
Kirill Timofeev, cello
Evgeny Sinaiski, piano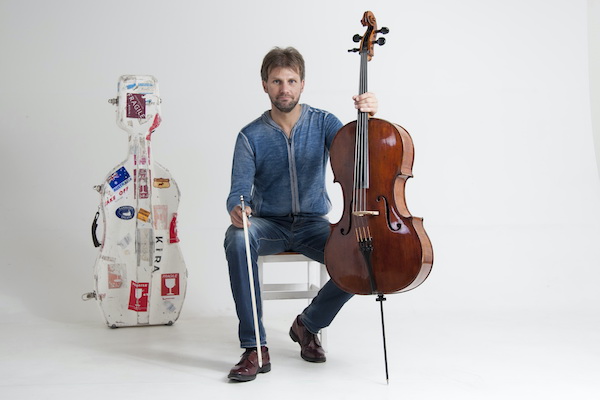 Kirill Timofeev
Born in 1978 in St. Petersburg, Kirill Timofeev began playing cello at the age of five. In 2001 he graduated from the St. Petersburg State Conservatoire, where he studied cello with Prof. Anatoly Nikitin and his assistant Kirill Kravtsov, and chamber music with Prof. Natalia Arzumanova. During his studies in St. Petersburg he won a position in the St. Petersburg Philharmonic Orchestra under the baton of Yuri Temirkanov, but after 10 months of playing with the orchestra he decided to move on. Having moved to Germany he won a place in the Soloist class of Prof. Peter Buck at the Stuttgart Music College where he studied from 2003 to 2005.
A consummate and passionate chamber musician, Kirill Timofeev has appeared successfully in various chamber ensembles. This includes collaborating with renowned musicians such as David Geringas, Gilles Apap and Latica Honda Rosenberg.
Kirill Timofeev is a founding and active member of the 'Rastrelli Cello Quartet,' which is on the books of the concert agency 'Classics Alive Artists.' With the ensemble Kirill has toured extensively, including the USA, Russia, Australia and most of Europe.
Kirill Timofeev has been invited to perform at many prestigious festivals, including the Rheingau Musik Festival, the Schleswig-Holstein Musik Festival, the Schwetzinger Festspiele, and the Beethoven Festival Bonn (all in Germany), Boswiler Sommer and 'Viva Cello' in Liestal (both in Switzerland), the Beauvais Cello Festival (France), and the 'Rio Cello Encounter' (Brazil).
During these diverse concert tours, Kirill Timofeev has performed in some of the world's most important music venues, including the Konzerthaus Vienna, Concertgebouw Amsterdam, Stuttgart Liederhalle, Laeiszhalle Hamburg, Gasteig Munich, Concert Hall of the Mariinsky Theatre St. Petersburg, and Suntory Hall Tokyo.
Kirill Timofeev is Principal cellist of Philharmonie Merck (Darmstadt, Germany), a position he has held since 2009.

Booklet for Lost in Style