---
Album info
Album including Album cover
Dietrich Buxtehude (1637 - 1707):

1

Buxtehude: Trio Sonata in B-Flat Major, BUXWV 259

08:33

2

Buxtehude: Trio Sonata in D Major, BUXWV 260

13:53

3

Buxtehude: Trio Sonata in G Minor, BUXWV 261

12:28

4

Buxtehude: Trio Sonata in C Minor, BUXWV 262

08:25

5

Buxtehude: Trio Sonata in A Major, BUXWV 263

09:48

6

Buxtehude: Trio Sonata in E Major, BUXWV 264

09:24

7

Buxtehude: Trio Sonata in F Major, BUXWV 265

08:49

Total Runtime

01:11:20
Info for Buxtehude: Trio Sonatas Op. 2

The sonata concertata form is perfectly illustrated in these trios by Dietrich Buxtehude which, according to Peter Wollny constitute 'a landmark in the history of the sonata'. They provide a better understanding of a composer who has owed his fame chiefly associated to his cantatas and organ works, and to the admiration of the young Johann Sebastian Bach, who walked 400 kilometres to hear him play. After recording Buxtehude's first set of chamber sonatas (ALPHA367), the musicians of Arcangelo (Sophie Gent, Jonathan Manson, Thomas Dunford and Jonathan Cohen) now revive the pieces from the second collection, published in 1696. It shows the multiple European influences (Baltic, Italian, German, French) that flourished in Lübeck, the north German city where Buxtehude worked as organist of the Marienkirche, but also in Hamburg, where the music was type set.
Arcangelo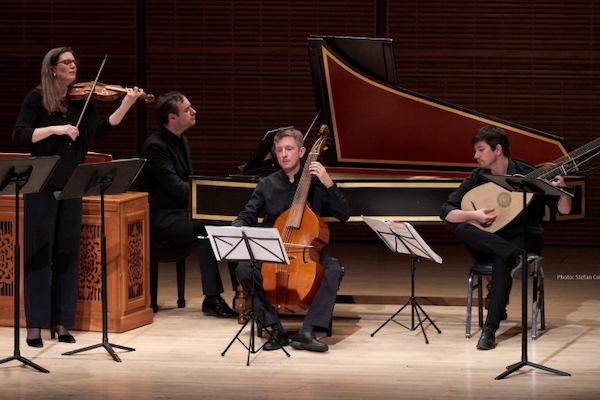 Arcangelo
is one of the world's leading ensembles, bringing together exceptional musicians who excel on both historical and modern instruments, brought together by founder and artistic director Jonathan Cohen. Its players believe that the collaboration required in chamber music, whether working in duos or as a chamber orchestra, is the highest expression of what it means to make music. Setting it apart from other ensembles, all performers are committed to this chamber ideal and as such Arcangelo attracts an outstanding calibre of performers who already have flourishing solo and chamber music careers. Their repertoire is principally from the early, baroque and classical periods, although there have been various successes with later repertoire and there are plans to develop in this direction in the future.
Formed in 2010, Arcangelo has exploded onto the musical scene with verve and energy and has since enjoyed numerous invitations to appear at major festivals and concert halls in Europe and America. In August 2015 the Lachrminae Tour with Anna Prohaska was extremely well received by audiences across the UK, Austria, Germany, Switzerland and Spain.
Later that year, Arcangelo appeared at the Dresden Arts Festival with music by Bach and Pergolesi, as well in the UK and Belgium with a tour of Three Bach Magnificats. In February 2016, the group toured with young and upcoming Norwegian violinist Vilde Frang, performing Mozart violin concertos at the Oslo Opera House and Zurich's Tonhalle, where it was described by the Swiss newspaper Neue Zücher Zinder as 'an ideal Mozart orchestra'.
Arcangelo has also won great critical acclaim for its CD releases. Arcangelo's debut CD was released with Hyperion Records in 2011 and featured cantatas by Porpora with star countertenor Iestyn Davies and was met with great success. According to The Guardian, 'the musicianship is exquisite … and the embellishments are gorgeous'. Since this first recording, Arcangelo has collaborated with soloists both well-known and less well-known, cast at the highest level for each individual artistic project. Arcangelo's subsequent albums have included partnerships with soprano Christiane Karg for a selection of stage arias in a disc entitled Scene! and Christopher Purves in a recording Finest Arias for Base Voice. This was selected by BBC Radio 3 as one of the outstanding recordings of the year and nominated for a 2013 Gramophone Award. In February 2015, Arcangelo's recording of Mozart concertos with Vilde Frang on Warner Classics reached No. 1 in the UK specialist classical chart, was awarded an Echo Klassik Concert Recording of the Year and The Sunday Times Classical album of the week. Scene! won an Echo Klassik award in 2016. In 2017 it won a BBC Music Magazine award and a Gramophone Award, and in 2018 was shortlisted for a Grammy and a BBC Music Magazine award once again. Most recently, in 2019, a second recording of arias with Christopher Purves – Finest Arias for Base Voice Vol.2 – has won Arcangelo its seventh nomination for a Gramophone Award.

This album contains no booklet.