---
Album info
Album including Album cover
1

King of Diamonds

08:06

2

Shift

06:32

3

The Gospel Tune

05:13

4

Little Lily's Shoe

04:04

5

Happy Segment Day

05:43

6

Planet Fuck

01:40

7

Big Boys

05:46

8

Bitter Sweet Harmony

05:04

9

Petal #6

02:09

10

Walk

04:32

Total Runtime

48:49
Info for Shift

A MaxSax performance swings, surprises, rocks and energises and over the last year has been electrifying Concert Hall and festival audiences across Europe.
This all-star ensemble is led by award winning composer and saxophonist Tini Thomsen– baritone sax, and comprises Tom Trapp– guitar, Mark Haanstra– bass, Joost Kroon– drums and Nigel Hitchcock (Incognito, Mark Knopfler) – alto saxophone.
The ingredients are simple yet effective: all-out effort, dedication and virtuosity from each band member whether delivering their trademark driving grooves, catchy melodies and high energy solo bursts or laying right back on delicate, soulful ballads.
Cruise along with the melodic adrenalin rush of MaxSax and marvel at Tini, one of the few saxophonists in the world who can make this instrument sound like true rock 'n' roll.
"Virtuosity combined with energy, passion and spirit" (Sonic)
"She should be playing all over the world… It would be hardly possible to make a saxophone sound any more rock-'n-roll." (Die Zeit)
Tini Thomsen, baritone saxophone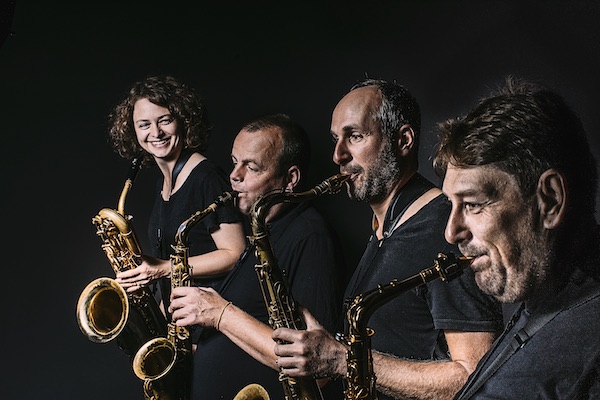 Tini Thomsen
Baritone sax player, composer and educator Katharina (Tini) Thomsen is building a strong following for her unique style of high-energy jazz-rock with her bands MaxSax and Q4 wowing audiences at festivals and venues across Europe.
The North German Radio Big Band (NDR) and Hessischer Rundfunk Bigband (HR) have recently recorded and broadcast her music.
Uphill Struggle her debut album with Q4 was released in 2018 and Shift, the third MaxSax album was released in the Spring of 2019.
Tini recently conducted the Peter and the Wolf Project with the Swedish Norrbotten Big Band on an extensive tour.
Tini started playing the saxophone at the age of 13 after falling deeply in love with Tony Curtis in the movie Some Like It Hot.
She started on the tenor but after discovering she could go lower, switched to the baritone at the age of 15 and three years late, began playing in the Landesjugendjazzorchester Hamburg and the German Youth Jazz Orchestra.
After two years studying jazz at the Hochschule für Musik und Theater in Hamburg with Fiete Felsch, in 2003 she moved to Amsterdam to study with Ferdinand Povel. In 2005 an instrument with an even lower register, the bass clarinet, caught her attention, and she took the opportunity to study it as second main subject with Erik van Deuren until 2011. In 2008 she finished her degree (saxophone), and in 2011 she finished her masters degree in saxophone with distinction and with special note for composition which had become her third main focus.
Tini has received several awards for her compositions;
2008: Metropole Orchestra arrangers/composers workshop with Vince Mendoza
2009: New Dutch arrangers contest, CD Recording
2010: Bujazzo composers contest, CD Recording
Since her graduation in July 2011, she has been much sought after as a freelance musician, arranger and composer.
She has performed with the Metropole Orchestra, Windkracht 7, New Cool Collective Bigband, Konrad Koselleck Bigband, Noord Nederland Orchestra, David Kwecksilber Bigband, Brussels Jazz Orchestra, Glenn Miller Orchestra, her own band MaxSax, String Quartet Quinetique, Brownie Dutch, Shirma Rouse, Guus Meeuwis, Ellen ten Damme, Corrie van Binsbergen, Sven Hammond Soul, The four Baritones and Nora Fischer, Alain Clark, Waylon, Incognito, The Temptations and Nils Landgren.
In Germany she played with the NDR Bigband, Ed Partyka Jazz Orchestra, HR Bigband, Malte Schillers 'Red Balloon', Ralf Hesse Bigband, Orchester der Bad Hersfelder Festspiele, Forkolor, Pepe Lienhard Orchestra and the MTV Unplugged sessions.
She joined the great Dr John with a Dutch horn section for concerts at the North Sea Jazz Festival, Montreux Jazz Festival and Jazz in Middelheim.
Tini has also played on the UK version of X Factor and is a committed educator delivering workshops and lessons.

This album contains no booklet.