---
Album info
Album including Album cover Booklet (PDF)
I`m sorry!
Dear HIGHRESAUDIO Visitor,
due to territorial constraints and also different releases dates in each country you currently can`t purchase this album. We are updating our release dates twice a week. So, please feel free to check from time-to-time, if the album is available for your country.
We suggest, that you bookmark the album and use our Short List function.
Thank you for your understanding and patience.
Yours sincerely, HIGHRESAUDIO
Jacques Offenbach (1819 - 1880):

1

Danse bohémienne, Op. 28

09:05

2

Deux âmes au ciel, Op. 25

05:24

3

Introduction et valse mélancolique, Op. 14

04:29

4

Rêverie au bord de la mer, WoO

04:23

5

La course en traîneau, WoO

03:47

6

Duo for two Cellos in E Major, Op. 54, No. 3: I. Adagio - Allegro maestoso

11:41

7

Duo for two Cellos in E Major, Op. 54, No. 3: II. Allegro vivo

07:17

8

Les larmes de Jacqueline, Élégie, Op. 76, No. 2

05:46

9

Tarantelle, WoO

06:00

10

Les contes d'Hoffmann: Barcarolle (Arr. for 2 Cellos and Piano)

03:26

Total Runtime

01:01:18
Info for Offenbach

Am 20 Juni 1819 und damit vor 200 Jahren wurde der berühmte Komponist Jaques Offenbach als »Jakob« Offenbach in Köln geboren. Die junge Cellistin Raphaela Gromes, die bereits mit ihren ersten beiden Alben für Sony Classical exzellente Rezensionen erhielt und sogar Chart-Erfolge feierte, hat sich zum Jubiläum ein ganz besonderes Offenbach-Album ausgedacht, nachdem sie auf ihrem letzten Rossini-Album bereits Offenbachs »Hommage à Rossini« in einer hochgelobten Ersteinspielung präsentiert hatte. Denn, bevor Offenbach im Musiktheater bejubelt wurde, hatte er selbst eine großartige Karriere als Cellist und wurde europaweit sogar als »Liszt des Cellos« gefeiert.
Ausgewählt hat Raphaela Gromes für diese Aufnahme Salonstücke für Cello und Klavier bzw. für zwei Celli. Damit füllt sie eine diskographische Lücke: Die letzte größere Einspielung mit Stücken für Cello und Klavier liegt tatsächlich 40 Jahre zurück. In der Zwischenzeit konnten unbekannte oder verschüttet geglaubte Manuskripte entdeckt werden. So präsentiert Raphaela Gromes mit ihrem langjährigen Klavierpartner Julian Riem denn auch in einer Weltersteinspielung eine virtuose, noch in Köln komponierte »Tarantelle«.
Offenbachs Cellostücke sind voller rhythmischer Feinheiten und melodischer Schönheiten, sie lassen das Instrument singen, sprühen vor guter Laune, können aber auch tief berühren und sind fallweise unglaublich virtuos. Zu den eingespielten Piècen für Cello und Klavier gehören solche Charakter- und Salonstücke wie der »Danse bohémienne«, »Deux Âmes au ciel« , »Introduction e valse mélancholique« ,»Revérie auf bord de la mer«, »La Course en traineau« sowie »Les Larmes de Jacqueline«.
Zudem hat Raphaela Gromes gemeinsam mit ihrem langjährigen Mentor, dem Münchner Celloprofessor Wen-Sinn Yang, das allerletzte von Offenbachs insgesamt 36 Cello-Duos aufgenommen: Das Duo, op. 54, Nr. 3 in E-Dur, ist eines der schwierigsten und, formal gesehen, das kapriolenhafteste des gesamten Zyklus.
Das Album endet mit Offenbachs wohl berühmtestem Hit, der »Barcarolle«, in einem neuen, ganz besonderen Arrangement für zwei Celli und Klavier von Julian Riem.
Raphaela Gromes, Cello
Wen-Sinn Yang, Cello
Julian Riem, Klavier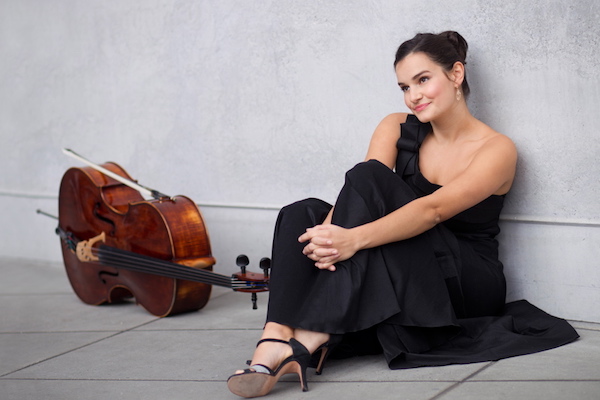 Raphaela Gromes
"I was so impressed listening to the Gromes Riem Duo performing the Debussy Sonata at a master class in Munich recently. Admittedly it is not a natural setting for performance, yet the duo played with great aplomb. But what impressed me most was the obvious wish to communicate the content to their public.
It is their courageous curiosity and energy that impressed me. Their commitment to one another as duo partners for four years is further testimony to their commitment to forge a lasting meaningful musical partnership, and to share their musical discoveries with a larger public." Yo-Yo Ma, 02/2016
Raphaela Gromes received her first cello lessons at the age of four. Being only seven years old, she already accompanied her parents – both being cellists – on stage. Her solo debut with Friedrich Gulda's cello concerto in autumn 2005 was highly acclaimed both by the audience and the media. In consequence numerous concerts with the great cello repertory followed.
Various composers have already dedicated cello concertos to her: the world premiere of Dominik Giesriegel's cello concerto in 2012 was followed by that of Valentin Bachmann's cello concerto performed by the Philharmonic Orchestra Budweis conducted by David Svec. The third world premiere, the double concerto "Chroma" that Mario Bürki had written for Raphaela Gromes and Cécile Grüebler in 2014, brought her into contact with the Swiss military orchestra. Further on she collaborated with Kent Nagano and the Czech Philharmonic as well as with Christoph Altstaedt and the Beethoven Orchestra Bonn.
Raphaela Gromes was invited to the Jungfrau Music Festival Interlaken, the Vorsprung Festival of the "Audi Summer Concerts" in Ingolstadt, the Munich Opera Festival, the Marvão International Music Festival, the Mondsee Musiktage Festival and the Edinburgh International Festival. In addition to her career as soloist she is also devoted to chamber music. Her chamber music partners are amongst others Christian Altenburger, Isabelle von Keulen, Alexander Lubimov, Patrick Demenga and Mischa Maisky. Together with her duo-partner, the pianist Julian Riem, she regularly gives concerts throughout Germany and abroad.
Her first recordings that were taken with her longtime piano partner Julian Riem, were released by Farao Music in 2014. Since 2016 she is one of SONY Classical exclusive artists. In September 2017 her first SONY-CD with the works of the late Romantic composers Giuseppe Martucci, Leone Sinigaglia, Ferrucio B. Busoni and Mario Castelnuovo, that she recorded with her partner Julian Riem, will be released.
Raphaela Gromes has already won numerous prizes: in 2011 she was awarded the Musikförderpreis des Konzertverein Ingolstadt (young musicians' scholarship), in 2012 she was first in the Competition Richard Strauss. In 2012 she was granted a scholarship of the Studienstiftung des Deutschen Volkes (German National Merit Foundation) and has been supported by Yehudi Menuhin Live Music Now since then. Furthermore she received the scholarship of the Hans and Eugenia Jütting Foundation Stendal. Raphaela Gromes and her duo cello partner, Cécile Grüebler, received the Förderpreis der Theodor-Rogler-Stiftung Bad Reichenhall (young musicians' scholarship) in 2014. In 2016 she was first in the cello solo competition of the German Music Council and became one of this year's young talented musicians who receive special promotion ("Bundesauswahl Junger Solisten"). She was first prize winner of the Kulturkreis-Gasteig competition in 2012 and 2016 and also of the international Concorso Fiorindo Turin in 2013.
Raphaela Gromes is a graduate of the University of Music and Performing Arts Munich where she studied with Wen-Sinn Yang. She started her studies with Reinhard Latzko at the University of Music and Performing Arts Vienna in 2015/16. She took master classes with well-known cellists like David Geringas, Yo-Yo Ma, Natalia Gutman, László Fenyö, Daniel Müller-Schott, Kristin von der Goltz, Wolfgang Boettcher, Anner Bylsma, Wolfgang Emanuel Schmid and Peter Bruns, who accepted her as junior student from 2006 until 2010 at the University of Music and Theatre "Felix Mendelssohn Bartholdy" Leipzig.
Raphaela Gromes' cello is a Jean-Baptiste Vuillaume instrument of 1855 that is provided by a private benefactor.

Booklet for Offenbach