---
Album info
Album including Album cover
I`m sorry!
Dear HIGHRESAUDIO Visitor,
due to territorial constraints and also different releases dates in each country you currently can`t purchase this album. We are updating our release dates twice a week. So, please feel free to check from time-to-time, if the album is available for your country.
We suggest, that you bookmark the album and use our Short List function.
Thank you for your understanding and patience.
Yours sincerely, HIGHRESAUDIO
1

Message From The Meters

06:10

2

Goodbye, So Long

04:25

3

The Hill Where The Lord Hides

08:02

4

Honey, I Love You

03:24

5

Just Don't Mean A Thing

04:57

6

I'm Going To Love You

09:43

Total Runtime

36:41
Info for Superfunk (Remastered)

One of Funk Inc's greatest albums – and a really tight batch of funky tunes given some stellar production by David Axelrod! The band's a bit tighter than on earlier releases – leaving behind the hard jazz-jam sound for a more together soul-oriented one, heard to best effect on the album's enduring classic, "Goodbye, So Long" – a rolling funky tune that features vocals on the chorus, and an unbelievably catchy instrumental sound that you might recognize instantly from its use as a sample over the years. The rest of the record's just as great – and the band runs through The Meters' classic "Message From The Meters", Barry White's funky "I'm Gonna Love You Just A Little More Babe", and a great rendition of the electric jazz classic "The Hill Where The Lord Hides".
Gene Barr, tenor saxophone, vocals
George Bohanon, trombone
Allen DeRienzo, trumpet
Cecil Hunt, conga
Jackie Kelso, tenor saxophone
Ollie Mitchell, trumpet
Jimmy Munford, drums, vocals
Don Peak, guitar
Bobby Watley, organ, vocals
Johnny "Guitar" Watson, e-bass
Steve Weakley, guitar
Recorded July 1973 at Fantasy Studios, Berkeley, California
Produced by David Axelrod Digitally remastered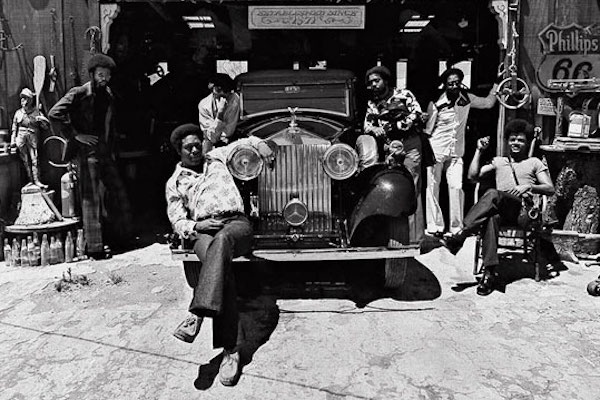 Funk, Inc.
The return of Funk, Inc., one of the most popular soul jazz combos of the Seventies, is a remarkable story. Formed in 1969 by organist Bobby Watley, the Indiana-based group was signed to Prestige Records two years later by producer Bob Porter. The band's inspired blend of impassioned jazz improvisation and riveting funk grooves was given a highly enthusiastic reception by disc jockeys and record buyers across the country, as well as by critics.
"Though it bears a name that suggests yet another rock group," Stanley Dance commented in the Saturday Review, "this Indianapolis quintet plays more jazz than most of the established organ groups are permitted to record. Rhythmically, it is very strong, and its repetitive use of riffs on blues themes has an agreeable, hypnotic effect."
In 1976, after cutting five albums for Prestige, Funk, Inc. broke up. Watley blames the demise of the original band on management problems, exacerbated by a general decline in the popularity of organ-led jazz groups during that period.
The organist settled into the relative anonymity of performing popular standards, blues, and even country tunes as a solo act in hotel lounges. Unbeknownst to him, however, a revival of interest in the quintet's rhythm- charged brand of jazz developed during the early Nineties. British club deejays had discovered that the fatback beats played by Funk, Inc. and other soul jazz groups provided ideal grease for the feet of dancers in the emerging acid jazz underground. Ace Records in England reissued all five of the Prestige discs—Funk, Inc., Chicken Lickin', Hangin' Out, Superfunk, and Priced to Sell—as well as a Best of collection, on both CD and vinyl. They proved to be strong sellers, not only in the , but as imports in and in the In 1995, Prestige rereleased the first two albums on a single CD (PRCD-24156-2) for domestic consumption.
Watley initially found the renewed interest in Funk, Inc. difficult to fathom. "I never thought it would come back this way," he says "I was told that the old stuff was selling in Europe and , but I never really took it seriously because I didn't have a manager. I had a guy fax me some stuff to authenticate that Funk, Inc. was still selling in and . Upon that I got in touch with Bob Porter who verified it."
Watley proceeded to put a new band together, which then re-signed with Prestige and returned to Rudy Van Gelder's Englewood Cliffs, New Jersey studio—the scene of the original quintet's first three albums—to again work with producer Porter. The result is Urban Renewal, the first new Funk, Inc. album in 21 years. Watley, saxophonist Teddy Patterson, and guitarist Doug Swanigan improvise with biting authority over some of the funkiest grooves this side of James Brown to create a winning sound not unlike that heard on the original band's albums. Drummer Phil Brines and original Funk, Inc. conga drummer Cecil Hunt complete the current lineup.
"This band is fresher," Watley says of the new Funk, Inc. "The ideas are fresher. The momentum is fresher. It's just fresh because of the youth. I listen to their input; it's not just mine all mine."
Born in Chattanooga, Tennessee and raised in Steubenville, Ohio, Watley started out as a drummer at age 15. After high school, he joined saxophonist Sammy Bryant's rhythm and blues quartet, the house band at Gleason's Musical Bar in Cleveland, where it backed such headlining artists as Etta James, the Coasters, Major Lance, Ben E. King, Big Maybelle, and Jimmy Reed. The band traveled some during Watley's five-year tenure and even appeared at Birdland in New York City.
Watley then began a series of associations with organ players, including Winston Walls, Manuel Riggins, and Blue Note recording artist Lonnie Smith. "That organ had me hooked," Watley recalls. "I was always around organists. I saw organists start playing from scratch, so I did the same thing."
Based in New York City at the time, Watley bought a Hammond B-3—the same instrument he plays today—and taught himself to play it, though Jack McDuff and other friends gave him some pointers. Then the owner of Surf Side Seven in Indianapolis contacted Watley about organizing a band to back vocalists at her club. She had thought he was still a drummer, but he quickly won her over with his decidedly funky organ work. ("That's how I kinda learned how to play, playing behind all these different singers," he says.) She was also impressed with the musicians he assembled—saxophonist Eugene Barr, guitarist Steve Weakley, drummer Jimmy Munford, and conga man Cecil Hunt (Barr and Munford are now deceased)—as were Jack McDuff and Houston Person, who heard the group while traveling through Indianapolis and passed the word to Bob Porter.
Although Porter produced only Funk, Inc.'s debut album, he continued to hear from Watley over the years. "For a producer, recording artists are kind of like cousins," Porter explains. "You may not be in touch with them all the time, but generally you know where they are and they know where you are and there's some contact. The band broke up in '76, and I didn't hear anything from Bobby for a while. Then I'd get a call from him every couple of years, and he'd tell me what he's doing. The last time he called was maybe 18 months ago."
The acid jazz movement was by then in high gear, having spread from to and on to the , and the time was right for the return of Funk, Inc, over a quarter-century after its inception. With Urban Renewal, the band is back in business, rejuvenated and playing blues-bitten soul jazz with more grit and grease that ever.
"What they're doing," says Porter, "is what they were doing—differently perhaps and not avoiding contemporary techniques—but certainly looking for the same groove."

This album contains no booklet.