---
Album info
Album including Album cover Booklet (PDF)
Anonymous:

1

O Come, O Come, Emmanuel (Arr. A. Carter)

04:00

2

Sir Christèmas (Arr. W. Mathias)

01:28

Gustav Holst (1874 - 1934):

3

Lullay My Liking, Op. 34 No. 2, H. 129 (Arr. C. Canning)

02:18

Franz Xaber Gruber (1787 - 1863):

4

Silent Night, H. 145 (Arr. J. West)

03:27

Henry John Gauntlett (1805 - 1876):

5

Once in Royal David's City (Arr. D. Willcocks)

03:48

Peter Warlock (1894 - 1930):

6

Adam Lay Ybounden

01:29

Peter Maxwell Davies (1934 - 2016):

7

Alma Redemptoris Mater, Op. 5

03:07

Richard Pantcheff (b. 1959):

8

A Christmas Carol

06:10

John Francis Wade (1711 - 1786):

9

O Come All Ye Faithful (Arr. D. Willcocks)

05:07

Thomas Wilson (1927 - 2001):

10

There Is No Rose

04:46

Robert Saxton (b. 1953):

11

The Child of Light

03:24

Anonymous:

12

Coventry Carol (Arr. J. Rathbone)

04:00

Humphrey Clucas (b. 1941):

13

Love Came Down at Christmas

02:21

John Henry Hopkins Jr. (1820 - 1891):

14

We Three Kings (Arr. M. Neary)

03:15

Paul Edwards (b. 1955):

15

No Small Wonder, Op. 204

02:49

Felix Mendelssohn Bartholdy (1809 - 1847):

16

Festgesang, WoO 9, MWV D 4: II. Lied. Vaterland, in deinen Gauen (Arr. D. Willcocks) [Sung in English]

03:12

John Ireland (1879 - 1962):

17

Preludes: No. 3, The Holy Boy (Version for Choir)

02:43

Adolphe Adam (1803 - 1856):

18

O Holy Night (Arr. M. Pappenheim)

06:27

Gabriel Jackson (b. 1962):

19

Tomorrow Go Ye Forth

02:35

Thomas Clark (b. 1970):

20

Lo, He Comes with Clouds Descending (Arr. M. Pappenheim)

05:03

Total Runtime

01:11:29
Info for O Holy Night

The young professional singers of Michael Waldron's London Choral Sinfonia open fresh perspectives on the music of Christmas with a captivating debut album for Orchid Classics. O Holy Night unites familiar carols arranged by Sir David Willcocks, Andrew Carter and Max Pappenheim with little-known seasonal treasures by, among others, Peter Maxwell Davies, Humphrey Clucas, Robert Saxton and ex-Swingle Singer, Carol Canning. The tracklist also includes Lo, He comes with clouds descending and O Holy Night in spellbinding arrangements by composer and theatre sound designer Max Pappenheim, former organ scholar at Trinity College, Cambridge. London Choral Sinfonias Musical Director, Michael Waldron, built his Christmas album around five traditional carols. The recordings repertoire mix includes Martin Neary's fresh take on We Three Kings, a dramatic setting of the Coventry Carol by Jonathan Rathbone, Richard Pantcheff's haunting A Christmas Carol, and the beguiling No Small Wonder by Paul Edwards.
Katherine Watson, soprano
London Choral Sinfonia
Michael Waldron, conductor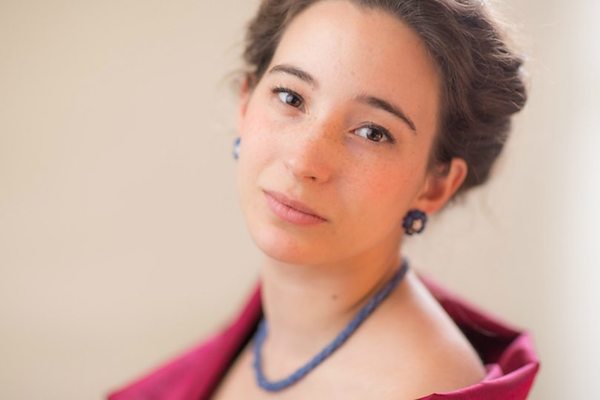 Katherine Watson
was a choral scholar at Trinity College, Cambridge, and a year after graduating won a place on William Christie's Le Jardin des Voix.
In 2012 she won Glyndebourne's much coveted John Christie award, appearing as Fairy/Nymph in The Fairy Queen (Cummings 2012), then going on to perform the role of the goddess Diana in Hippolyte et Aricie (Christie 2013).
In 2015 Katherine played the title role in Handel's Theodora in the Théâtre des Champs Elysées (Christie/Les Arts Florissants), and during a busy program in 2016 did various BBC Proms (Christie/Cohen). In 2017 Katherine played the heroine Armelite in Zoroastre (Curnyn) in Berlin, and as Giunone in Il Ritorno d'Ulisse in Patria at the Theatre Champs Elysee (Haim). Also in 2017 Katherine sung in Miranda (Pichon/Ensemble Pygmalion) and Opera Imaginaire (Niquet/Concert Spirituel). In 2018 Katherine played Iphis in Jeptha (Christie/Les Arts Florissants) and in King Arthur (McCreesh/Gabrieli Consort and Players).
Katherine is a talented soprano who has worked with many celebrated conductors including Stephen Layton, Nicholas Kraemer, Stephen Cleobury, Jonathan Cohen, Paul Agnew, Emmanuelle Haim, Harry Bickett, Sir Roger Norrington, Laurence Cummings and Philip Pickett.
She has performed in operas across Europe including Italienne/Phantome Medee (Haim), Virtù/Damigella L'incoronazione di Poppea (Teatro Real, Madrid), and Cassandra La Didone (Caen, Luxembourg and Paris with Christie) as well as Phani Les Incas du Pérou.
Concerts with Christie include Iphis Jephtha (Paris, Moscow and Vienna) and Diana Actéon and 2nd Woman Dido and Aeneas (New York). For Haim she has sung Cleopatra's arias from Giulio Cesare (Lille), a programme of Rameau arias (Frankfurt) and a Monteverdi Gala at the Festspielhaus, Baden Baden. Other recent concerts include Bach's Jauchzet Gott and Handel arias with Bickett and the English Concert, and with trumpeter Tine Thing Helseth at the Cheltenham Festival in 2012, as well as a concert of Handel, Bach and Mozart with James Gilchrist (Kraemer/Icelandic Symphony Orchestra) and Handel's Apollo e Dafne (Cohen/Carnegie Hall, New York). As a Classical Opera Young Artist she performed the roles of Barbarina, Celia Lucio Silla and Hyacinthus Apollo et Hyacinthus at Cadogan Hall.
Oratorio work includes Handel Messiah and Bach Christmas Oratorio (on Radio 3 with the OAE and AAM) and Bach St John Passion, Haydn Nelson Mass and the Mozart Requiem (Layton), Bach B Minor Mass in Winchester cathedral, Dixit Dominus in Lincoln Cathedral, and Mozart Exsultate Jubilate in Westminster Abbey.
In addition to her work in baroque repertoire, Katherine has performed Mahler 4th Symphony, Lutosławsky Chantesfleurs et Chantesfables and Barber Knoxville – Summer of 1915 at St John's Smith Square (Keable/Kensington Symphony Orchestra), Symphonia Antarctica (Layton/City of London Sinfonia) and Britten Les Illuminations (Williams).
Her discography includes Bach Christmas Oratorio (Layton/OAE/Trinity College Choir), and Caterina Oratorio di Santa Caterina (Headley) as well as DVD recordings of Cassandra La Didone (Opus Arte), and Virtù/Damigella Poppea (EMI). See also a Hyperion recording of Monteverdi madrigals with Cohen and Arcangelo.
As a recitalist, Katherine has performed Mozart and Schubert songs in the Festspielhaus Baden Baden, songs by Alma Mahler in Hungary, and Schumann, Strauss, Poulenc and Messiaen songs in recitals in the UK.
Other engagaments have included Messiah in Bilbao and Seville, and with the Hallé orchestra in the Bridgewater Hall (Howarth); a programme of Monteverdi, a tour of Rameau arias to the Far East and Rameau Castor et Pollux in Dijon (all with Haim), Apollo e Dafne in Chicago, and a tour of the Christmas Oratorio with Rousset and of Rameau Grands Motets (Niquet and Christie).

Booklet for O Holy Night