---
Album info
Album including Album cover Booklet (PDF)
Nikolet Burzyńska (1989- ):

1

Lightfire

06:02

Juan Manuel Abras (1975- ):

2

Perpetuum tanguile

04:25

Federico Placidi (1968- ):

3

Del bianco silenzio... Al limite della notte

26:34

Filip Sande (1970- ):

4

Fire on Snow, Op. 127

10:21

Bence Hartl (1987- ):

5

Scherzino diminuito

04:54

Juan Manuel Abras:

6

The Hermit (After Arnold Böcklin's "Der Einsiedler") [Revised 2016 Version]

10:20

Johanna Doderer (1969- ):

7

Fragment from In Breath of Time, DWV 62

07:06

Total Runtime

01:09:42
Info for Heavy

Thrilling, dynamic, chilling, crystal-clear, luminous, deathly still, smoldering – all words to describe Édua Zádory's violin playing, captured on her GENUIN debut release! The young Hungarian violinist has brought together exclusively world premiere recordings of solo violin works dedicated to her, and the spectrum could not be broader: from the icy landscapes of Filip Sandes to the breathless intensity of Juan Manuel Abras, distant whirring of Federico Placidi, and explosive borderline experiences of Bence Hartl. Captivating from the first to the final note!
Édua Zádory, violin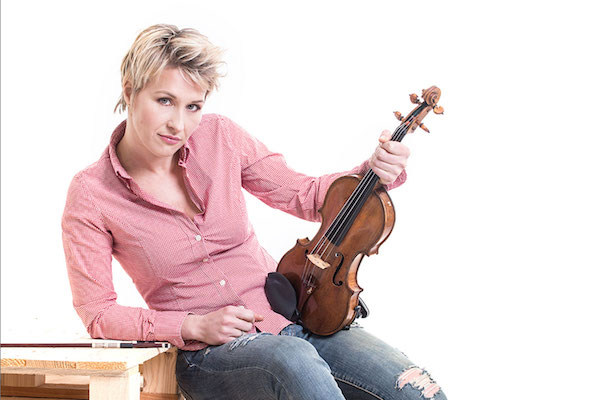 Édua Amarilla Zádory
which means "glistening moonrise" in Hungarian, was born in the southern Hungarian town of Kecskemét in 1974. She received a place "for the outstandingly talented" to study at the Franz Liszt Academy of Music Szeged. In winning the academy's violin competition, Édua Zádory earned a renowned scholarship. From 1992, she studied with Habib Kayaleh and Tibor Varga, and her potential was eventually recognized by Yehudi Menuhin.
He invited her to Gstaad to his master class. In 1997, the music metropolis of Vienna became the Hungarian's new home. She continued her studies at the Vienna University of Music and Performing Arts under Günter Pichler, the first violin of the Alban Berg Quartett, and Ernst Kovacic. As early as 2001, Édua Zádory distinguished herself with the Eszterházy Trio at the Styriarte Music Festival in Graz.
For the Musiktage Mondsee 2003–2005, Édua Zádory played chamber music with colleagues such as Christian Altenburger and Benjamin Schmid. In 2006 Édua Zádorys first CD with chamber music by Pancho Vladigerov appeared, amongst others with the cellist Rudolf Leopold. As a soloist, she has repeatedly performed in the Great Hall of the Wiener Musikverein. The Hungaria Piano Trio—Édua Zádory, Tamás Varga and Balázs Szokolay —performed to great acclaim at the Wiener Konzerthaus and the Budapest Spring Festival, among others.
In Austria, the violinist appears most notably at the Wiener Konzerthaus, both as a soloist, with the Hungaria Piano Trio, and as Concertmaster and principal second violin of the Vienna Chamber Orchestra. In 2009, she won first prize as part of a duo with Anasztázia Dombrovska (piano) at the international chamber music competition Concorso Internazionale di Musica da Camera Gaetano Zinetti in Sanguinetto, Verona. Her CD Von ungarischer und jüdischer Seele (From Hungarian and Jewish Soul) appeared in 2012.
In 2013, she premiered Johanna Doderer's violin concerto in Vilnius. Since 2015, she has collaborated with the dancer Beatrix Simkó. Édua Zádory increasingly dedicates herself to contemporary works as well as her own compositions in the area of visual art.
Édua Amarilla Zádory plays on a violin made by Joseph & Antonio Gagliano from the year 1801. A film portrait of the violinist can be found on her website.

Booklet for Heavy