---
Album info
Album including Album cover Booklet (PDF)
Georg Philipp Telemann (1681 - 1767): Ouverture-suite in D Major, TWV 55:D18:

1

Telemann: Ouverture-suite in D Major, TWV 55:D18: I. Ouverture

07:24

2

Telemann: Ouverture-suite in D Major, TWV 55:D18: II. Menuetts I & II

02:30

3

Telemann: Ouverture-suite in D Major, TWV 55:D18: III. Gavotte en rondeau

01:41

4

Telemann: Ouverture-suite in D Major, TWV 55:D18: IV. Passacaille

03:52

5

Telemann: Ouverture-suite in D Major, TWV 55:D18: V. Air. Lentement

02:00

6

Telemann: Ouverture-suite in D Major, TWV 55:D18: VI. Les postillons

02:07

7

Telemann: Ouverture-suite in D Major, TWV 55:D18: VI. Fanfare. Très vite

02:17

Ouverture-suite in A Minor, TWV 55:a4:

8

Telemann: Ouverture-suite in A Minor, TWV 55:a4: I. Ouverture

04:48

9

Telemann: Ouverture-suite in A Minor, TWV 55:a4: II. Passepied I & II

02:12

10

Telemann: Ouverture-suite in A Minor, TWV 55:a4: III. Bourrée

01:37

11

Telemann: Ouverture-suite in A Minor, TWV 55:a4: IV. Menuetts I & II

02:52

12

Telemann: Ouverture-suite in A Minor, TWV 55:a4: V. Rondeau

01:30

13

Telemann: Ouverture-suite in A Minor, TWV 55:a4: VI. Polonaise

02:51

14

Telemann: Ouverture-suite in A Minor, TWV 55:a4: VII. Gigue

01:49

Concerto polonois in G Major, TWV 43:G7:

15

Telemann: Concerto polonois in G Major, TWV 43:G7: I. Dolce

02:34

16

Telemann: Concerto polonois in G Major, TWV 43:G7: II. Allegro

02:26

17

Telemann: Concerto polonois in G Major, TWV 43:G7: III. Largo

02:06

18

Telemann: Concerto polonois in G Major, TWV 43:G7: IV. Allegro

01:59

Ouverture-suite in D Major, TWV 55:D23:

19

Telemann: Ouverture-suite in D Major, TWV 55:D23: I. Ouverture

05:22

20

Telemann: Ouverture-suite in D Major, TWV 55:D23: II. Menuetts I & II

02:49

21

Telemann: Ouverture-suite in D Major, TWV 55:D23: III. Gaillarde

00:48

22

Telemann: Ouverture-suite in D Major, TWV 55:D23: IV. Plainte

04:12

23

Telemann: Ouverture-suite in D Major, TWV 55:D23: V. Sarabande

01:41

24

Telemann: Ouverture-suite in D Major, TWV 55:D23: VI. Passepied I & II

01:40

25

Telemann: Ouverture-suite in D Major, TWV 55:D23: VII. Passacaille

02:45

26

Telemann: Ouverture-suite in D Major, TWV 55:D23: VIII. Fanfare

01:25

Total Runtime

01:09:17
Info for Telemann: Suites & Concerto

The impressively rich instrumental legacy of Georg Philipp Telemann, one of the most prominent German composers of the late Baroque era, was a complement to the main area of his activity, which was church and opera music. The composer found great satisfaction in running collegium musicum associations, popular in Germany. They were groups of people interested in making music together, most often recruited from the academic youth and the bourgeois 'middle class.' Telemann founded his first collegium in 1702 in Leipzig, where he studied law. At the same time, he significantly transformed the traditional status of such institutions, which so far had been aimed at making music in their own group. Telemann quickly made the collegium musicum an institution organizing more or less regular public concerts in municipal halls, cafes, merchant social clubs, and aca-demic auditoriums; the collegium musicum would also support church ensembles on more important occasions. Telemann continued his co-operation with student collegia throughout his compositional activity, also in Frankfurt and Hamburg, zealously creating new pieces for them. On the present release, the Altberg Ensemble presents a selection of Telemann's Suites and Concertos.
Altberg Ensemble
Peter van Heyghen, conductor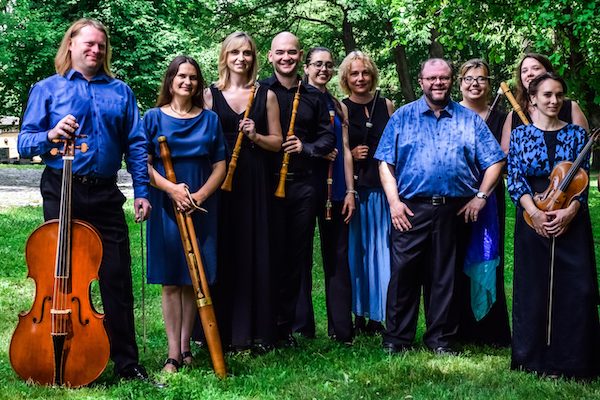 Altberg Ensemble
is a baroque orchestra from Łódź, founded in 2017 by cellist Jakub Kościukiewicz. The group consists of musicians, who specialise in historical performance and play period instruments or their copies, using historically informed techniques. Artistic paths led each member of the ensemble to Łódź.
The debut of the ensemble took place on August 13th 2017 in Tum near Łęczyca during 18th Kolory Polski Festival. Its appearance was soon appreciated by artistic environment of Łódź and brought the ensemble "Armatka Kultury" 2017 – an award in the plebiscite of cultural magazine Kalejdoskop ,as well as the performance in Artur Rubinstein Philharmonic in Łódź in the following year. In 2018 Altberg Ensemble, led by an outstanding Swiss harpsichordist, organ player and conductor Jörg-Andreas Bötticher, took part in concert series 200 Bach Cantatas for 200 Years of Warsaw University.
Since 2019 the ensemble performs regularly in Łódź and in the Voivodeship of Łódź with concert series Baroque Lodz. It is also recognized in Poland thanks to appearances at festivals such as Dramma per Musica in the Royal Castle in Warsaw, The Baroque Scene of Bydgoszcz, Baroque in Masuria, and also during Warsaw University's Bach 200 concert series or at Concerts for Peace in Church of Peace in Jawor. It is a regular guest of Artists' Retreat in Radziejowice Palace, a museum and a centre for artistic work, research and activity located near Warsaw.
The ensemble has cooperated with many celebrated singers: Anna Mikołajczyk, Olga Pasichnyk, Karol Kozlowski, Jakub Józef Orliński, Aleksander Rewiński, Michał Sławecki, Kacper Szelążek, Rafał Tomkiewicz and with acclaimed leaders, like harpsichordist and organ player Jörg-Andreas Bötticher, violinist Olivia Centurioni, oboist Alfredo Bernardini or recorder player, musicologist and conductor Peter Van Heyghen. In April 2022 Altberg Ensemble published the first CD with G. Ph. Telemann "Suites & Concerto" recorded with Peter Van Heyghen as conductor for DUX Recording Producers DUX 1761.
An idea, bringing together all the members of the ensemble is to study and to perform instrumental and vocal-instrumental works of 17th and 18th century. The name of the ensemble was inspired by the figure of Emma Altberg (1889-1983), a harpsichordist and a pianist. After World War II, that remarkable student of Wanda Landowska opened and taught in the first Polish harpsichord class at State Higher School of Music in Łódź.

Booklet for Telemann: Suites & Concerto