---
Album info
Album including Album cover
I`m sorry!
Dear HIGHRESAUDIO Visitor,
due to territorial constraints and also different releases dates in each country you currently can`t purchase this album. We are updating our release dates twice a week. So, please feel free to check from time-to-time, if the album is available for your country.
We suggest, that you bookmark the album and use our Short List function.
Thank you for your understanding and patience.
Yours sincerely, HIGHRESAUDIO
1

LaLa Challenge

03:51

2

UP

03:35

3

Top Down

03:16

4

Bank

02:59

5

Proud Of U

03:58

6

This Side

04:37

7

Swivel

03:14

8

Avenue

03:03

9

Tequila

04:33

10

Blue Moon

03:58

11

Trippin

04:17

12

Stuck

04:30

13

Fields

05:19

14

Wings

04:07

Total Runtime

55:17
Info for Mirrorland

EarthGang is a dynamic rap duo created by Johnny Venus and WowGr8 during their high school days. They spent their long college nights recording in their dorm rooms and collaborating with local producers. In 2010, EarthGang released their first EP The Better Party, which was succeeded by two mixtapes and several singles. Three years later, the duo released their debut album Shallow Graves For Toys.
But it wasn't until 2017 when they were finally signed by J. Cole to his label Dreamville Records. They refer to their sound as "Southern-fried soul," and it might be the most spot-on self-description we've ever heard. Their tracks range from playful and upbeat to more somber and deeper lyrics which comment on political issues like race and equality.
Their latest single "Proud of U" featuring Young Thug is one of the first songs from their upcoming debut full length album, Mirrorland, coming out in 2019. The album is something EarthGang has feverishly worked on over the past year. EarthGang has supported acts like J. Cole, Mac Miller, Billie Eilish and is opening for Smino this spring.
EarthGang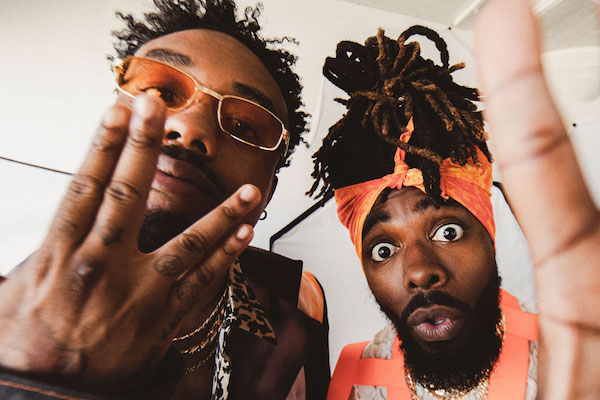 EarthGang
isn't here to "save Hip Hop." They aren't here to change how you think of their hometown of Atlanta, Georgia or the music that comes from it either. Even though the duo comprised of Doctur Dot and Johnny Venus are more than capable of pulling off such feats, they are here to instill something simpler. Something bigger. Something that you, the listener, the fan, the artist, the critic may not even realize that you need yet:
Freedom to be yourself.
That freedom is what attracted the duo to each other when they were students at Southwest Atlanta's storied Benjamin E. Mays High School. Roaming the same hallways that produced all four members of Goodie Mob decades before them, Earthgang first met each other during an emergency evacuation. After seeing that they had similar tastes in music ranging from Madonna to Madlib, their relationship blossomed from casual conversations about rap to forming a group of their own. But before they even recorded their first project together, they already found themselves hitting the road as they each enrolled at prestigious HBCU Hampton University in Virginia. Though both of them attended the college on academic scholarships with Dot majoring in Psychology and Venus studying to be an architect, they found themselves using the campus as their recording studio.
The work paid off as Earthgang's first two projects, 2010's The Better Party and 2011's Mad Men landed them shows on both ends of the country at the Brooklyn Hip Hop Festival and Stanford University's Blackfest. Their follow-up mixtape Good News, backed by energetic live shows, boosted their profile in Atlanta's congested indie rap scene, but it was their ambitious 2012 debut album Shallow Graves For Toys that captured nationwide attention and peaked at #11 on the Billboard Emerging Artists chart. The wide-ranging project displayed their ability to create with acoustic folk singers like Marian Mereba as well as chest-thumping declarations with producers 808 Mafia (Gucci Mane, Waka Flocka Flame) with Noisey calling it "one of the most well thought-out releases of the year."
"Our projects are more conceptual than just making songs," insists Doctur Dot, whose handle is based off his childhood nickname "Doc," which he earned for always seeming to have answers for everything. "We are making ourselves vulnerable to the world through our music. Most people don't allow themselves to do that."
"We set out to make the best music that feels the best to us," adds Johnny Venus, whose name derives from his astrological sign Libra, but challenges the common perception of the symbol by making it asexual. "It's a natural synergy for us. We don't just try to make explosions happen."
Earthgang's most recent offering Torba did just that as they showcased their versatility alongside the likes of both Mac Miller and OG Maco over production that ranged from hazy to urgent. That release, coupled with successful tours opening for Ab Soul and Fashawn, Earthgang took another step towards becoming one of the most unique voices in Hip Hop today. Their upcoming album Strays With Rabies (released through their Spillage Village imprint) aims to put their evolving songwriting skills at the forefront after already proving their rap skills to be far above average.
With a lyrical spectrum that has graduated from "hoping your mama lose her temper" on Mad Men to "seeing the whole world with my eyes closed" on Torba, Earthgang is rapidly growing into a musical force that will liberate listeners from all walks of life. Hopefully, your mind will be free enough to hear the call.

This album contains no booklet.